Zesty Italian
Marchesi honors homeland in Hood River
On a spring weekend getaway to Hood River several years ago, my husband and I, along with friends, happened upon Marchesi Vineyards & Winery.
We noticed the friendly atmosphere immediately. The tasting room with its numerous seating areas, both inside and out, felt like home. Tableside service started with a light Bianco wine and an antipasto board with soppressata, pecorino and bread. We lingered there most of the afternoon.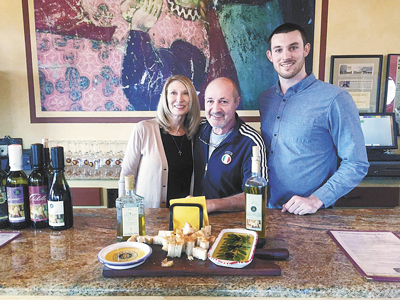 Winemaker Franco Marchesi comes from Borgosesia in Piedmont, Italy, and his Italian-style wines — crafted from Columbia Valley and Columbia Gorge grapes — are friendly on the palate and pocketbook.
"My philosophy is that it's important to sell wine at competitive prices because we feel wine is to go with food and should not exceed the price of a meal," he said. "We also keep our wine prices reasonable because we want to share them with family and friends," his wife, Sandy, added.
The narrative behind Marchesi Winery describes Franco's passion for wine. He came to the U.S. 40 years ago, a 23-year-old eager for adventure and experience. On arrival in San Francisco, he boarded a Royal Viking Line cruise ship to work as a wine steward. Here is where his passion for wine began.
"I planned to work about six months in order to buy a sports car; I stayed nine years and bought an Alfa Romeo Spider," Marchesi explained.
As he and the rest of the world grew increasingly interested in wine, Marchesi traveled to wine-soaked destinations such as Portugal, Australia, South Africa and Napa Valley, too.
"We visited the wineries and developed a passion for exploring wines," Marchesi said. "I was able to continue learning about and sampling international wines."
In time, he was promoted to food and beverage controller in charge of inventory and ordering. Marchesi frequently returned to Italy, his family and his Alfa Romeo. "Home, for me, has always been Italy," he said.
Finally, in 1986, deciding to settle down, he married and officially docked in San Francisco. There, he became the manager of the Crown Room restaurant on the 24th floor of the Fairmont. He worked there for three years until the earthquake in the fall of 1989. By then, eager to establish his own business, he started a wine import company.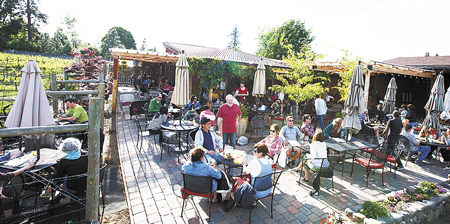 "I called my mom and told her to sell the Alfa Romeo," Marchesi recalled. "She was happy to because my father had taken to driving it," said Franco. "I used the money from that sale to pay for my first container of Italian wine."
His passion for Italian wine guided him in another direction in 2002. He moved his family to Hood River on the Columbia, an area with similar growing conditions as his home in Northern Italy. He was still commuting to San Francisco until he sold his import company there and started a similar venture in Portland.
In 2003, he bought an abandoned apple orchard on eight acres only a mile from their house. The hillside property had an ideal southeast exposure with good soil and drainage.
His first plantings were Barbera — the varietal he feels most important — and Pinot Grigio. Gradually, he learned about winegrowing by trial and error, soon planting several other varietals. Today, he grows Barbera, Dolcetto, Pinot Grigio and Pinot Noir.
"I was impatient," he admited, clearly aware of the trait he's never outgrown. Eager to try winemaking, he bought grapes from Southern Oregon in 2006, the year of his first crush — made possible with the help of friends. Over time, learning from others while teaching himself, he's become proficient inside the winery.
In 2009, the tasting room officially opened.
"Then, we got lucky. Our Sangiovese won double-gold at the 2010 San Francisco International Wine Competition."
He remembers thinking, "Wow, I'm on to something. I realized that people enjoyed our wine because it's different — we were not doing the same [wines as others]. I was a little bit daring to emphasize Italian wine."
The following year, Marchesi's 2009 Primitivo won "Best of Class" in the same contest.
He acknowledges how Italian wine is a huge puzzle because of so many different varietals. It's difficult to know and understand them all. For that reason, he selectively chooses competitions that understand Italian wine.
Since then, his wines have won bronze, silver and gold annually and, just this year, earned another double-gold, now for the 2014 Barbera.
After that first award, the winery started to get busy. The following year, he remarried, marking the occasion with the purchase of — what else? — an Italian sports car, a vintage 1985 Ferrari.
In the beginning, the tasting room was open only weekends.
"Since we were living here in the house on the property, the tasting room was like an extension of our home," he said. Now, the tasting room is open every day during the summer from May to November.
In addition to estate-grown grapes, Franco sources Primitivo, Sangiovese, Nebbiolo and Cabernet from Washington sites in Prosser, Walla Walla Valley and even the southwest part of the state.
Marchesi was eager to discuss their newest wine, a Novello, similar to its French cousin Beaujolais Nouveau.
"In Italy, we make a wine in September to be enjoyed right away, to drink by Thanksgiving," he explained. "It has a youthful, fruity flavor that shows the fruit of the vintage. It's made to drink fresh."
The process for making Novello wine uses carbonic maceration: whole-cluster grapes are placed in a tank that is then closed and pumped with CO2; natural yeast migrates from the skin of the grapes into the pulp, seeking water and oxygen, creating an accelerated fermentation that lasts about 20 days.
For this initial Novello — made in honor of his first grandson born in March 2016 — Marchesi picked up Merlot grapes on Sept. 26, brought them to the winery and departed on a flight for Italy that same evening to bury his mother.
"The Circle of Life," he pronounced.
The wine, easily one of their most popular offerings, won silver in San Francisco. Its original 150-case production is now down to the last few.
If you want a taste, I suggest visiting Hood River soon. With the exception of a few local restaurants, all their wine is sold in the tasting room.
Patty Mamula is a freelance writer based in Portland.