Symposium Climbs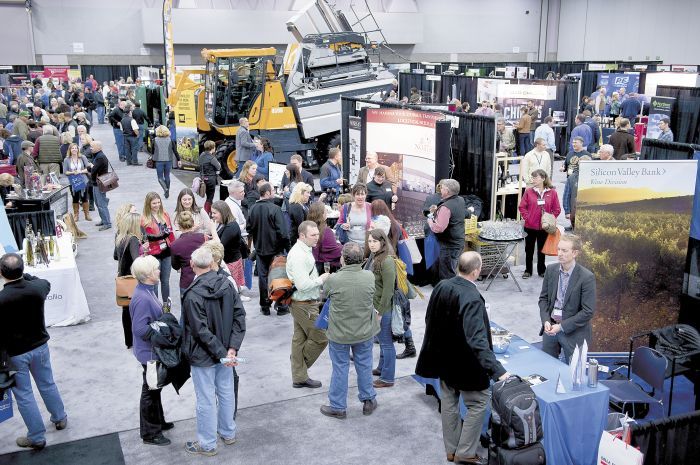 By Karl Klooster
Some participants might call the Oregon Wine Symposium a convention. Others consider it a trade show. Still others view its as a conference featuring on-point seminars and presentations.
In truth, it is all of the above, and has been ever since the beginning. And that is why the people at the Oregon Wine Board, who stage this finely tuned event each year, bill it as a symposium.
Since its inaugural staging, it has grown more than four-fold, from 400 attendees to 1,650. It's up 350 this year alone, a 27 percent increase.
In 2012, the board moved the event from the Eugene Hilton, its home since 2004, to the Oregon Convention Center in Portland. Increased vendor interest outstripped available space in Eugene, forcing a move.
Now in its third year at Portland's premiere showplace, the symposium is up to 200 vendors. They run the gamut of products and services, the common denominator being their wine industry targeting.
It's fascinating to wander aisles lined with vendor booths, perusing the range of materials and equipment necessary to operate a winery, a vineyard, or both. Taking the time to chat with company personnel makes it even more informative.
Take, for instance, glass bottles, into which most wine is placed for sale. I say "most," because bladder-encasing boxes are gaining popularity, and containers of aluminum, plastic and even paper are coming into use. The bottle, of course, opens up numerous options in its own right. Shape, size, color and weight are all up for discussion.
Then there is the most personal and sometimes perplexing packaging item: the label. Its graphic look delivers a critical first impression on the shelf, and that can make or break a sale.
Next, careful consideration needs to be given to the best type of closure for the bottle and the most advantageous design for the capsule covering the neck and top to ensure security. Pondering so many options can require almost as much time as making the wine itself.
Around the convention center floor, manufacturers displayed examples of all of these items. They were present to demonstrate their wares to industry members. This side of the show is interesting — and made more so if you begin considering the range of barrel options.
Another aspect bound to attract trade show attention was big. Really big. So big, in fact, that these behemoths dominated the Convention Center's expansive, high-ceilinged showroom. I am referring to the Papé and Pihl Excavating booths.
Founded in 1938, Papé is a privately held group of specialized heavy equipment companies. Based in Eugene, it boasts 2,000 employees, $100 million in annual sales and 70 locations in five western states. The company's lineup was led by a Pellenc 8000 multi-function harvester from France. It covered eight booth spaces.
Pellenc is an agricultural equipment manufacturer with strong ties to the French wine industry, and by extension, the wine industry everywhere. Its 8000 series can be accessorized to not only harvest grapes mechanically, but also perform other vital vineyard chores. Vineyard owners could expect to pay a bit over $400,000 for a basic Pellenc harvester. A deluxe model, complete with pruner, lifter and trimmer attachments, adds another $300,000.
Pihl Excavating, based in the rural community of Banks, has served the wine industry for 15 years. For the show, owners Matt and Julie Pihl brought a towering John Deere 135 excavator. Whereas the Pellenc relies on big rubber tires, the JD 135 uses the kind of metal treads on military tanks. It stands 13 feet high, weighs more than 15 tons, digs 20 feet and sells for $160,000. The excavator took up six booth spaces. Maneuvering it into position required a slow, clanking crawl across plywood sheeting.
Juxtaposing the mighty with the microbial, representatives of ETS Laboratories, which sponsored a presentation room, explained its sophisticated testing services to winemakers. In the ETS world, magnification power, not horsepower, is what counts.
Seminar sessions provided informational opportunities in five categories: general, general business, executive/owner business, viticulture and enology.
The technical sessions were aimed at growers and winemakers. But others could gain valuable insights as well.
Over the course of eight symposia, I've always come away with new information and/or a creative new take on previous information. This year, sessions on social media, public relations and the Oregon Wine Month marketing campaign proved particularly worthwhile.
One highlight was a luncheon presentation by Clear Creek Distillery founder Steve McCarthy, who almost singlehandedly transformed Oregon into the craft distilling mecca of America. McCarthy said he has more in common with artisan winemakers than anyone in the traditional distilling industry.
Across the board, speakers agreed that Oregon has emerged stronger from the recession, thus better positioned to take advantage of an improving economy.
Presenter Christian Miller of Full Glass Research said wine lovers know Oregon wines cost more. Last year, he said, the average per-bottle retail price was $15.39 for Oregon, $9.47 for Washington and $6.23 for California. He noted that just a couple of years ago, people were trading down because of cost and coming away disappointed by the experience. Now they are willing to pay more with the confidence that they are getting better value for the money.
In recognition of its own, Oregon wine industry members honored four at the Tuesday evening Guest Chef Awards Dinner. Individuals were recognized whose contributions and services to the Oregon wine industry have been commendable.
Industry Partner awards went to Matt Novak of Oregon Vineyard Supply and Kurt Wittman of Northwest Farm Credit Services. Recognized for their board member service were Sam Tannahill of A to Z Wineworks (2008–2013) and Terry Brandborg of Brandborg Vineyard & Winery (2009–2012).
On balance, attendees agreed this third Convention Center symposium was the best to date in Portland. But it still falls somewhat short on the conviviality engendered in Eugene. To revitalize that casual camaraderie, an Oregon wine industry trademark, what's needed is a convention center hotel. Listen up, Portland.