Wine Julia
Julia Crowley makes name for self with great energy and dedication to Oregon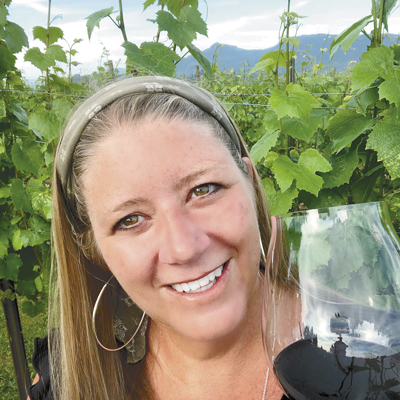 Julia Crowley, or Wine Julia as she is known to her fans, is a serious advocate of Oregon wine. Partnering with Eugene's urban tasting rooms, wine bars and wineries, she's infused her tastings with a limitless love of all things wines, winemakers and regions. As a writer, she has the ability to bring out the stories they have to tell and includes everyone on that walk through the vineyard. Her philosophy is to emulate the way a good wine is built to last and create a space where friendships flourish. This has been the framework of her approach to educating people, bringing them to the table and filling their glass.
Curious to know more about how the exuberant Wine Julia got her start in the industry, I recently sat down with her on a beautiful, sunny day at the 5th Street Public Market in Eugene.
Let's start at the beginning. Tell us about the trip to the Loire.
Julia: In 1999, my job was as a travel specialist, arranging European tours for a travel agency, Certified Vacations, based out of Fort Lauderdale, Florida. I had traveled extensively throughout Europe and I had planned a trip for my sister on for her 25th birthday. This would be her first trip to Europe and it would prove to be one of many firsts.
We started in Amsterdam, on to Belgium, then Paris. I remember the Eiffel Tower was lit up for the Millennial Celebration. We left Paris by train to travel to the Loire. After arriving, we got lost in Anjou, trying to find the Château de Brissac, where we would be staying. After finding it, we were welcomed by the Duke and Duchess of Brissac. My sister and I were the only guests staying, but we were served dinner in the formal dining room at a table that could seat 100 people. It was the best meal I have ever eaten, eight courses, each served with wine from the Château de Brissac cellar. As an apology for not being able to join us, the Duke and Duchess sent a bottle of their 1998 Cabernet Franc with the invitation to explore the castle. It was full of hidden rooms and as we wandered through, glasses in hand, I fell in love with the wine. It stopped me in my tracks. I was given three bottles to take, and I have one remaining, saved for a special occasion. Cabernet Franc is still my favorite varietal.
After your return from the trip did you begin to pursue a new direction in your career?
Julia: I was fascinated by wine. When I returned to the travel agency, I put together a proposal for wine tour-focused programs. The idea was accepted, and I was beginning to develop the tours, but then 9-11 happened. I had worked for Certified Vacations for five years, and I loved my job, but after that day, they were forced to close the business. I had met my husband two weeks before 9-11.
What brought you from Florida to Oregon?
Julia: My father was in the military, an engineer, and his work was in Saudi Arabia and Egypt. He promised my mother, who had grown up in Eugene, that when he retired he would take her back home. He kept that promise. My husband and I decided to move here because this is where my parents lived. I grew up in Saudi Arabia and Egypt, but that is where I was actually introduced to wine at young age by my father. Wine was prominent at his family gatherings because of his French grandmother. He grew up with wine on the table. In Saudi Arabia, wine is illegal, but my father made wine in the kitchen. He would fill the neighbors' jugs with wine. We had the most popular house in the American compound.
After family brought you to Oregon, is this when you found your calling?
Julia: We moved to Eugene in 2006 and bought a house near Iris Hills, now Iris Vineyards. I had no idea at the time that this was wine country. It was at a community gathering that I tasted the 2005 Reserve Pinot Noir from Iris, and I nearly fell over. I was hit for the second time with a wine. It was just like the experience when tasting the Cabernet Franc from Château de Brissac. This was my moment, and I knew what I was going to do. I was blown away by the views, the wine, everything.
After the epiphany, where did wine take you?
Julia: In 2007, I opened a flower and wine shop in Thurston. I sold only Oregon wine and that portion of the business flourished. In 2008, Julia's Wine Shop and Bar was established. I only sold Oregon wine and local Oregon products and that decision helped me survive the recession. The focus was on supporting local business and by committing to that I had loyal customers — so much so that when I sold my shop in 2010, it was a customer who bought it. Many friendships were forged in wine.
What was the next phase in the evolution of Wine Julia?
Julia: After selling my wine shop, I was encouraged by the wine community to begin writing. I love writing, and it came naturally to me. I set up a website and that is the origin of the name Wine Julia. I thought it might be a temporary thing, but I am always introduced as Wine Julia. Within four months of starting the website, I was nominated for Best New Wine Blog. The Wine Bloggers Conference of 2012 was being held in Portland. I was up against some powerhouse writers. When my name was called, I couldn't believe it. King Estate was the featured winery, so I had their support. They stood and hooted and hollered for me. I was very nervous and had the worst stage fright. All I could say was: "Thank you so much. I can't believe I won. I don't want to take up time; let's eat." Afterward, people said, "Thank you for keeping it short and sweet; we were hungry." I didn't think anyone was reading what I was writing but that really catapulted my writing career.
I also have contributed to Snooth since 2012 and have over 100,000 followers. Two years ago, I began as a guest on KPNW 1120 AM radio. I now have my own wine segment on "Wake Up Call." I also began doing video interviews with vintners and winery owners as a part of tastings featuring their wines. It has become a huge thing, which I never expected. They want their wine in front of me because I am a writer. They are more educational tastings than regular tastings. The interviews really started taking off at Capitello Wines, when I moved the tastings there after outgrowing the previous space. I had reached out to Ray Walsh to bring the Wednesday night tasting to his urban tasting room. He is a longtime friend and his Sauvignon Blanc was the first wine I brought into Julia's Wine Shop and Bar — another relationship coming full circle.
What's next for you in the world of wine?
Julia: Doors have been opening like crazy for me. I am starting a new job with the Hayworth Estate Wines as their general manager. I will be managing the tasting room, wine club, events and marketing. This is my dream job, everything I have wanted in the wine industry wrapped up in one package. It is greater than anything I have been involved with before. The opportunity to do all the things I have worked toward. I will learn more about the vineyard and be in the midst of my passion, learning all aspects of the business.
Owners of the stunning 150-year-old family farm, Keely and Russ Hayworth are relying on me to grow with them, and I could not be more thrilled. British born Keely is the vineyard manager and meticulously tends to the vines, while Russ grows some of the world's finest grass seed, providing football fields across the nation with real grass — there's even a regulation football field on the Hayworth property, surrounded by the vines. The label on the wine captures the view from the tasting room — the notable Hayworth Saddle (a portion of the Coburg Hills named after Russ' father) is in plain view and glows a glorious copper-golden hue when the sun rises. My job is to ensure success, and I am wholeheartedly dedicated. The tasting room is currently under construction, and we hope to be open to the public in the summer of 2018.
Music is a big part of the Hayworths' life, and they are the official sponsors of the Oregon Jamboree. Select Hayworth wines, made by local winemaker Jonathan Oberlander of J. Scott Cellars, are currently available at Coburg Pizza Company in Coburg and Springfield, the Bronco Saloon in Coburg and The Broadway Wine Merchants in Eugene. Increased distribution is a top priority for me.