Wine on Deck
Portland artist creates playing cards featuring state winery scenes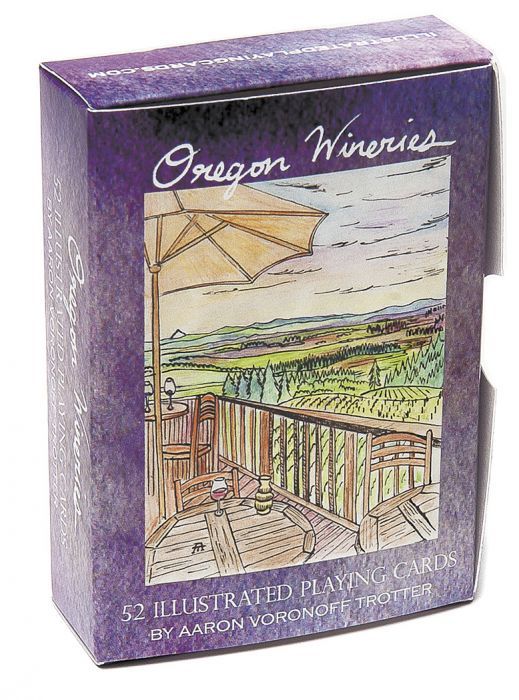 Portland artist Aaron Voronoff Trotter, creator of Illustrated Playing Cards, has completed his latest series featuring drawings of scenic wineries and tasting rooms from the northern Willamette Valley and Hood River.
Each card represents a visit to a specific winery, sketched on location and later embellished with watercolor pencil and ink. To achieve the rich wine-soaked color of the box, he submerged the prototype in Oregon Pinot Noir.
With more than 500 wineries to choose, Voronoff Trotter narrowed his list by visiting ones within a one-hour drive from Portland.
"I've enjoyed visiting many of the more well-known wineries, but have been happily surprised by the wineries I've discovered by venturing off the beaten path," he said. "It's a great excuse to get out to the country, but I learned that there are also plenty of urban wineries in Portland as well.
"As an inexperienced wine drinker, part of creating this new deck has been about tasting as much as I can, reading about Oregon wine, studying maps, as well as learning the history of wine," Voronoff Trotter added. "It's been incredible to learn how different grapes were brought by immigrants from all over the world to find a new home in Oregon."
A sample list of wineries in the deck include: Blakeslee, Anne Amie, Orchard Heights, Cubanísmo, Durant, Raptor Ridge, Alloro, Stoller, August Cellars, Winter's Hill, Amity, Sokol Blosser, Ponzi, Elk Cove, Patton Valley, Plum Hill, Montinore, David Hill, Hood River Vineyards, Marchesi, Cathedral Ridge and TeSóAria (tasting room in Portland), Apolloni, WillaKenzie, Adelsheim and more.
A $25 deck (includes shipping) features 52 full-color cards plus an index, artist statement, illustrated map and a signed and numbered box hand-folded by Voronoff Trotter. Find these and other themed cards at www.illustratedplayingcards.com.