Wine Country and Cannabis
Intersection of trades inevitable in Southern Oregon
An "elephant" roams the fields of Southern Oregon, so to speak. Although many would rather ignore cannabis, everyone definitely has an opinion about it. No matter where you live in this part of the state, there's likely a retail shop or grow site nearby, and as fall harvest continues, its skunky smell competes with the sweet, fruity scents of nearby pears and wine grapes.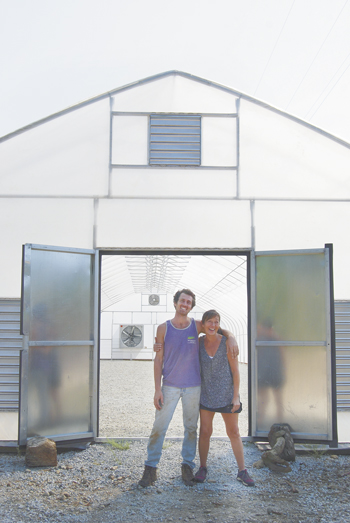 Although industrial hemp and medical marijuana are not new crops in Oregon, Measure 91 legalized recreational use and cultivation of cannabis in 2015, increasing legal production and challenging almost every aspect of the state's agricultural and regulatory assumptions.
As the cannabis industry grows, winegrowers and other farmers are learning how to co-exist with cannabis, adapting to the changing agricultural environment, including increased competition for resources, while welcoming new opportunities.
Wine grapes, cannabis and a host of other crops grow well in Southern Oregon, thriving through the region's long, hot summers and rich soils. In fact, the Southern Oregon AVA, roughly composed of Jackson, Josephine and Douglas counties, represents 2.4 percent of the state's harvested agricultural acreage. Yet, the AVA contains 24 percent of Oregon's wine grape acreage, and at least 25 percent of Oregon's legally licensed recreational cannabis and industrial hemp acreage — a significant figure considering no official tally exists for acreage planted to illegal cannabis or medical marijuana.
Mark Wisnovsky, co-owner of Valley View Winery in the Applegate Valley, notices similarities between making wine and producing cannabis: Both are highly regulated and heavily taxed, as well as have significant social impact, appeal to tourists and cultivate an appreciation of craft agriculture.
Certainly, cannabis, in all its forms, greatly affects Southern Oregon's economy. Selling at $800 to $1,000 per pound, cannabis involves far larger margins compared to wine grapes at $1,200 to $2,500 per ton. Cannabis influences land values, as well, especially when the site includes water rights and acreage is in high demand. The remote Josephine County town of Williams — population 3,000 — has been termed a cannabis capital. Josh LeBombard with the Oregon Department of Land Conservation and Development tracks values on Zillow.com. He notes in 2017, home prices in Williams increased 24 percent over last year, and the median now hovers above $300,000.
Competition for scarce resources irritates some winegrowers. Michael Moore of Quail Run Vineyards manages more than 300 vineyard acres around Talent, a small rural community with numerous vineyards, pear orchards, vegetable farms and, now, large cannabis sites.
"Everybody who's in the [cannabis] business has a lot of cash behind their operations, and they're acting like money doesn't matter," Moore said. "They're offering $20 an hour for crews, buying people left and right."
He says cannabis operators have called over fences and even walked into local fields to poach crews. Moore acted earlier this year, increasing hourly wages and benefits, but, even so, he can't compete with the cannabis wage and has had difficulty replacing permanent staff.
Michael Donovan, managing director at Irvine & Roberts Vineyards and former president of the Southern Oregon Wineries Association, says the labor shortage also affects retail and service industries when employees leave for higher paying work during the cannabis harvest.
Natural resources are also stretched. With only 20 to 35 inches annual rainfall, Southern Oregon is already scarce on water, with winegrowers, ranchers and farmers acutely aware of the problem. In fact, like many food producers, grapegrowers use drip irrigation to conserve water and manage fruit quality.
Surface and ground water rights are administered by Oregon's Water Resources Department and elected district watermasters. Regulations apply to EFU (Exclusive Farm Use) land but not to non-commercial medical grow sites and are difficult to enforce for illegal operations. Many farmers and winegrowers believe regulations governing water use and inspections to enforce water use violations are inadequate and penalties trivial.
One respected vineyard — preferring to remain anonymous — lies downstream from a large cannabis grow. The vineyard and others downstream observe water regulations, but despite having early water rights, they've lost late-season water.
"People [cannabis growers] dig ponds to collect water, drill wells that they water their crop out of," the vineyard manager reported. "Legally, you have to have a water right to irrigate, but they are actually pumping water out of the creeks."
"When you're stealing water out of the river, you're not being a good neighbor," said John Pratt, a West Medford winegrower and member of the Oregon Wine Board.
Facilitating cooperation among cannabis growers and other farmers is the Rogue Valley Food System Network, which organized an educational forum in July 2017 with representatives from land use and water rights agencies, and cannabis- and food-producing operations. Daniel Sweeney with Pacific Crest Vineyard Services represented winegrowers and commented particularly on labor issues; a video of the session is posted to www.rvfoodsystem.org. As a result, community conversations continue in a dozen locations in Jackson and Josephine counties.
Donovan maintains cannabis can boost Southern Oregon's agricultural and tourism sectors. He cautions, however, that cannabis laws are still changing. Some winegrowers are moving ahead though, building on their solid farming skills and knowledge, careful to observe the regulatory and financial requirements separating the wine and cannabis industries.
Bill and Barbara Steele, owners of Cowhorn Vineyard & Garden in the Applegate, own a separately incorporated and licensed medical grow, in part a response to Bill's parents who were suffering chronic and debilitating diseases. Cowhorn's cannabis, like their wine grapes and asparagus, are certified Biodynamic by Demeter, currently the sole cannabis certification agency.
In the Illinois Valley, Katherine Bryan and her son, Matt, started Bryan Family Farm, a recreational cannabis business, entirely separate from Deer Creek Vineyards, a Selma vineyard and tasting room owned by Katherine and her husband, John.
"I've had some people who are outright hostile, and one person told me that cannabis is ruining Southern Oregon's wine brand," Katherine remarked.
But she says cannabis is here to stay, and her wine business experience gives her an advantage on branding and marketing cannabis. After all, terroir, varietals, aromatics and taste are expressed in wine as well as cannabis.
"A key feature of our brand is that we'll offer an ultra-premium craft cannabis product that is unique and different," Katherine explained. "We're taking with us the lessons learned from the wine industry."
She also reports a significant increase in business at the Deer Creek tasting room.
"We're seeing sophisticated people who have invested a lot of money in their [cannabis] property, into what they're doing here," Katherine said. "They're the demographic you want for wine."
While there are still numerous problems to be addressed, Senator Floyd Prozanski, District 4-Democrat, believes the cultural and societal stresses we're experiencing now are similar to what happened when alcohol emerged from Prohibition.
"We've had illegal grows in the state that have been renown for 20 if not 30 years," he said. "By having a regulated market, you're going to see a shift, a change." An early advocate for the legalization of marijuana in Oregon, he adds "The federal government is going to end up legalizing [cannabis]... I would be totally shocked to think that we would go back in time in this day and age, based on the power that is in the process of moving cannabis into the national economy."
Valley View's Wisnovsky feels confident and assured.
"Cannabis is just another crop," he said. "You can't stop the market. It's going to go where it's going to go. You can't keep cannabis down."
Maureen Flanagan Battistella is an affiliate faculty member at Southern Oregon University. She is an architect of the Wine of Southern Oregon collection hosted in SOU Hannon Library's digital archives, soda.sou.edu