William Kelley
Q&A with up-and-coming British wine writer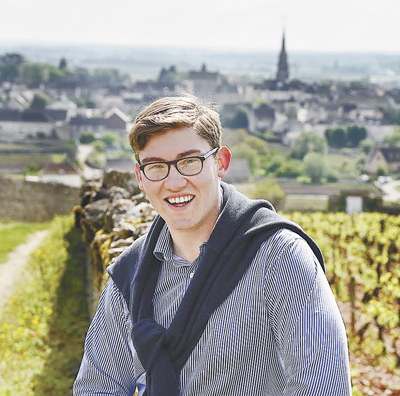 William Kelley reviews the wines of Burgundy, California Central Coast and Washington state for The Wine Advocate. During his time at Oxford University, he served four years as president of the Oxford University Wine Circle, the oldest tasting group of its kind, arranging weekly tastings with the world's most celebrated wineries. In 2015, Kelley began contributing to Decanter, becoming its North America correspondent and reviewing the 2015 and 2016 Burgundy vintages. He's also contributed to publications, including Noble Rot and The Robb Report. Find works by Kelley on his website: wfkelley.com.
Q: Why wine?
A: chance encounter with a great mature Bordeaux, the 1955 Château Lynch Bages, provided my motive. More complex and multidimensional than anything I'd tasted before, it prompted me to read everything about wine that I could find, and taste everything I could lay my hands on. My opportunity came during seven years spent studying history at Oxford, where I had amazing access to some of the world's best wines and joined, and later ran, the university's tasting group. During the academic year, we'd host tastings with the likes of Krug, Salon, Château Margaux, Domaine Dujac — and, of course, Eyrie Vineyards. Wine gradually came to dominate my life. And my accomplices included a number of influential mentors, most decisively a man named Hugo Dunn-Meynell, who introduced me to many of the great vineyards and vintages of Burgundy and Bordeaux. So I was hugely fortunate, and eagerly embraced a lot of priceless opportunities.
Q: How do Oregon Pinots, California Pinots and Burgundies compare?
A: All three regions are diverse, so the comparison is tricky. But to indulge in gross generalizations, I'd suggest that Oregon Pinot Noir is softer and rounder than Burgundy; it's seldom as structured or as acid-driven, and it's often slightly higher in alcohol. That's not to say it's heavier; it can be more delicate. The real question is what accounts for the differences. Oregon's soils are mostly acidic, whereas Burgundy's are basic. There are differences in climate. And the vine genetics are different: The Dijon and Pommard clones that Oregon producers are so proud of are rarely planted in high-quality sites in Burgundy. It's complicated. And adding California to the mix only makes it more complicated. California Pinot Noir can be lavishly ripe and confectionary, more like Grenache than red Burgundy; and it can be bright and ethereal, with modest alcohol and tangy acids. It's hard to think of any wine category that exhibits such a broad stylistic spectrum. What is clear is that, since unimpeded access to the Pacific Ocean does more to determine the character of a mesoclimate than its latitude, there are exposed, marginal sites in California that can produce wines that are very much at home in the conversation that's going on between Oregon and Burgundy.
Q: Any "silver linings" from Burgundy's recent troubles?
A: From the producers' perspective, I can't think of a silver lining, but I do see light at the end of the tunnel in the form of the 2017 vintage. In most appellations, 2017 witnessed a very generous crop that equals or exceeds the yields of 2009, Burgundy's last big harvest. Producers who had suffered in preceding years were understandably reluctant to drop fruit, so those high yields went untamed. The official line from the Burgundians is that 2017 combined quality and quantity, but having witnessed the harvest first hand, I'm less sure, and I'll wait until my tastings are complete this fall to affirm or contradict that narrative. I suspect that, as far as red wines are concerned, it's a vintage that will resemble a superior version of the 2000 vintage. But, as one winegrower put it, a vintage like that was an economic necessity. For many producers, especially in the Côte de Beaune, it will make the difference between indigence and prosperity. For consumers, the silver lining is that we've had some fabulous vintages, with small crops bringing complete ripeness and concentration that were hard to find in the over-cropped vintages of the 1980s and 1990s. Of course, consumers are also paying for it in the form of rising prices. In the longer term, let's hope that the domaines can realize more of the profits that are made in the sale of fine Burgundy themselves.
Q: If you could own a winery ... Where? What? Who?
A: I actually bottled the first vintage of my own wine just over a month ago. It's a Chenin Blanc from Clarksburg, California, which I'm vinifying and maturing at Spottswoode in Napa Valley with the help of my friend, Aron Weinkauf, who's the winemaker there. The idea was to make something of high quality using artisanal methods and sell it for a very reasonable price. Everyone wants to make the American answer to La Tâche or Château Latour, but my aspiration is to try to compete with the high quality "country wines" you can drink for a pittance in France — wines from the Loire, Southern Burgundy and Rhône Valley. Chenin seems the obvious grape in California, as it does so well and so few people are taking it seriously. We fermented the wine in used barrels of various sizes and matured on the lees — a traditional central Loire approach. It's called Beau Rivage, and it will go public this Christmas. In the future, the dream would be to make some wine in Burgundy. Perhaps emphasizing appellations where potential is going unrealized, such as the hill of Corton or the premiers crus of Pommard. I've worked a bunch of harvests in France and California and read most of the important enology textbooks, so I know "how to connect a pump," as they say, but my day job keeps me pretty busy. So we'll see!