Willamette Wows
WVWA auction takes Pinot even higher
In reality, some moments must be experienced to comprehend. At the third annual Willamette: The Pinot Noir Auction, April 6 and 7, the excitement among a standing-room-only crowd felt infectious, contagious and, dare I say, intoxicating.
The build-up to Saturday's final event, including an immersion seminar, preview tastings and intimate Friday night winemakers' dinners, impressed as well, like the 2016 vintage the auction delivered.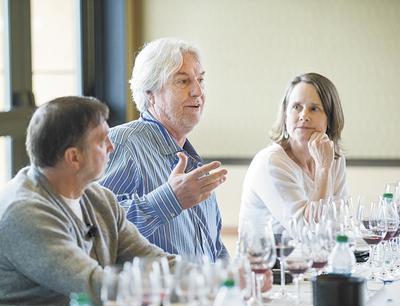 Wholesalers, private club proprietors, hoteliers, retailers, distributors, importers, restaurateurs and brokers had swirled, sniffed, sipped and summed up their impression of the offerings until it literally became time to put their money where their mouths had been. When seasoned wine auctioneer Fritz Hatton called, "Paddles up," the bidders complied with conviction. Representing 23 states and three countries, attendees competed for numerous lots, including five cases of Alexana Estate Winery "By a Landslide" Pinot Noir, commanding $20,000; five cases of Zena Crown Vineyard "Barrel and Foot" Pinot Noir bringing in $24,000 and five cases of Antica Terra "Alder Creek" Pinot Noir garnering a dizzying $33,000.
At one point during the Antica Terra bidding battle, Hatton chided, "It's just one more thousand," which was all it took for the winner to acquiesce to the final figure as the crowd erupted in hoots and applause.
In total, $737,000 was raised through the sale of 81 lots for the marketing arm of the Willamette Valley Wineries Association — more than $800,000 when ticket sales and sponsorships were factored in — a 56-percent increase over 2017.
Although the competition was fierce, a strong sense of camaraderie prevailed, a trademark for which the Willamette Valley is known. Each lot pulled equal weight, whether it raised four or five digits for the joint cause.
Aside from the dramatic final tally, another sweet surprise involved the appearance of Dick Erath. Before the auction started, Hatton called him up to remark on how many vineyards the Oregon Pinot pioneer was responsible for planting in the Valley in the '70s. Erath humbly replied, "I was busy back then."
So were those who attended this year's auction.
The weekend began with a Friday morning blind tasting and seminar, "Willamette Immersion," moderated by Josh Raynolds of Vinous Media. A distinguished panel comprised of Josh Bergström, Bergström Wines; Melissa Burr, Stoller Family Estate; Steve Doerner, Cristom Vineyards; Laurent Montalieu, Soléna and Hyland Estates; and Lynn Penner-Ash, Penner-Ash Wine Cellars, took a deep dive into the Valley from 2007 through 2015. None of the wines were produced by any of the panelists, but they were all highly rated by Raynolds upon release.
On its own, this kind of tasting is special, but with feedback from vintners, it was a real education, and collectors were taking notes. For example, Bergström said he'd be hard-pressed to guess the 2008 vintage was 10 years old for its freshness of fruit. The group proclaimed 2011 to be a "gorgeous vintage," and 2014 gave winemakers such perfect conditions they "could've made whatever style of wine we wanted to."
Willamette Immersion was impactful. Many attendees remarked later how impressed they were when the panelists shared their own experiences, imparting personal insight into the discussion of different vintages. Doerner commented how the hot easterly winds from the Gorge in 2009 created a blow dryer effect aimed at the Willamette Valley; while Bergström remembered the Hitchcock-ian birds of 2010 that ate 70 percent of his Chardonnay and half of his Pinot Noir.
Pinot was the star of the auction, but 2018 saw Chardonnay make its debut at the event, and this varietal drew considerable interest. Three lots referred to as the Chairmen's Chardonnay —crafted by auction board chairs, past and present — raised $30,000 among 15 cases.
Willamette: The Pinot Noir Auction started in 2016 as a way to raise awareness and recognition of Oregon Pinot Noir on another level. In just three short years, the association has managed to increase revenue by more than 40 percent.
Bergström, auction board chair in 2016, said, "Some of us, including some of the Oregon pioneering families and some of the younger generation like myself, truly believe that after 50 years, Oregon wines belong on the trade stage as much as the great Burgundies of the world."
Montalieu, this year's board chair, agreed with his sentiment.
"The main thing we want to say is that Pinot Noir equals the Willamette Valley," he commented. "We don't want you to think New Zealand or Burgundy or Sonoma. Just like Cabernet Sauvignon equals Napa, we want to create this truism."