Who's a Good Girl?
Bluebird the Aussie makes her OWP debut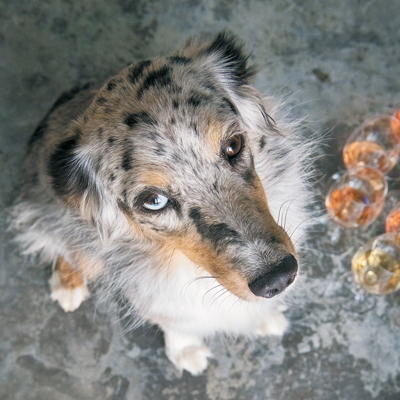 While assisting photographer Andrea Johnson stage this month's cover on the floor of my tasting room, the dog was eager to check out the scene.
Bluebird, a two-year-old Australian Shepherd, is a good girl — yes, she is. Named for her coloring, blue merle, Bluebird is a pretty girl, too. Lots of people visiting our vineyard notice her marbled fur and mismatched eyes: one dark brown, the other a swirl of ice blue.
Bluebird loves to greet guests, especially short ones — O.K., kids — running circles around them, like it or not. She really just wants to play — actually, herd — and is an expert at her "job."
Bluebird works hard for her kibble. Besides rounding up small people, she guards the house, warning us of all kinds of intruders, including mice in cars — my battle continues — squirrels up trees, quail skittering in the vines and the neighborhood dog dropping off her daily fertilizer. She barks, running after the "assailant," and then, just as fast as she bolted, she's back at our feet — or under them.
She simply doesn't want to miss a thing.
As we were finishing the photo shoot, Bluebird returned to check on us. She had been busy "protecting" my son inside the house, or, more likely, "housekeeping" by grazing the floor for bits of after-school pretzels.
Just as the light lit up the glasses of orange wine, the dusky, soft sun bathed Bluebird in a glow that made Andrea jump back behind her viewfinder. With the help of trusty treats from my mother-in-law's pocket, busy Bluebird sat long enough to be captured.
This is Bluebird, a wine country dog who welcomes strangers to her house almost every day. Although her tail is docked, she wags her rear end to signal her delight. She likes to cuddle — on your face — sniff and play, and puzzle us all by burying her treats — under the vines or in the couch — no matter how tasty they are. She is a protector, a best friend, an important part of our family.
Bluebird is a good girl.
Andrea, thanks for the wonderful photo.