Wheat Country Wine
Bolton Grows 15 Mile brand near The Dalles
15 Mile Winery
Details:
Tasting Room:
306 Court Street, The Dalles
Phone:
541-965-1444
Hours:
Saturday–Sunday, 11 a.m. to 5 p.m.
Website:
www.15milewinery.com
If fields of golden wheat suggested a land of great wine, the rolling hills falling away from Highway 197 just north of the town of Dufur would be more famous than Napa Valley.
Give it time.
If Colter Bolton has anything to say about it, that day of reckoning may arrive sooner than later.
Following his parents' lead, Bolton has grafted his own label, 15 Mile Winery, on the rootstock planted by Dan and Mercedes Bolton, making Colter the fifth generation to pull a living from the Columbia Plateau.
Down past the wide spot known as Boyd, on Bolton Road, past old cherry trees and over the lip of the canyon rim above Fifteen Mile Creek, a visitor arrives at a modest barn. No vines anywhere in sight.
But they're out there.
"I think my parents had some troubles with the winemaking part early on," Colter says. "But they did some things that made it easier for me to take over."
Recalling their efforts to build the Bolton Cellars label on 25 acres of grapes, Dan Bolton explains, "I didn't mind doing the wine deal, but my wife got tired of it. So we were talking with Colter, and we said this is what we've worked for, we have the grapes, and maybe you ought to think about getting into it."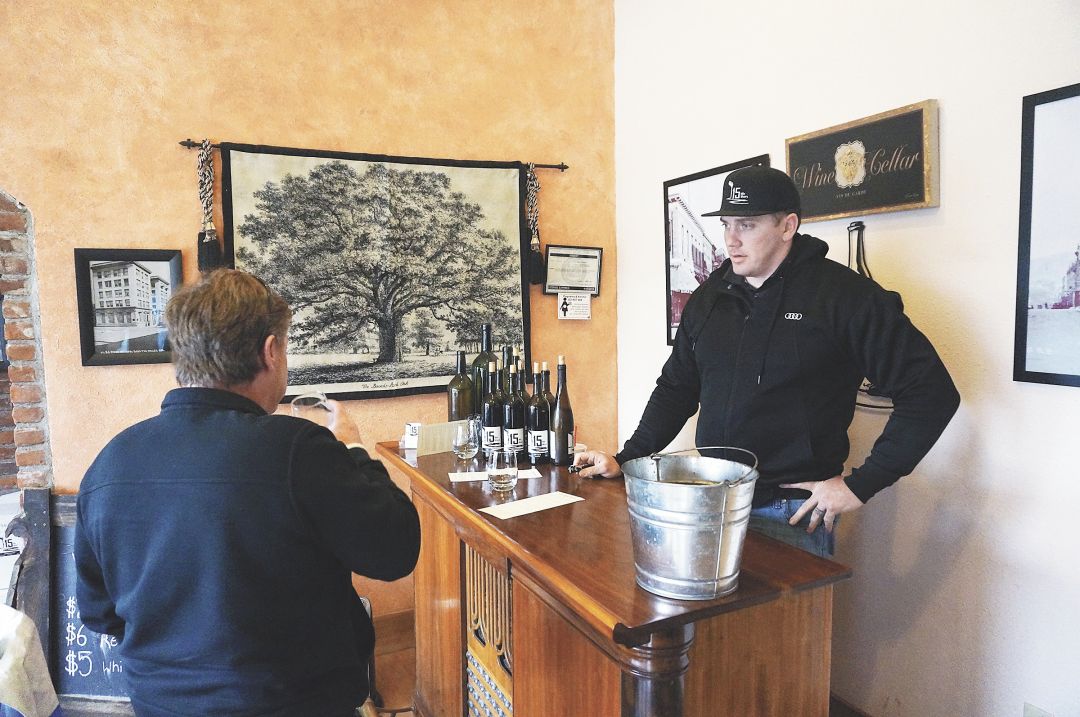 Sold.
Of his son, Dan says, "He's a really good winemaker."
Although his 15 Mile product has only limited release, peer appraisal is glowing. Kelly Johnson, owner of Tetrahedron Wines in Lyle, Washington, says she and her fiancé recently visited the 15 Mile tasting room in The Dalles.
"His wines are good," she said. "We went in and tasted one, and said 'This is good.' And we tasted another, and said, 'This is good.'"
Colter came to the game as many do, in a long and roundabout fashion. He grew up with hard work, bucking hay and helping his parents harvest wheat from the 1,000 acres, the majority homesteaded in the 1800s by great-great-grandfather Absalom Bolton.
"Because my dad drank some Willamette Valley Pinot Noir that he loved, he decided to plant some Pinot Noir," Colter recalls.
Their Pinot Noir vines are about 28 years old. About a decade ago, the elder Boltons started making some wine of their own under the Bolton Cellars label.
As his parents were first fermenting grapes, Colter was out exploring the world. He had wrestled and played football at The Dalles High School, which earned him a scholarship to Weber State University in Utah, financing studies in zoology and chemistry.
"Originally, I wanted to be a pharmacist," he recalls. "But I couldn't see being inside all the time. I knew in my junior year that making wine was what I wanted to do, and I didn't want to go to school to learn it. I wanted to learn by working with other winemakers."
He left college and was hired as a "cellar technician" with Firesteed Cellars in Rickreall, scrubbing tanks and "paying his dues."
"You never know everything," he says. "I'm humbled that they would take me on. There's always something to learn."
After two years, he moved in 2010 to Chateau Bianca in Dallas, Oregon.
"That's where I learned winery management and winemaking," Colter says. "Andreas Wetzel was very generous with his knowledge."
Two years later, his parents were ready to quit making wine to focus on growing grapes. And Colter was ready to make the leap into the vat.
His wife, Lacey, had a good job
in hospital administration with Kaiser Permanente in Clackamas, and they had a young son who needed attention. Colter was glad to take on that role of care taking, which also afforded him time to take over his parents' winemaking efforts.
His small production facility sits near 15 Mile Creek, hence the brand name. He still owns the Bolton Cellars label, for possible future use.
"I felt this was do-able, being small, not having a big budget," he recalls of his decision. "I thought if you were smart about it, you could make great wine by being careful with how you spend your money."
He currently is buying about 3 percent of what his parents grow, which includes Pinot Noir, Merlot, Gewurztraminer, Barbera, Syrah and Primitivo grapes.
His parents sell much of their Pinot Noir to Willamette Valley producers. Isn't that a bit like selling ice to Eskimos? Not really, Colter says. The winemaking world may believe that grapes grow well only west of the Cascades, "but I beg to differ."
Dan Bolton feels a sense of partnership in his vineyard management. For example, he thinks Colter needs to include white varietals in his mix, which is why he planted Chenin Blanc.
"We're trying to grow varietals that will help him and get him established," Dan Bolton says.
When Colter agreed to take over the winery, he used a separate facility to produce his 2012 release of five wines and 300 cases under 15 Mile.
One of the more popular wines in the Bolton stable — and now carrying the 15 Mile label — is the High Tension red blend of Syrah, Barbera and Merlot.
"We wanted to celebrate the arrival of electricity to the countryside," recalls Mercedes Bolton. "So we went and got permission from Wasco Electric Cooperative to mention them in the label. They said they felt privileged to help us celebrate rural electrification."
Quality-control issues with off-site production led Colter to step sideways in 2013, and produce no wine while developing his own facility.
"Like all winemakers, I'm a control freak," he admits.
Growing awareness of his 15 Mile Label is fueling expansion. He's hoping to handle twice the grape volume this year as he did in his first.
One of his initial wines was a Pinot Noir sparkler, which he wants to make again, but first he needs to build up the equipment.
For now, Colter shuttles three days a week between his home in Oregon City and his winery in Boyd.
"Someday we would like to be back over living there full time," he says.
"In any relationship, there's a lot of give and take. It came down to a compromise. I get to do what I like and love, and my wife can do the same, and we have this mutual business together."
A veteran Northwest newspaper and magazine reporter and editor, Stu Watson owns Watsonx2 Communications in Hood River.