Weisinger's Reimagined
Ashland winery launches new name, look, philosophy
The Weisingers' release party in early July ushered in a new era for the Southern Oregon winery. At the gala, second-generation Eric Weisinger introduced the new name, Weisinger Family Winery, new look and new philosophy to this local industry pioneer, formerly known as Weisinger's of Ashland.
Essential to the winery's changes is the new label design featuring a silhouette of the winery's iconic chalet-type building on the hill with each varietal or blend identified by a different earth-toned color. "The old label, with the kestrel, was tied to my father and his Texas roots," Eric said. "The new label represents what I call the four pillars of the new brand: history, family, quality and local sourcing."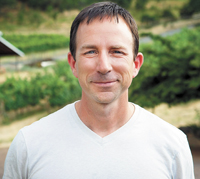 The winery also boasts an altered focus on varietals, including Syrah, Tempranillo, Cabernet Franc, Malbec, Sauvignon Blanc, along with the winery's signature Gewürztraminer and proprietary Bordeaux blends.
As winemaker, Eric's goal is bringing out the distinctive characteristics of the local terroir—the soil, exposure, slope and drainage conditions of the specific vineyard. All Weisinger wines are made with grapes sourced from within five miles of the winery.
"I believe some of the best fruit in this region comes from around Ashland," Eric said. "Because Ashland is part of the Klamath Knot, a unique geological region that contains different soil types — granite, sandstone, clay — within yards of one another, we have a truly unique terroir.
"For example, a Syrah grown in the Wagner Creek drainage in Talent will taste different than a Syrah grown on the east side of I-5 in Ashland," Eric added.
The back label of each wine bottle identifies the local vineyard where the wine was sourced, the date of harvest, as well as the brix (sugar level), pH and acid level of the grape at the time of harvest and the number of cases produced of that wine.
"I won't tell you the flavors in the wine or how it tastes," Eric said. "That's for you to discover."
Eric's father, John Weisinger, planted the first wine grapes in Ashland in 1979, with Gewürztraminer cuttings obtained from friend Frank Wisnovsky of Valley View Winery in Ruch. John released his first wine under his label, "Weisingers of Ashland," in 1988, the same year he built the winery and tasting room.
"My father's first wine was a dry, Alsatian-style Gewürztraminer from his estate grapes. He also produced a wine called "Mescolare," a red blend of Pinot Noir, Zinfandel, Cabernet Sauvignon and Nebbiolo, and rosé made from Syrah. The reds were made from grapes sourced from other vineyards," Eric said.
As a child and a young man, Eric did everything from working in the vineyard to assisting with his father's winemaking, supplementing his hands-on experience with formal courses in wine chemistry at University of California at Davis. Eric became winemaker at Weisinger's in 1998, producing an award-winning Cabernet Sauvignon and other outstanding Bordeaux blends such as the winery's signature Petite Pompadour.
Eric left the Rogue Valley in 2006 to become a grapegrowing and winemaking consultant, working in other areas of Oregon as well as in Australia, New Zealand and California.
"My style of winemaking changed. It gave me a new perspective on 'home,'" he said. "I knew the taste of the terroir around [our estate], but I didn't realize how distinct it was until I made wine elsewhere.
"It is my belief that you cannot really get to know a region unless you eat the locally grown food and drink the local wine," Eric added. "If you are in Provence, you would eat food and drink wine from Provence, not from the Rhône or Bordeaux. If you want to really experience Ashland, eat the food grown here and drink the wine produced here.
"I believe great wines reflect the terroir of their particular region and that all regions are unique," he continued. "That is what wine is all about, and that's what we've evolved back to."
Eric returned to the Rogue Valley in 2011, originally working with his father as well as with other local wineries as a consultant. He still works as a consultant, but as John gradually retired, Eric assumed vineyard management, production and marketing for the family business.
Roberta Kent is a freelance writer living in Ashland. Reach her at rbkent@mind.net.