The Way to Chardonnay
Annual celebration explores path for Oregon's Burgundian white
Patrick Comiskey gazed out over the Oregon Chardonnay Celebration crowd and declared: "We're entering a golden age of American Chardonnay." This news came as a relief to those who have suffered wines as buttery as Orville Redenbacher and witnessed shrines to Cupcake Chardonnay erected in grocery store aisles. If Oregon's winemakers are poised to take the lead on this trip to Chardonnay nirvana, I am more than ready to follow.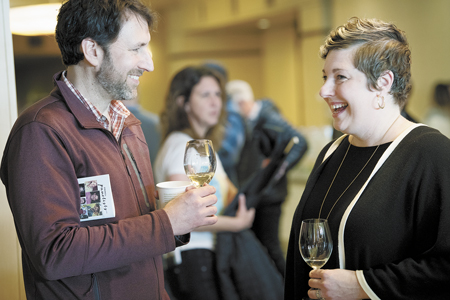 Paul Durant, of Durant Vineyards, and Erica Landon, of Walter Scott Wines, launched this event in 2011 to introduce Oregon Chardonnay to a broader audience. Over the years, it has become so successful that hundreds of people, once again, arrived at The Allison Inn in Newberg in late February to participate in a seminar and tasting of more than 50 of Oregon's top Chardonnays.
Comiskey, a senior correspondent for Wine & Spirits Magazine, moderated this year's forum, "The Style Council." He began the session proclaiming how entering a golden age meant we were leaving an age of a darker hue. "We have been through three decades where routinely imbalanced wines were lavished with critical praise and where wines that rarely rose above the level of cliché were bought and consumed in the millions of cases." Comiskey quickly added, "I'm looking at you, California."
There were exceptions, but despite the best efforts of a handful of producers, Comiskey claims "Chardonnay became one of the dumbest wines on Earth. They were obtusely ripe, flabby, insipid and so devoid of a sense of place and authenticity, the vast majority of wines in the category seemed like an insult to wine. Hell, they seemed like an insult to wetness!"
He outlined a variety of reasons — from the waning influence of Robert Parker to high octane-induced palate fatigue — for consumers to seek fresh, balanced Chardonnays reflecting a sense of place. Oregon winemakers are perfectly positioned to take advantage of this new demand.
To learn more about Oregon's Chardonnay renaissance, Comiskey quizzed panelists Anna Matzinger, Matzinger Davies; Wynne Peterson-Nedry, Ribon Ridge Winery; John Paul, Cameron Winery; Jason Lett, The Eyrie Vineyards; Thomas Savre, Lingua Franca; and Josh Bergström, Bergström Wines, about what made their state unique. (1) What are the unique conditions that make Oregon a great place to grow Chardonnay? (2) What can you share about your élevage that makes the wine your own? (3) What do you do with your wine to preserve the terroir?
All six panelists zeroed in immediately on how a cooler climate plays a role in creating balanced wines with elevated acidity and lower alcohol levels. Peterson-Nedry mentioned the Valley's fertility and the nearby mountain ranges protecting them from severe climate patterns. Matzinger cited the length of the growing season, optimal sunlight hours and cooling maritime breezes blowing through the Van Duzer Corridor, confessing "All of these factors are why we winemakers refer to 45 degrees north as the 'shit happens' latitude."
The importance of soil triggered varying responses. Savre, Bergström and Peterson-Nedry focused on the diversity of the Willamette Valley's soil types as a critical factor in the singularity of our wines. Lett, however, said although all these factors play a role, he places soil near the bottom of his list, well below climate and elevation. According to Lett, "You can find limestone soils analogous to those in Burgundy, in very warm parts of California, but those wines aren't going to taste Burgundian."
The questions of élevage (the progression of wine between fermentation and bottling) and the preservation of terroir (the interaction of soil, climate, topography and grape variety in a specific site, imprinting the wine and making each from a specific site distinct) prompted intriguing responses. Matzinger described her use of longer cigar-shaped barrels to increase the ratio of lees to wine contact; she also picks their Chardonnay grapes at night to maintain freshness and acidity. Paul made a persuasive case for dry farming, arguing irrigation removes precipitation from terroir. Bergström discussed the incredibly labor-intensive process he uses to sort lees, removing all settled lees from the tank, separating the undesirable green, black and gray-colored lees, and then returning the more desirable lees to the juice.
The most contentious moment of the seminar came when Paul insisted many colleagues pick Chardonnay grapes too early. He claimed harvesting at 80 to 85 days past full bloom means they are bringing in green fruit to achieve proper pH levels. "Stop it!" he cried. "By sacrificing physiological ripeness for acidity, you miss out on so much of the grape's flavor." Instead of harvesting according to Brix or pH numbers, Paul relies on tasting the Muscat clone of Chardonnay on the vine to help estimate physiological ripeness, shooting for a target date of 100 days from full bloom. Savre wryly suggested he hopes to be so wise when he reaches Paul's age, but, in the meantime, "I'm going to rely on laboratory numbers."
Following the seminar, the Grand Tasting glowed in its diversity of wines: from the brisk, saline-driven Johan Vineyard Chardonnay from newcomers Statera Cellars, to the Granny Smith goodness of the Willamette Valley Chardonnay made by the "old hands" at Knudsen Vineyards.
As long as the climate doesn't change too much, allowing our winemakers to seek balance and place over bombast, this new Oregon-driven "golden age of Chardonnay" may last a very long time.