Vinyl to Vines
Music promoter tunes into new gig: Oregon wine
In many respects, there's not a lot of difference between making wine and vinyl. Both products are pressed, released and become highly collectible, consumed and critically appraised by aficionados. Some labels, whether record or bottle, are cultish and operate independently, while others supply and satisfy mainstream tastes.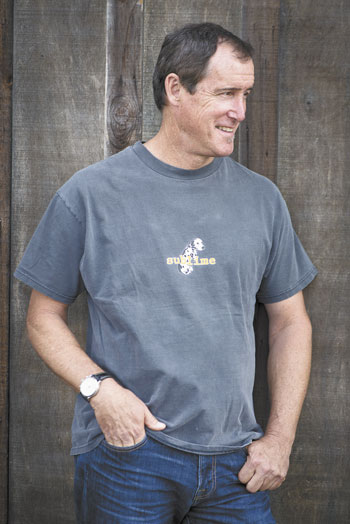 Whether you're talking albums or magnums, each is made by passionate artists, sometimes under the guidance of a "Svengali" producer whose role is to cultivate the creative vision, bring it to full fruition, then package it for sale to the public.
For the past 30-plus years, Jay Boberg has worked in the music industry, helping to develop and promote some of the best-loved bands of the New Wave and alternative music genres. And now he's applying those skills and aesthetics to making wine in Oregon.
Boberg is part of a new wave of entrepreneurs riding the rising tide of Pinot Noir. The Californian has partnered with a fourth-generation French winemaker, Jean-Nicolas-Méo, to form Nicolas-Jay. The third member of the super-group is Tracy Kendall, a Pacific Northwest native and one of the new generation's rising winemakers.
As co-founder of I.R.S. Records, Boberg helped launch the careers of musical acts such as R.E.M. and The Go-Gos, as well as many great-though-lesser-known bands, including The Fleshtones, Lords of the New Church, Concrete Blonde, Oingo Boingo, The Cramps, The English Beat and others. During the late '70s and early '80s, these bands defined the popular "New Wave" sound, pop music with an artsy cutting edge.
After I.R.S., Boberg was president of MCA Records, helping turn Alanis Morissette, Mary J. Blige, Sigur Ros and The Roots into major stars. He works in the music industry to this day, now as chairman of INgrooves, a digital music distribution service.
Although vinyl is currently enjoying a renaissance, most aspects of the music industry have changed significantly during Boberg's career, along with his role.
"I'm not involved in the same way that I was, in terms of discovering bands and working with them on songs, being in the studio and the whole thing," Boberg said.
As he once did for musicians, Boberg is now applying that band ethic and dynamic to the way he's producing and promoting his new independent wine label in Oregon's Willamette Valley. He lugs heavy cases of wine, instead of boxes of vinyl, while touring the world, singing the praises of Oregon's wine industry and his place in it.
"It's the same as in the music business," Boberg said. "It's all about the song. And, of course, you have to have a performer who can sell it."
Providing the star power is Jean-Nicolas Méo, acclaimed Pinot Noir winemaker and owner of famed Méo-Camuzet in the Côte d'Or.
Méo and Boberg have been friends since 1987. At the time, Boberg had already developed a taste for wine and even owned a California winery during the '90s. While he was pumping out hit songs, Méo was honing his winemaking chops at some of Burgundy's most famous vineyards: Richbourg, Clos de Vougeot, Corton Clos Rognet and Échezeaux.
The Willamette Valley provided Méo and Boberg the raw material and inspiration to start their wine label — France wasn't an option, since vineyard land there is so scarce, not to mention expensive, as is also the case in California.
"I think in Oregon you're starting to see some vineyards and places that are really starting to develop a reputation and character and age," Boberg said. "How many vineyards in Oregon are 20 years or older? Not that many."
In 2013, Boberg negotiated the purchase of Bishop Creek Vineyard. Planted in 1988, the vineyard has been featured in wines made by Jason Lett, under Eyrie Vineyards and Black Cap labels, as well as Erath, Chapter 24 and Matello wines.
The site's fine reputation lies in the own-rooted, non-irrigated Pommard and Wädenswil clones planted there. To draw a musical parallel, making wine from these vines is like recording at a studio renowned for its acoustically dialed-in sound.
"The things Jean-Nicolas liked about the vineyard are the things that well-regarded vintners would say, 'The fruit is really incredible, but the vineyard is difficult!' It's really tightly spaced, five different spacings, five row orientations on 13 acres, dry farmed, steep, out on its own, the trellising is not ideal — but the fruit, the fruit, the fruit!" Boberg said.
Nicolas-Jay makes a Willamette Valley blend featuring 35 percent Bishop Creek juice mixed with a chorus of other grapes grown throughout the valley from their favorite sites — all killer, no filler.
Associate winemaker Tracy Kendall calls the fruit from Bishop Creek "very strong. It creates this backbone that lets you move around and fine-tune what you're looking for. It defines who we are and sets a tone."
The 2014 vintage charted in 96th place on Wine Spectator's Top 100 wine list for 2016, an impressive debut.
In addition to the blend, Nicolas-Jay makes a single-estate bottling of Bishop Creek, and another featuring Nysa Vineyard, planted in 1990 on self-rooted vines. The winery produced 1,800 cases in 2016, but Boberg says they hope to achieve 5,000 cases. They've grafted some of the vines at Bishop Creek over to Chardonnay from Pinot Gris, which will eventually add to their roster of wines.
Boberg and Kendall have also created a side project, a Pinot Noir rosé under the Pink Vinyl label. Boberg said a Red Vinyl project is also in the works, and maybe a White or Clear Vinyl project in the future.
"There are certain wines, like certain albums, that stay with you forever," Boberg said.
The major difference between record albums and bottles of wine, however, is that wine disappears once it's consumed, whereas music you can listen to again and again.
"I didn't make the wine in the same way I didn't create the music," Boberg said. "But here we are trying to evoke our passion for wine as I had once done for music and the artist behind it. Having worked with artists on a variety of different levels, I can assure you winemaking has every bit as many artistic junctures."
It's the same difference with promoting wine.
"Authentic enthusiasm and passion are relentlessly contagious. If you honestly think this is great" — whether it's a song on the radio or a bottle of wine being poured at a restaurant — "and your heart and soul is in it, people will tune in."
Peter Szymczak lives in the Red Hills of Dundee. His writing has appeared in The Oregonian, Sip Northwest and Northwest Palate magazine.