¡Salud! Celebrates Silver
Vineyard worker healthcare program stronger than ever at 25
Photos by Andrea Johnson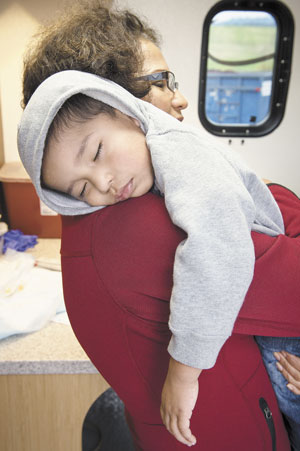 For 25 years, seasonal vineyard workers and their family members have gained access to health care through ¡Salud! Services, a program providing basic medical screenings, education and advocacy at no charge.
An entity of Tuality Healthcare in Hillsboro, ¡Salud! is a collaborative effort and exists primarily because of its annual auction, at which 43 winemakers offer one-of-a-kind cuvées for the fundraiser. This year, the ¡Salud! Cuvée Tasting and Big Board Auction will take place Nov. 11 at Ponzi Vineyards in Sherwood, followed by the 25th Anniversary Celebration Gala and Auction at the Sentinel Hotel in Portland on Nov. 12. Last year's two-day auction raised a record-breaking $800,000.
In an arena where community health organizations fall by the wayside for lack of funding or interest, the fact ¡Salud! is a quarter-century old stands as a testament to the industry. Another way to consider it is that supporting the program is good business. In fact, most on the fundraising committee are winery owners. The service is not only a way to offer a benefit to the vital crews working in both the vineyards and cellars, it's a way to provide care to a population possibly averse to visiting the doctor.
To this end, said ¡Salud! Manager Leda Garside, the primary mission is direct access to healthcare, which means being able to refer patients, who need more than the ¡Salud! team can offer, to specialists. In 2015, 3,875 workers and family members were registered into the program, and more than 3,000 medical and dental encounters were documented. The program's roving wellness clinic saw more than 800 workers last year.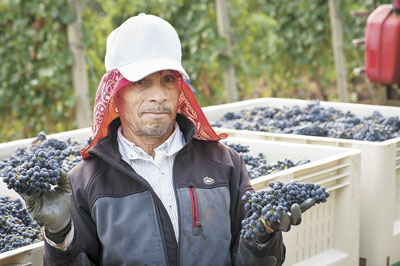 "We want to make the vineyards a point of entry for healthcare," said Garside.
That "point of entry" got a great boost in 2014, when funds from 100 donors afforded the team an improved mobile clinic. Smaller than the previous motor home-sized vehicle that ¡Salud! used to borrow, the new machine, a custom converted Dodge Ram Promaster with all the appropriate medical equipment, cost the program $150,000. Because it's smaller, it allows easier access to vineyards and wineries. Garside said the team named it Lady Bug.
"Little, but mighty," she said.
Inside the van, patients can receive a full complement of clinical services. These "Wellness Clinics" ensure prevention through health education and screenings. On-site tests results are explained to patients and referrals are arranged if further care is needed. With a focus on promoting wellness, the program offers: cholesterol, diabetes and vision screenings, blood pressure checks, flu and tetanus vaccinations, and occupational health, nutrition and mental health information.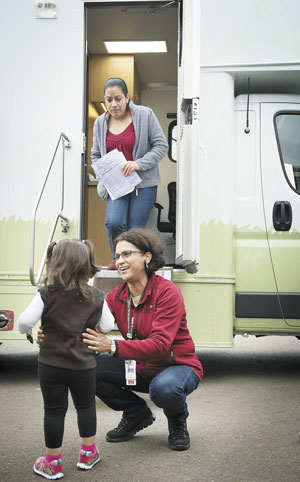 The medical team members are experts in the specific health needs of the Latino population. Garside says hypertension and diabetes are prominent health concerns among them.
"We're another safety net," she said. "We're a place where they can feel comfortable asking questions about their health."
Garside said the program is also valuable by helping workers to become familiar with what services are available in their communities, including family members.
Luz Carbajal is one.
She and her husband, José Maria Sanchez, moved to Oregon from Barra de la Cruz, Mexico, in 2003. José works the vineyards, as do two grown sons. They introduced her to the program 10 years ago. Had it not been for her first visit with ¡Salud!, her diabetes would not have been discovered. She has since been referred to a specialist, and because of the program, her regular doctor visits cost her very little; her co-pay is only $15.
"¡Salud! is a huge help for me in terms of cost," she said.
Without the program, Carbajal said not only would her diabetes have gone undetected, but getting the treatment she needs would have been extremely difficult.
Along with the medical services, ¡Salud! also subcontracts with dental clinics and, in the past, has offered such services in the field. To provide dental services at the work site, the program partners with Medical Teams International and Pacific University, paying a stipend to each for their services.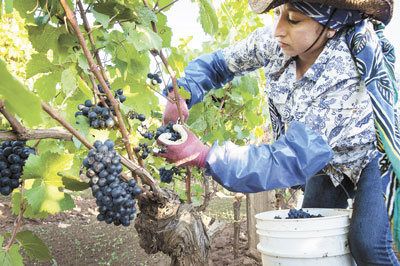 Yet another way ¡Salud! helps is to offer first aid certification training. Between 80 and 100 workers and vineyard managers become certified through ¡Salud! each year.
The impact on the general health of the seasonal worker community was evident at Left Coast Cellars on Sept. 14, where a little more than 30 workers were harvesting Pommard at the top of a hill on a bright, sunny afternoon. Vineyard Manager Luke McCollum said the service has made a major difference with his seasonal crew. His vineyard acts as a hub when ¡Salud! visits, bringing workers from several surrounding vineyards to take part.
"When we started with ¡Salud!, it was like a lot of them had never even had their teeth cleaned before," he said. "When they see the truck arrive, they all line up to be seen."
Returning to the ¡Salud! office in Hillsboro, the bilingual four-person team — two registered nurses, a health educator and a program assistant — is gearing up for vaccinations at King Estate. They recently returned from another one, and before the year is out, they will have completed four. During such trips, they'll vaccinate an average of 30 people daily but have seen up to 100.
"It might be muddy," remarks Community Outreach Nurse Carrie Body before we walk outside to take a look at Lady Bug.
It wasn't terribly muddy, but the van carries a reminder of the early days for Tuality Healthcare. A collapsible partition, which Garside speculates is from the 1940s, is standard issue in the van. Used for added privacy, the team calls it the "Minnie Jones Curtain," which is a nod to the founder of Tuality, a nurse who would make house calls to deliver babies — starting in 1918 — traveling with a similar curtain.
To be sure, the team at ¡Salud! encompasses the same community health spirit. Body has a rich history in community health, having worked for others in the Portland area before joining ¡Salud! just two and a half years ago. The team's education coordinator studied public health at Portland State University, and has been with ¡Salud! since graduating six years previously. Miriam Lopez, the team's services assistant, brings a solid interest in community health outreach, as well.
At the main office, Foundation Manager Maria McCandless, alongside Communications and Special Events Officer Lindsay Coon, ensures fundraising efforts for ¡Salud! never cease. A cabinet in McCandless' office displays past ¡Salud! awards, and a pencil drawing of a proud vineyard worker hangs on her wall. It's the work of Ginny Adelsheim of Adelsheim Vineyards.
McCandless says making sure ¡Salud! is funded is a year-round effort. Through the auction, a summertime dinner and contributions from companies and individuals, ¡Salud! is funded solely by donations and made possible by hard work.
"We would not be able to be successful without the many hours of volunteer leadership from the wine industry principals who work year-round, side-by-side with us to execute the auction and raise funds for this project," McCandless said. "Over the past 25 years, the players may change, but the consistency of this leadership has remained strong."
As ¡Salud! enters its 26th year, what is clear is how it has become a part of the seasonal worker community. Emblazoned on the side of the van is the official ¡Salud! logo: a partial silhouette of a worker, kneeling as he pulls a cluster from a vine. The image, said Garside, brought a heartwarming response from a four-year-old boy the first time the team had the new van out in the field.
"He looked up at the truck, saw the logo and said, 'Look, it's my dad on the truck!' And it was just so sweet."
In the years before Neil Zawicki landed in the Willamette Valley, he spent his time as a reporter in Alaska, and a sailor with an address in a California marina. In his spare time, he's a student of history, a painter and a guitar player.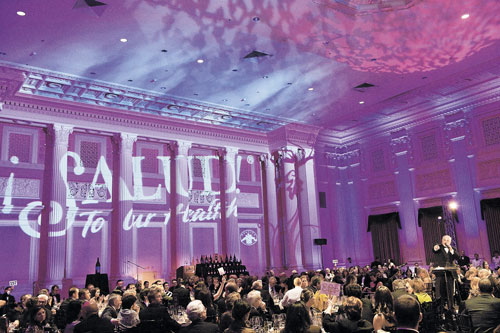 ¡Salud! The Oregon Pinot Noir Auction
This year's two-day auction begins with the Cuvée Tasting and Big Board Auction at Ponzi Vineyards, Nov. 11, 3 to 6:30 p.m. A chance to preview the 2015 Pinot Noir vintage, this portion of the annual celebration offers guests a chance to bid on custom-made cuvées made exclusively for ¡Salud! and to mingle with the winemakers who made them.
The special 25th Anniversary Celebration Gala and Auction, Nov. 12, 5 p.m., will be hosted in Portland at the Sentinel Hotel. A black-tie affair, the evening promises fine wine and dining with the winemakers and the opportunity to win incredible auction packages for the sake of ¡Salud! A paddle raise and live entertainment add to the night's incredible energy.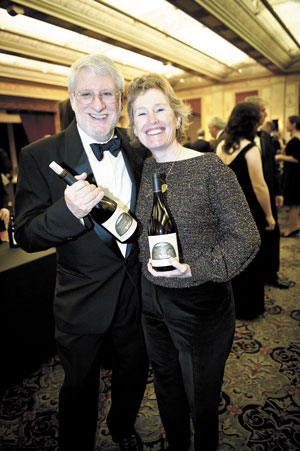 The Vintners Circle 2016
The Vintners Circle is a group of select wineries that generously donate their time, resources, and talent to support ¡Salud!. Their generosity makes the achievements of the ¡Salud! mission possible.
¡Salud! Cuvée
Producers
Adelsheim Vinyeyard
Alexana Winery
Amalie Robert Estate
Arborbrook Vineyards
Archery Summit
Ayoub
Beaux Frères
Bergström Wines
Bethel Heights Vineyard
Big Table Farm
Brittan Vineyards
Brooks Winery
Chapter 24
Chehalem
Cristom Vineyards
Dobbes Family Estate
Domaine Drouhin Oregon
Domaine Serene
Dukes Family Vineyards
Dusky Goose
Elk Cove Vineyards
Erath Winery
Evening Land/Seven Springs Gran Moraine
Hamacher Wines
Hyland Estates
Lange Estate Winery
Patricia Green Cellars
Penner-Ash Wine Cellars
Ponzi Vineyards
R. Stuart & Co.
Raptor Ridge Winery
Résonance
Roco Winery
Scott Paul Wines
Shea Wine Cellars
Soléna Estate
Soter Vineyards
St. Innocent Winery
Stoller Family Estate
Trisaetum
WillaKenzie Estate
Winderlea Vineyard & Winery
Winery Partners
Argyle
Ken Wright Cellars
Sokol Blosser
Willamette Valley Vineyards