Vine with a View
Del Rio buys Birdseye Ranch, 150-year-old vine
Del Rio Vineyards' 300 acres are immaculately cultivated. The vines are neatly pruned and hedged, and, in summer, heavy with fruit. It's one of the largest vineyards in the Southern Oregon AVA where Rob Wallace and his team produce premium grapes and wine. Though there is one in particular that appears anything but cultivated, a big, old gnarly grapevine stretching into the branches of a black walnut tree on the historic Birdseye Ranch, a property Del Rio acquired in March.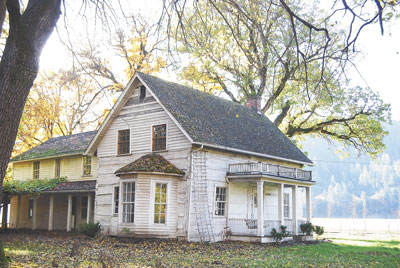 More than a foot in diameter, the trunk is rooted deep into the rich soils along the Rogue River. Although showing some rot, the vine still grows strong and bears fruit. It was Clarissa Birdseye who stuck a snip in the ground more than 150 years ago. In October, Del Rio winemakers made wine from the fruit of that venerable vine.
An 1853 donation land claim, Birdseye Ranch — until the Del Rio acquisition — had been worked by the namesake family. The vine is mentioned in family narratives as a Mission varietal given to Clarissa by Granville Sears in 1860. The story goes … one day, Clarissa was late along the road home from Jacksonville, so Sears cut a switch to encourage her horse.
"Here," Granville said, "use this for a persuader."
Sears owned a homestead on Old Stage Road at Ross Lane — on the 20-mile route to Gold Hill — and a vineyard that may have included Miller Mission and Black Hamburg grapes, perhaps planted from vines given to him by Peter Britt or Colonel J.T.N. Miller. It is said Clarissa planted the vine with old shoes, a dish-rag and barnyard fertilizer; and while oral histories tell of jams and jellies, there's no mention of wine.
Back to 2016. By mid-October, Del Rio's winemaking team, led by Jean-Michel Jussiaume and his assistant, Aurélien Labrosse, had harvested, crushed and fermented more than 1,000 tons of winegrapes, work made easier with mechanical harvesters and a second Europress.
With the majority of wine safely in tank and barrel, Jussiaume prepared to harvest the old vine. He climbed the rickety arbor, carefully cutting the purple clusters. Raised on a forklift, cellar hand Toni Mühlbacher shouted, "Higher, higher," reaching for more clusters among the tree branches. "Sweet," commented Labrosse, spitting seeds.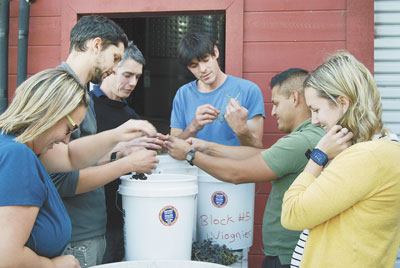 Grinning widely, cellar worker Jonathan Maldonado remained on the ground, directing the equipment. The team picked 39 pounds of grapes from the vines and 50 pounds of black walnuts from the ground. Back at the Del Rio winery, they destemmed the grapes by hand and Jussiaume crushed the berries in a white bucket, a strong contrast to the towering tanks and stacks of barrels holding estate wine.
Appreciation for heritage is nothing new for Rob Wallace and his wife, Jolee. Del Rio was the community center of Rock Point, a town established during the Rogue River Indian Wars (1855 to 1856) and planted to pears in 1907. The winery was Rob and Jolee's earliest effort, transforming the pear packing house into a winery. Stunning in its vast space, the building was reworked, taking massive floor planks and reusing them as doors and walls. Once redolent of sweet pears, the building now smells of wine, lots of wine.
Rob and Jolee with their partner, Lee Traynham, realized they needed a tasting room and while it would have been easier to build from scratch, Jolee says the avid interest in the property made them hesitate. They began to restore the old Rock Point Hotel and stage stop for use as a tasting room in January 2001.
"I don't think we knew what we were getting into," Jolee said. "Termites, foundation problems, everything covered in bat guano, and the place had been ransacked."
After much hard work, the 1865 building is now a welcoming tasting room, with landscaped walkways and shaded gardens.
To date, Rob hasn't had much time to consider any plans for the old Birdseye Ranch home — its broad pine beams dovetailed in 1856 and still fitting close together — yet the property, previously under the care of five generations of Birdseyes, has changed under Del Rio. The foliage has been cut back, farm buildings cleared out, the roof repaired. With another 160 acres entering production, Rob's fully occupied grading the slopes, putting up fencing, installing irrigation. In March, he'll plant new vines.
Perhaps, in time, the old vine will be propagated and a small heritage vineyard planted. In the meantime, Jussiaume will test its DNA at UC Davis to determine its ancestry. No doubt, the old vine will be babied by Del Rio's team with careful hands and Old World instincts.
As for the bucket of grapes, only 10 bottles of Birdseye Ranch rosé are being made — the rarest wine Southern Oregon has ever produced — aging now and awaiting release.
A celebration of history and a testament to the hard work and progressive vision of Rob and Jolee Wallace, this wine is truly a gift only a lucky few will get to taste.
Maureen Flanagan Battistella has been documenting the wine industry of Southern Oregon for the last 15 years. She is on the faculty of Southern Oregon University.