Valot's Valcan
Argentinian-born winemaker launches brand
Although Valcan Cellars may be one of Oregon's newest wine labels, it is founded on great experience and a rich international heritage.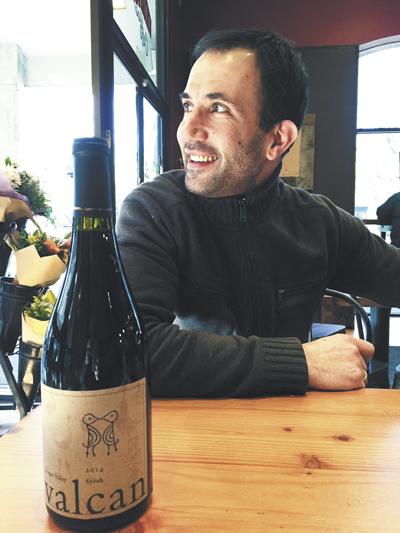 Winemaker/owner Juan Pablo (JP) Valot learned to walk in wine country, the Mendoza region of Argentina, where his family grew grapes in the land of Malbec. Valot almost gets carried away just talking about wine; it's clear he loves his lineage and line of work. "It's like poetry!" he said. "Watching them go from bud break to flowering to veraison…"
His grandfather showed him the art of how to grow grapes, describing it as a combination of nature and wisdom. "It's not just a formula; you don't follow a recipe," Valot explained, with a nod to his abuelito. "You have to pay attention."
After studying enology and viticulture at the National University of Cuyo in Mendoza, he worked as an enologist in Argentina, and then moved to Oregon in 2001. His Oregon résumé is extensive. He has taught classes at Chemeketa's Northwest Wine Studies Center and worked for Silvan Ridge Winery near Eugene for almost 13 years, transitioning to head winemaker in August 2012. The next year, he became the associate winemaker for Elizabeth Chambers Cellar in McMinnville. Since last year, Valot has served as director of winemaking for both.
Along the way, he's been an active member of the Oregon Wine Board and worked for Willamette Valley Vineyards, Soter Vineyards and Dobbes Family Estate. Valot counts 19 vintages between here and South America.
Coming from Argentina, Valot says dark reds were all he knew, so Oregon Pinot Noir was a bit of a surprise. When he worked at Willamette Valley Vineyards, Valot admits he was afraid something was quite wrong with the Pinot, because it wasn't the concentrated color he was used to — think Malbec.
"I remember thinking, 'Wow, maybe I've come to the wrong place!'" he explained. "And I really could not speak any English back then, so I had trouble communicating. I thought maybe the wine was watered down."
Valot has since come to know and love Oregon Pinot and, in fact, he makes one from his vineyard in Monroe for his new brand, Valcan. He also offers Merlot, Cabernet Sauvignon, Cabernet Franc, Syrah, Petite Sirah, Pinot Noir rosé and a red blend for a total of 700 cases. Tempranillo and Chardonnay are the latest additions to the brand, yet under the new label, he says he won't be producing an Argentine-style Malbec, surprising many of his friends. He's abstaining out of respect for Silvan Ridge, where he already makes the robust, inky red.
Valot sources fruit from the Willamette Valley, Rogue Valley and from his two leased vineyards outside Monroe, Rainbow's End and Mountain View — the two comprise of four acres. Once he revitalized the vines, Valot went to work on the name and label. He didn't want to use his last name, because, as he put it, "If it goes bad, then you've ruined your name, and I need my name."
He finally arrived at a blend of his last name, Valot, and his wife's, Cancel. Her Puerto Rican roots inspired the artwork, which resembles petroglyphs found on the island. The subject of the image? Two birds kissing. Perfect for a brand founded by a dedicated couple with two young children.
Valot says he wants production to remain small, at least for now, so he can spend time with family and winemaking duties at Silvan Ridge and Elizabeth Chambers.
"The wine is our third child," he said. "This is my parent's dream becoming my dream for our kid's dream."
Cool Equipment Although JP Valot's investment was costly, he believes the long-term benefit of the AgriOzein is worth the initial outlay. The sprayer is an ozone water treatment system that uses green technology to control disease, eliminating the need for some pesticides and fungicides. Already other vineyard managers are keen to know how it works out for him. What he does know is that he doesn't have to suit up in protective gear to spray ozone. After teaching pesticide practices at Chemeketa, he certainly understands the value of pesticide-free methods.
Winemaker and Valcan Cellars owner JP Valot ## Photo by Neil Zawicki