High Five, Upper Five!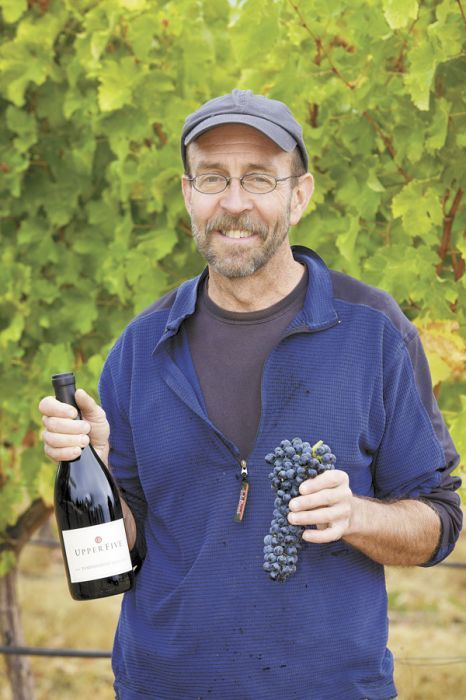 Terry Cooper Sullivan of Talent's Upper Five Vineyard just might be the wine producer outside of Burgundy, France, who made the smallest amount of wine — 75 cases in 2010 — who earned a 90-point rating from Wine Spectator.
Making this story even more interesting is that his 2010 Tempranillo was the first vintage of his Upper Five Vineyard label. Sullivan has been growing grapes since 2003, but he has sold them to Northern Oregon producers.
In 2010, he collaborated with Bill and Barbara Steele, who own the Biodynamic winery Cowhorn Vineyard outside Jacksonville, to produce a Sauvignon Blanc for the joint label Sullivan-Steele.
That same year, when weather and birds made harvests dicey across the state, Sullivan also decided to keep Tempranillo grapes to debut his Upper Five Vineyard label. Linda Donovan of Pallet Wine Co. in Medford made the wine. He boldly sold futures of the Tempranillo almost a year before he released it. The limited cases sold out quickly.
A few weeks ago, he was doing a random Internet search with the keywords "Upper Five Tempranillo." He does this weekly to check who's tasting his wine and to read their comments.
Deep into the search — page three — he noticed a link to Wine Spectator's report on Oregon wines receiving a score of 90 or more on a 100-point scale. This high score is reserved for "outstanding" wines.
He scanned the alphabetical listing, and when he hit the U section, he saw his label's name.
"My first reaction was surprise," he says. "Then I smiled a bit; then I called the co-owner of Upper Five, Molly (Morison). She was eating dinner, and I think I heard her fork drop."
He explains how describing his feeling as giddy "would make any of my friends laugh. I'm not known to have such emotions." But he did confess to "a nice internal smile for quite a while."
How his small-lot wine made it to Wine Spectator's Napa office for consideration is another story. Last fall, Sullivan was talking to Craig and Morgan Broadley, who buy Sullivan's Grenache and Syrah for their Broadley Vineyards' Upper Five blend.
The father and son suggested Sullivan send an unsolicited submission to the magazine. He downloaded the application and sent in two bottles.
"They state emphatically that they may not even taste them or review them," says Sullivan.
He sent them anyway because he says he can't become known unless he lets people outside the state critique his wine.
Sullivan says it's not about selling wine — his 2010 sold out in three months — but about the region getting recognition.
Although he has no more bottles of the 2010 Tempranillo to sell, he is now selling futures of the 2011 for $23.
Story by Janet Eastman, courtesy of Medford Tribune. For more info, visit www.upperfivevineyard.com.