Unparalleled Experience
Domaine Serene hosts culinary series celebrating Evenstads' two estates
Descending the grand limestone staircase, the first glimpse of the cool cave comes into view. Tucked inside, a table is set with elegant wine glasses specifically chosen for the varietals to be poured. Each guest is seated before a menu, divulging the script for a two-hour, immersive food and wine pairing, comparing and contrasting Pinot Noir and Chardonnay crafted in both the Willamette Valley and Burgundy.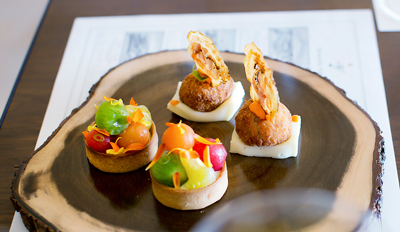 Inside Domaine Serene's Clubhouse, The 45th Parallel Experience was born from a desire for owners Ken and Grace Evenstad to cast a light on Château de la Crée — the storied sister property of Domaine Serene — through an engaging, educational opportunity.
Visitors taste through four Chardonnays and four Pinot Noirs representing Old World wines from Maison Evenstad in the Santenay commune of Burgundy and New World stylings produced from the Willamette Valley and Dundee AVAs of Oregon.
"We want to demystify Burgundy a little bit," explains Matthew Thompson, Domaine Serene's director of marketing. "Burgundy is really complex. People traveling up here don't expect a deep dive into Burgundy, and we want people to walk away with 'Wow, this is awesome. I get it now.'"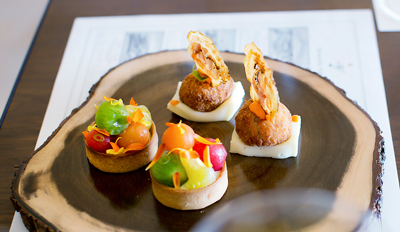 To replicate a genuine European encounter, it's important to acknowledge the way French regard food and wine with the same reverence. Enter Executive Chef Jason Kupper, a Le Cordon Bleu graduate with a prestigious Napa Valley résumé. His responsibility entails pairing each wine course, one from Château de la Crée and one from Domaine Serene, with a food offering complementing the flavor profile of each.
Keenly aware how club members, as well as wine enthusiasts and foodies, represent a repeat clientele for this tasting adventure, Kupper aims to change up The 45th Parallel each month. He takes hyper local ingredients, readily available around the Valley, and injects them with a global twist, paying tribute to both regions.
"My goal with The 45th Parallel is to surprise and delight our guests through memorable wine and food pairings while creating a story that connects with people on a human level," Kupper says. "To achieve this, we use ingredients that are familiar but unique to provide a level of comfort and whimsy on the plate."
He describes a recent course featuring a roulade of Oregon rabbit with pickled garden vegetables from Even Pull Farm in McMinnville. The "whimsy" was the house-made mole sauce, which surprisingly beautifully complemented the wines, elevating them in "all the right ways."
Other small bites have included hazelnut-crusted Briar Rose chèvre, Fuyu persimmon relish and toasted hazelnuts on a bed of baby arugula with spiced persimmon gastrique; Carlton Farms braised pork ravioli with fried sage, Parmesan and brioche crisps atop a butternut squash purée; and a Pinot-braised beef short rib with roasted root vegetables, baby gold beets and carrot-miso butter. His is a meticulous presentation from start to finish that does not leave guests wanting for drink or sustenance.
At times, The 45th Parallel can seem like molecular gastronomy, with past courses including celeriac and apple panna cotta with Dungeness crab, frisée and apple cider gelée, but when the chef's goal is to coax the best attributes of both regions, someone hungry to understand those nuances can admit culinary risks do just that. In this case, there was a distinct richness and salinity in the Burgundian wine and more brightness and citrus components in the Willamette Valley Chardonnay. These "a-ha" moments are precisely what Domaine Serene seeks.
According to Thompson, only the most seasoned associates preside over The 45th Parallel. Predominantly consisting of certified sommeliers, their level of professionalism and expertise equips them to speak deeply about the wines featured and share the story of how one couple realized their dream at the intersection of Oregon and Burgundy.
The Evenstads fell in love with wine in Burgundy, which led them to search the U.S. for premier Pinot Noir. Their decision to invest in the Willamette Valley in 1989 and follow with the purchase of a historic 15th century French château, with holdings in several Premier Cru vineyards, was in contrast to the trend of French vintners establishing relationships in Oregon.
The Clubhouse at Domaine Serene, unveiled last year, makes an enormous impact both architecturally and economically. Old World details lend authenticity throughout the 30,000-square-foot space, and the aforementioned caves were designed to reflect ones built below Château de la Crée.
With the help of The 45th Parallel dinners, Domaine Serene is successfully illustrating its unique story in a multi-sensory way.
"We have a world-class chef and great access to produce and proteins," Thompson said. "We have a wealth up here [in Oregon] that we really need to celebrate."