Uncorking the Grove
Annual celebration heats up downtown Forest Grove
Lest we forget during these cool autumn days, the temperature was more than 100°F on the evening of Aug. 20 — one big, final swelter to cap off a warm summer — when wine revelers gathered on Main Street for the eighth annual Forest Grove Uncorked Festival, a benefit for the Western Washington County Firefighter's Association.
As a kind of active tribute to the palliative effects of liquids on heat, the standing-room-only crowd had plenty of opportunities to drink. And drink. And drink some more in the form of tastes poured by everyone from garage winemakers and estate wineries, to craft brewers and even craftier distillers. Only the occasional bakery, teriyaki stand and artisan craft booth interrupted a steady flow of libations. Armed with event glasses, the crowd managed admirably with both the heat and the challenge of taking on so many tasting choices.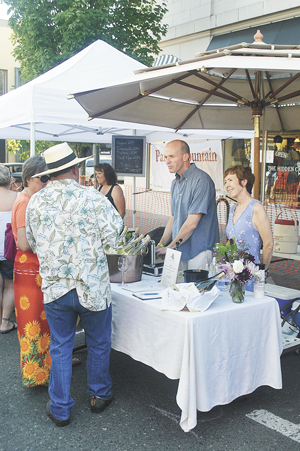 For wine lovers, the festival was a perfect opportunity to reconnect with longtime favorite Willamette Valley wineries such as Montinore Estate, Elk Cove Vineyards, Lange Estate, Methven Family Vineyards and Willamette Valley Vineyards. But just as impressive was the list of smaller producers participating, showing off a broad range of wines sourced throughout Oregon and Washington.
There were even some unprecedented debuts, such as the premier appearance by Dashul Varnum, the two-month-old son of Cyler and Taralyn Varnum of Varnum Vintners. He napped inside the Urban Decanter wine bar as his parents took turns pouring a tropical 2015 Old Vine Riesling, Chardonnay and a Pinot Noir from the Zolnikov Vineyard near Hubbard. I sense young Dashul will see the inside of more wine bars by the time he's two than most of us see into our 40s.
A few booths away, Irish-born Glen Keogh poured for winemaker/owner Joe Williams' D'Anu Wines, named after "the most ancient of Celtic deities." He let fly with a Cabernet Sauvignon sourced from Seven Hills Vineyard in the Walla Walla Valley, a lovely 2012 Winemaker's Reserve Pinot Noir sourced from three AVAs, and a 2014 Freedom Hill Tempranillo — only 109 bottles produced. As we spoke, Keogh's phone bonged; he checked it. "My wife is telling me to stay hydrated."
Hydration wasn't a problem thanks to the well-stocked exhibitor tents lining the street. Apolloni Vineyards poured a pleasant estate-grown Muscat. Tim Wilson of McMinnville's Denison Cellars offered his elegant Pinot Noirs sourced from the JL Kiff Vineyard outside Carlton. Blizzard Wines, located in Hillsboro, chipped in Carménère, Riesling and Syrah.
Newcomer La Randonnée, also from Hillsboro, listed well-established vineyards as the provenance of its tasty wines, including Sauvignon Blanc from the Russell-Grooters Vineyard on Savannah Ridge — between Lafayette and Carlton — and a tasty 2014 Pinot Noir sourced from Carlton Hill. The winery produced only 110 cases last year, explained owner/winemaker Kevin Green, who also makes the aforementioned Apolloni wines. "La Randonnée means the walk or journey," he added.
So we walked on and spotted longtime friend Jason Bull, the former winemaker for David Hill in Forest Grove; he now devotes his time to his own Zimri Cellars label. He'll soon be offering his wines from the Purple Cow tasting room in Newberg.
Nearby, Henry Morgan of Rizzo Winery had reached back into his library for a 2009 Pinot Noir from the Eola-Amity Hills. "We craft a little bigger Pinot than most," he offered, adding how the wine is made in Eastern Oregon, near Pendleton. A sweet Muscat and Yakima Valley Syrah rounded out his offerings, which can now be sampled and purchased at Rizzo's tasting room in Dundee.
Cutting a wide berth around the booths for Vinn, Big Bottom and Crater Lake distilleries, not to mention Wild Roots Vodka and Rolling River Spirits — all delicious and intriguing, we're sure, but we had to drive, not crawl, home that night — we stopped in at 2 Towns Ciderhouse for "Cot in the Act" cider, and Twill Cellars of West Linn, located at family-owned Ribera Vineyards, featured an intriguing copper-colored rosé of Pinot Noir. Kramer Vineyards also poured a Pinot Noir rosé, but with bubbles, adding a refreshing fizz in the glass.
Notes get spotty after that, but we're pretty sure we also checked in with TeSóAria Winery of Roseburg, Troon from the Applegate Valley and Hood River's Naked "We Aim to Tease" Winery, with perhaps a splash or two from the brewers of SakéOne and Kaiser Brewing. Although it was a hot night, by the end of Forest Grove Uncorked, no one much minded, and everyone looked forward to next year's event — if we can just remember how to find it.
Author/journalist Jim Gullo has contributed to a variety of national and international publications and is the author of two books; he lives in McMinnville with his family.