Uncommonly Cool
Producers gather to celebrate unique paths, pours
"My get-rich-quick plan? I'm going to make about 50 cases of esoteric wine out in my garage," said no winemaker ever. Yet there's a dedicated core of small producers who could not imagine a life in which they did not make wine.
Frequently making niche wines that would be difficult to sell in large quantities, these dreamers and risk takers touch every aspect of their production, in turn, creating a truly impassioned, interesting product with a compelling story.
Each year, Vista Hills Wine Cellars selects such wineries for the Uncommon Wine Festival. While not your typical small-production winery, four out of five wines poured at Vista Hills are 150 cases or fewer. Relating to the boutique ethic, the winery has hosted the event since 2011.
"We have a big tasting room for a winery our size and wanted to share," explained Ryan Fish.
Approximately 200 people gathered July 10 to taste these boutique wines and meet the makers behind the labels. If you missed it, you missed out. Don't fret though. Here's a summary of the participants and leads for buying these wines that can be difficult but not impossible to find.
Jasper Sisco Wines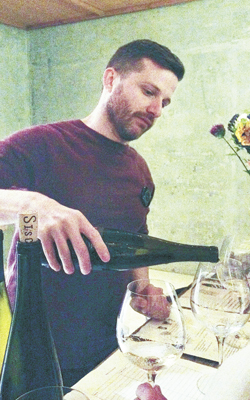 Jasper Sisco's Justin Paul Russell grew up in what he calls a "Southern nuclear family." Forget 2.5 kids; his house was full of extended family who lived off the big backyard garden. Sustainable land use was just a way of life, and today, he seeks vineyard partners who are extensions of his mission to produce natural wines that are also affordable and accessible.
Sourcing from six Willamette Valley vineyards and three Columbia Valley sites, Russell crafts Riesling, Pinot Noir and Cinsault Rosé. He also makes Gratus Bynum, an unusual but intoxicatingly aromatic Alsatian-style white blend of Riesling, Pinot Gris and Muscat.
Russell plans to grow his business to about 4,000 cases; he's currently building a tasting room in Portland slated to open by end of year. In the meantime, find his wines at SE Wine Collective.
Leah Jørgensen Cellars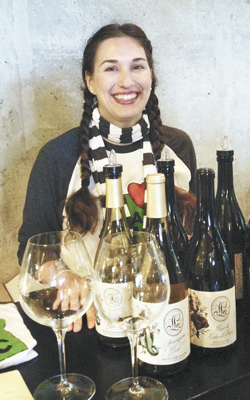 Leah Jorgensen's genuine smile and enthusiasm are contagious, and her Loire-inspired wines are addictive. Possibly the only producer in the world of a white Cabernet Franc, Jorgenson also crafts Malbec, Sauvignon Blanc, a Gamay-dominant red blend and a traditional Cabernet Franc.
Jorgensen was inspired to pursue these varietals by way of Earl Jones of Abacela and his geological evidence to support the planting of Spanish varietals in the Umpqua Valley.
"I don't know that I would have done this were it not for Earl," she said.
Focusing mostly on vineyards in the Rogue and Applegate valleys, Jorgensen works with limestone soils encrusted with 250-million-year-old marine fossils, similar to the tuffeau stony soils of the Loire Valley. She currently makes 1,000 cases.
"I want to maintain the fun, curiosity, and enjoyment of the experience," claimed Jorgensen.
Go online to purchase wine and make tasting appointments.
Viola Wine Cellars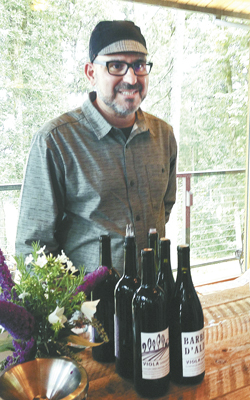 Darryl Joannides explained how winemaking is his ninth or 10th career.
"I have always wanted to do different things and am the type of person who just does them," said Joannides.
Focused on Italian-inspired wines made with Northwest grapes, Joannides produced 1,000 cases in 2015.
"I'll have to scale that back a little. It pushed the limits of what I can do in my 500-square-foot garage," he said.
His Barbera and Dolcetto are made in stainless steel. His whites, like his Sauvignon Blanc-dominant blend Bianco d'Allegre, are typically fermented on skin and manifest a high level of acid with texture and tannin. Casa Viola Rosso, his house red blend of Sangiovese, Dolcetto, Barbera, Nebbiolo and Primitivo tastes just like the house wine served by the carafe in a ristoranté in Italy.
Sample his wines at Viola's Portland tasting room on Fridays or make an appointment.
The Pressing Plant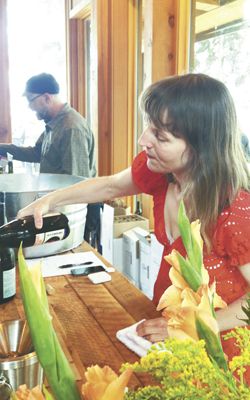 What does someone do for an encore after "killing it" as a band manager in New York's rock scene? Move across the country. Catch the wine bug. Literally, Google "wine school" and get a degree from UC, Davis.
But you can't stop the music, so Sheri Hood of The Pressing Plant uses it in describing her wine. Bryter Layter is named after a Nick Drake album, setting the expectation for bright sunny Chardonnay.
"Music is as much a feeling as a sound, just like wine is a feeling, not just a taste," explains Hood.
The Pressing Plant strikes a chord with quality and price point. It is next to impossible to find a $20 Pinot Noir or Chardonnay you could peg as authentically Oregon with your eyes closed. She currently makes 800 cases.
Find her wines at most New Seasons, Oregon Wines on Broadway and special events.
A Cheerful Note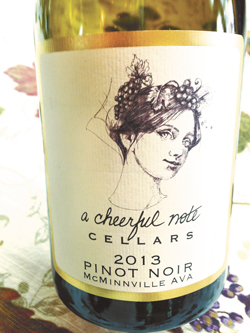 Impassioned by winemaking, Ariel Eberle worked her way up the ranks to become the assistant winemaker at Yamhill Valley Vineyards, but she soon realized she wanted her own label. Taste the wine and hear the story of her brand design to know why. A Cheerful Note is such a reflection of her.
The image on the label represents the Greek Phrase "Kalos Kagathos," which means the singular balance between good and beautiful. Eberle says this phrase captures her personal goal for herself and her wine. The font is a reproduction of her late mother's handwriting, both a tribute and reminder.
The complete 2013 production of A Cheerful Note is 47 cases of one Pinot Noir. Reflecting the depth of Eberle's connection, the grapes were the product of vines she helped plant — on her hands and knees — in 2009. Seeing her dream come true, she felt she had to give something back; she donates 10 percent of profits to Ecotrust and Boys and Girls Aid.
Contact Eberle to purchase wine or learn where she will pour next.
Weinbau Paetra
William (Bill) Hooper is one of two Americans to graduate the German Wine and Agricultural school in Neustadt an der Weinstraße in the past 115 years. If chemistry and biology sound difficult, try studying them in German — not to mention all the German swear words he had to learn.
A taste of J.J. Prüm 1998 Wehlener Sonnenuhr Spätlese inspired him to study.
"It was like tasting a guitar solo of apples and steel. ALIVE! I had to get to the bottom of it," recalled Hooper.
Upon returning to the States, he discovered the soil and climate he desired for Riesling in the Willamette Valley. He farms four acres scattered across Eola-Amity Hills, Yamhill and the Coast Range.
"I like to play with soils and clones to make the wine as divergent as possible," he explained.
Hooper currently produces 900 cases, five different Rieslings and a Pinot Blanc, most of which lean to a drier Alsatian style. Contact Hooper for tasting appointments.
Jade Helm is the primary author of Tasting Pour, a blog about wine, cocktails and food. Her expertise is evidenced by credentials from the Society of Wine Educators (Certified Specialist in Wine) and the Wine and Spirits Education Trust (Diploma in Wine and Spirits) and from the Court of Master Sommeliers (Certified Sommelier).