Twenty Years Young
Brooks celebrates founder, friends and bright future
A person's story doesn't necessarily end when he dies. For some loved ones, it's merely a chapter in a book they never finished reading. When Jim Brooks' sister, Janie Brooks Heuck, stepped off the plane in Portland in the fall of 2004 and into the welcoming arms of a group of Willamette Valley winemakers, she did so with an open heart and discovered her own destiny in her brother's legacy.
Throughout 2018, Brooks Wines is celebrating its 20th anniversary by honoring the winemakers who came together on that fateful day at Jimi's home, shortly after he died suddenly, leaving the close-knit community grief-stricken and in shock. On the cusp of harvest, 12 winemakers volunteered to bring in the grapes that Jimi couldn't.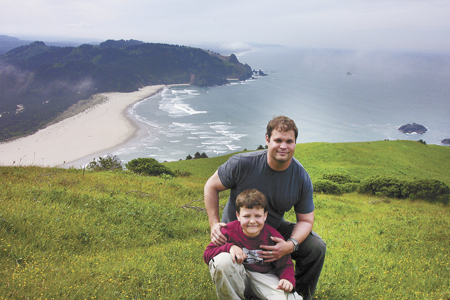 "Part of what I'm most excited about [with the 20th anniversary] is being able to honor these 12 wineries that kept us going," Janie said. "They could have just kept his fruit that year. [The winemakers] had given both me and Pascal a gift."
Because Pascal Brooks, Jimi's son, was listed as heir to Brooks Winery at only eight years old, Janie took the lead as managing director, paying tribute to her brother while becoming a driving force in the winery's growth.
"There's so much about Jimi that I wouldn't have known about if I hadn't had the opportunity to go on this journey," Janie said.
To celebrate the winery's 20 years, Janie, Pascal and the Brooks team have planned just the kind of party Jimi would've enjoyed.
Every month in 2018, Brooks will raise a glass to a different winemaker by showcasing a red and white on Brooks' tasting room flight. The winemaker will make an on-site appearance to pour, share stories about Jimi and chat with guests. Chef Abby McManigle will prepare a pairing for the featured wines, with a recipe available for download on Brooks' website. To date, Laurent Montalieu of Soléna Estate, NW Wine Co. and Hyland Estates, inaugurated the festivities in January, followed in February by Harry Peterson-Nedry, founder of Chehalem Wines and owner of RR Wines.
Also honoring Jimi's story, each winemaker also met with the Linfield College Oregon Wine History Archives to capture short videos of their memories of Jimi. Linfield's Rich Schmidt and his team interviewed each for a combined three- to four-hour permanent record.
"We're really glad [Janie] entrusted this to us because it's a big deal," Schmidt said. "Jimi's legacy is strong and, even 13 years later, he is a looming figure in the industry. Twenty years is a big deal, especially when you lose your founder in the midst of it."
Finishing his senior year of college in June, Pascal plans to attend the July paella party at Brooks; Jimi had hosted a couple of these dinners in his backyard during past International Pinot Noir Celebration weekends. Janie plans to channel her brother's "host with the most" reputation with the offering of fire dancers and more.
To commemorate the 20th anniversary, Brooks will produce a special bottling of the 2018 vintage and the limited-production Red Letter label will return. Red Letter marked the 10-year observance in 2008 and included fruit from Brooks' estate vineyard, as well as WillaKenzie Estate and Momtazi Vineyard, both closely associated with Jimi.
In addition, T-shirts sporting Brooks' updated motto, "Honoring the Vision, Crafting the Future; Peace, Bread, Land, Wine," are available for purchase alongside journals containing excerpts from Jimi's personal notebook. Later this year, "Cahier" Riesling and Pinot Noir, two wines designated by Pascal, will also be for sale, wrapped in tissue inscribed with the same journal excerpts. Cahier means "journal" in French, a shared pastime of father and son.
Josh Bergström of Bergström Wines was one of the last people to break bread with Jimi. He described Jimi as someone with a "big personality" who was creating "footprints" for younger Oregon winemakers to follow. He will be the guest of honor at Brooks in June.
"Just being [at Brooks] and talking to people about the wines is the most fun," Bergström said. "I think this kind of oral history, through culture and time, has been lost. It's hard to read an article or book and have an idea what [Jimi] was like.
"He wasn't that tall but he was a wall of a person," he continued. "If you'd never seen how he behaved, it was just awesome.
"All the people that Janie has invited to do this all have something in common: These are humble people who just love what they do, just like Jimi. We want to make great wine and have people drink it."
For full details about the 20th anniversary year-long celebration, visit www.brookswine.com.