Trumpeting Tempranillo
Spanish-style wine makes noise at Oregon celebration
It's easy to rattle off New World regions laying claims to classic grapes. Outside Bordeaux, Napa Valley is best known for Cabernet Sauvignon; the Willamette Valley is acclaimed for Burgundy's Pinot Noir. But where on this side of the pond is Spain's Tempranillo being championed?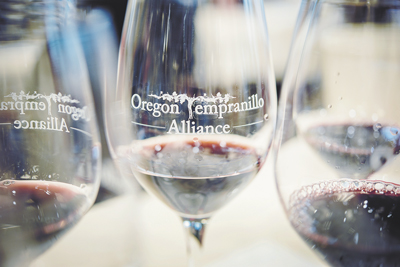 Earl Jones of Abacela claims it's here in Oregon.
"Oregon is the New World location that has the most similar climate to Rioja, Ribera del Duero and Toro (Spain's highest rated Tempranillo regions), which gives it the best chance of challenging Spain's reputation for fine Tempranillo."
In 1995, Earl and Hilda Jones planted the Pacific Northwest's first commercial Tempranillo vineyard at Abacela in Roseburg. Subsequently, Oregon has witnessed the most rapid growth of Tempranillo plantings — in acres and percentage — in North America between 2000 and 2010, with continued increase in the following years. Today, more than 70 Oregon wineries produce Tempranillo, sold in more than 100 Oregon tasting rooms and grown in every winegrowing region in the state.
The proof was in the pudding from the beginning; Abacela's 1998 Umpqua Valley Tempranillo, the sole American wine among established Spanish contenders in the category, won a double-gold medal and finished "Best in Class" in the Tempranillo division of the 2001 San Francisco International Wine Competition. Global recognition has spread with Oregon Tempranillo producers distributing around the country and to England, Japan, Canada and China.
Yet recognition as a region requires a team effort. Enter the Oregon Tempranillo Alliance (OTA); its mission: "promote the growing and sale of Tempranillo grapes in Oregon, and the production and sale of Tempranillo wine both in Oregon and other wine markets." Among other strategies, OTA hosts an annual grand tasting to sample and educate thirsty consumers. This year's event, Jan. 21, drew a healthy crowd of 250 to the Portland affair.
Perhaps more important than the tasting are the two days prior to the event, when OTA members share best practices and receive feedback from wine critics on specific wine. This year, industry-focused seminars included a tasting and discussion of clones led by Chris Lake of Abacela. The winery is experimenting with nine clones, and wineries newer to the Tempranillo game were able to benefit from Abacela's years of trial and error. Winemaking and cellaring practices were presented by Plaisance Ranch, Lange Estate, Stone Griffon, Belle Fiore and Raptor Ridge. Bill Holloran of Holloran Vineyard Wines led a marketing strategy discussion with panelists from Valley View and Abacela, and Wine Enthusiast's Paul Gregutt. Strategies discussed included a quality entry-level Tempranillo as part of their portfolios — positive news for consumers.
Also good news for consumers: the taste of Oregon Tempranillo. A blind tasting exercise comparing Oregon versus Spanish Tempranillo spurred discussion and praise, too.
"I have discovered that if I like it, it is Oregon [Tempranillo]," said guest critic Eric Degerman of Great Northwest Wine."
Generally, the Oregon samples tasted more fruit-forward, higher in acidity and contained less oak flavor than their Spanish counterparts; this difference occurs in the vineyard and the winery. Valley View Winery Tempranillo represents a perfect example.
"We have become confident in our Crianza or Joven [earlier release] style," said Mark Wisnovsky, president of Valley View. "We don't dehydrate in the vineyard, don't over extract, over-oak or over-age."
Oregon producers are also making Tempranillo to cellar, as demonstrated by an entry from Red Lily in the Applegate Valley. The winery's 2006 Tempranillo tasted wise and experienced tricking some to guess Old World origins.
Winemaker variation does exist, including traditional Spanish style of aging in American oak versus experimenting with French barrels. Most interesting is how well the wine reflects the vineyard location. While most Oregon Tempranillo is grown in Southern Oregon, the grape grows successfully in every Oregon AVA (American Viticultural Area). A blind tasting challenged the winemakers to identify Tempranillo by their AVA. Although the lines between the Applegate and greater Rogue valleys may have blurred, there were definite differences in the farther-reaching areas.
Bryn Mawr's 2014 Tempranillo — with its pretty, inviting floral notes, wave of bright strawberry and cherry and undertone of fine tannic structure — practically screamed cool-climate Eola-Amity Hills in the Willamette Valley, while Castillo de Feliciana 2014 Tempranillo from the Rocks District of Milton-Freewater delivered all the savory, leather, umami and salami those hot rocks can produce.
Holloran predicts consumers will discover Oregon offers distinctive cool-climate Tempranillo with finesse and complexity.
He says, "Tempranillo rounds out a full range of options for consumers who appreciate the natural farming and small producer grown offerings that Oregon provides."
Perhaps with continued collaboration, dedication to quality and smart marketing, Oregon is poised to earn a reputation for another classic grape, thus broadening the state's wine story.