Treehouse Swap
Trading hotel rooms for childhood hideouts
I never had a treehouse growing up. Forts — made with leaves or sheets — yes, but nothing as magical as a hideaway up high.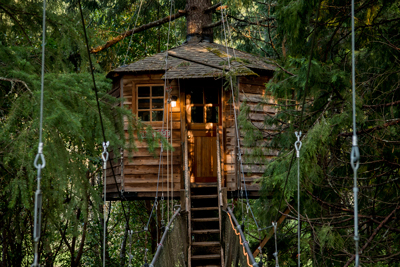 I always wanted one — blame it on "The Swiss Family Robinson" — but you must have the right tree with sturdy branches supporting the structure and someone willing to build it, too. If I had one as a kid, you better believe I'd ask for the secret word — or maybe a handshake — before anyone entering and, most definitely, no boys allowed.
I've been in a treehouse only once, and I was an adult when I climbed its steps. It was actually at a vineyard called Dampier located on the Washington side of the Gorge in a town called Underwood. The view looking out onto the vines was spectacular.
Treehouses have become incredibly popular, and it's not children who are fueling the craze; it's grown-ups who have turned the childhood fantasy into an adult one — or maybe we never grew up.
One of the foremost treehouse experts, Michael Garnier, lives in Oregon and built the Out 'n' About Treehouse Treesort in Takilma, the largest concentration of such structures in the world.
In order to accomplish such a feat, it took patience — eight years for a building permit — as well as engineering know-how. Since 1990, he's been perfecting his craft, including innovating and designing the Garnier Limb, which has enabled others to build treehouses around the globe.
In 1998, he started the World Treehouse Conference with Pete Nelson. This year's meeting, scheduled for Oct. 6–8 at the Treesort, promises tips, techniques and more. If you want to learn all about treehouses, this is your gathering.
If you also enjoy wine, the Illinois Valley is your place.
Stunningly beautiful and rugged, it is located in the southwestern part of the Rogue Valley. As you will read in Maureen Flanagan Battistella's article on the region (page 30), there are four wineries in this often overlooked nook, two of which have been around for at least 30 years, not to mention a brewery and distillery.
Add hiking in the Siskiyous, fishing on the Illinois River and other outdoor activities. And when you are finished with your day, you can hide away in a treehouse.
Really, it sounds like a grown-up's playground, a magical adventure — no secret handshake required.