Treasure of Trousseau
Red varietal from Jura could be Oregon gold
The Oregon wine industry is planted on a bedrock of courage and calculated risks. Well-studied in enology and viticulture, early growers such as David Lett and Charles Coury determined certain wine grapes could thrive here in the Willamette Valley; nonetheless, it was a risk and bold move to plant north in Oregon. Yet, they knew the climate, literally, was ripe for Pinot Noir and other varietals.
Over the decades, Oregon vintners have continued to explore a range of vinifera, resulting in additional success, and the exploration continues.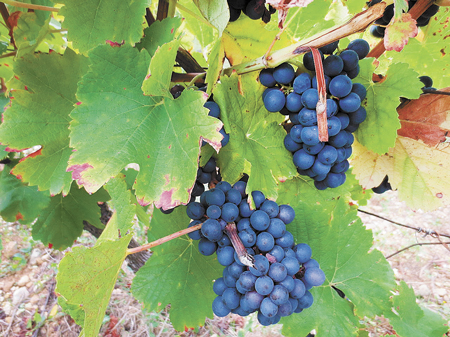 Enter Trousseau Noir.
Trousseau is a variably colored grape native to eastern France's Jura region — historically a part of Burgundy. Over the centuries, Trousseau made the journey from France to the Douro Valley in northwestern Portugal, where it's called Verdejo Negro, Merenzao and Bastardo and crafted into Port.
But back to Trousseau in Oregon.
When producers postulate which grapes might be productive in a particular region, they generally look to other areas for similarities in weather, flora and fauna. And while the Willamette Valley has long been compared to Burgundy, contemporary winemakers are also seeing resemblances to the Jura.
Jason Lett, proprietor of The Eyrie Vineyards, has studied the similarities between the Jura and the Willamette.
"It was immediately evident that the forests, fields and hills of Jura held plants and animals similar to my home (in Oregon), and so it was no stretch to think that Trousseau could find a home here."
Winemaker Chad Stock of Minimus Wines also considers the region of Jura more similar to Oregon than Burgundy, in both climate and soil. And since Trousseau makes the noblest red wines in Jura, if Lett and Stock are correct, it stands to reason it will perform well in Oregon, too.
Earl Jones, founder of Abacela, was likely the first to plant Trousseau in Oregon in 1997; though Abacela refers to it as Bastardo, the Portuguese name for the same variety. Jones blends Bastardo with Portuguese varieties to produce a traditional vintage-style Port. He says Bastardo produces favorable tangerine-like aromatics not found in any other variety.
Stock understands why Trousseau is so well-suited for Port-style wine.
"Trousseau can exhibit an Amaro quality—somewhat bitter and pithy, with citrus, pine and sap. In the case of Port, these Amaro qualities, along with super high tannins providing drying and bitter components, I suspect may help provide structure underneath all that residual sugar and full body density."
In 2012, Eyrie was the first to establish Trousseau in the Willamette Valley — the Lett family was the first to grow Pinot Noir in the Willamette Valley and first to plant Pinot Gris in the New World; clearly, they have vision. Though Trousseau is still obscure, brands such as Eyrie, Abacela, Craft Wine Co. (Minimus/Omero/Origin), Beckham Estate, Hazelfern Cellars, Analemma Wines, Jackalope Wine Cellars and Random Wine Company see great promise.
Winemakers Corey Schuster of Jackalope and Beau Carufel of Random are working on a 2017 Trousseau rosé from Omero Vineyard in the Ribbon Ridge; it is their first time working with the varietal. Along with Bryan Laing of Hazelfern, all three admit the Eyrie and Minimus expressions of Trousseau wowed them, inspiring them to explore other atypical grapes.
Oregon winemakers are also excited about Trousseau's blending possibilities. Jura's finest producers use Trousseau in blends — often with Poulsard and Pinot Noir — to create some of the region's top cuvées. In the vein of GSMs (Grenache-Syrah-Mourvèdre), might the future of Oregon wines will include PTPs (Pinot-Trousseau-Poulsard)?
On its own or blended, Trousseau is full-flavored and age-worthy.
"I like Trousseau as a pure wine because it has all of the elements I want in a red wine without requiring new oak or winemaking trickery to create a complete stand-alone wine," Stock explained. "If you're lucky, there will be a third element present that's similar to Campari, a resinous Amaro character," Stock added.
Trousseau's flavor profile is dominated by dark red berries with exactly the right bite of tartness. Firm in tannins and acid, it can be significantly more structured than Pinot Noir.
Lett relates a humorous story about his first blind taste of Trousseau: "The wine was spicy, light, transparent, multi-layered, and was absolutely singing… I thought it was the most exciting Pinot Noir in the room."
Eyrie's initial release, 2015, indicates Trousseau has great potential in the Willamette Valley. The work for the future means continuing to tailor viticulture to the variety in order to reliably make the kind of wine that inspired him at first sip.
Stock plans to expand plantings at three other vineyard sites, which will begin to produce by 2020. He intends to explore the grape by incorporating it into blends/co-fermentations with other varieties — Pinot Gris, Gamay Noir and Pinot Noir — to determine if the best outcome is a true Trousseau or a distinct new blend inspired by Jura but with an Oregonian twist — Juragonian? — expressing local terroir.
Today, find two Oregon Trousseaus (see sidebar on page 24) available and ideal for your holiday table. Pair either with roasted game birds, mashed celery root, smoked sausage and hard cow's milk cheese.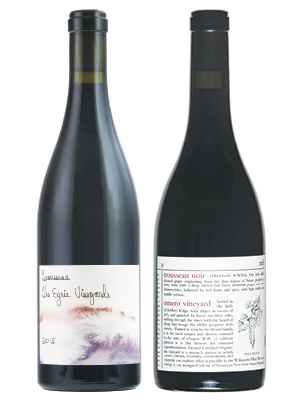 The Eyrie Vineyards 2015 Trousseau Noir
Both elegant and earthy, like walking through the forest with pleasing aromas of moist earth, moss and mushrooms. Each sip unfolds seductive flavors of lush black cherries, ripe raspberries, cocoa and cassis. Well-structured with medium tannins and a harmony of flavors, "this wine sings." Officially the first release of Trousseau Noir in the Willamette Valley. $40; 336 cases
Minimus 2016 Omero Vineyard Trousseau Noir
Lighter in color, this wine surprises with a concentration of red fruit, flowers, dust and a pinch of pie spice. Candied cherry flavors offer a perceived sweetness to this dry wine teetering on the edge of tension and verve. The underlying floral notes are reminiscent of grandma's Flavigny Violet Pastilles, with the hint of anise at the core. One taste will leave you smitten. $35; 100 cases