Top Tonnage
Oregon's numbers dramatically increase
There is little doubt that the 2014 Oregon wine harvest will be the fourth consecutive one to exceed the previous year's total production and claim the all-time high. The most recent vintage is also being touted as the finest yet in overall quality for Pinot Noir.
Whether this quest for perfection comes to fruition remains to be seen. But 2014 presents the intensity of flavors and harmonious balance winemakers say is needed to attain that goal.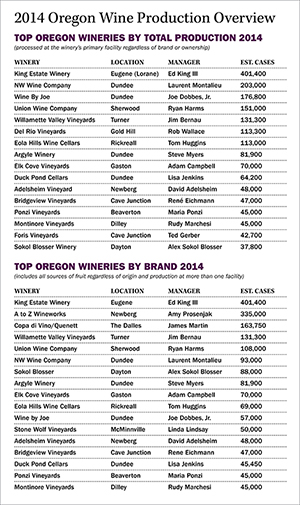 Click to see a larger chart.
As for quantity, gauging the performance of an industry over time is always valuable. This annual report strives to achieve that objective. You will notice some changes this year compared to previous years. These adjustments are the result of the evolution of the industry.
The performance of each vintage is arguably more basic to the business of wine production than any other single factor. Therefore, we at Oregon Wine Press consider the compilation and publication of this "early indicator" report to be a valuable industry service and informational reference.
However, the intrinsic worth of any information depends on its accuracy, only achievable with cooperation from all primary sources involved.
The Oregon wine industry has always been known as a close-knit and collaborative group, whose owners were directly accessible. Now, however, a handful of important players are under out-of-state ownership. In some instances, the philosophy of new management has led to an unwillingness to divulge data.
We asked wineries to advise us how many tons of fruit they processed from the 2014 vintage. Using this figure, an approximate number of 12 x 750 ml cases of wine can be calculated by applying a multiplier.
Industry-wide, 63 to 65 cases per ton is the general rule of thumb for this multiplier. An even more accurate approximation can be reached by totaling the tons of red grapes versus white grapes crushed, and using a somewhat higher case figure for the whites than the reds.
A number of wineries we contacted had already worked that out and shared it with us. Others applied a single multiplier to arrive at their estimates. Some broke out the two categories separately to provide the information for this report.
Regrettably, owing to the fact that a few wineries that would meet the listing criteria did not respond to our request for these figures, we have had to work around the unavailable information. As a result, please note that the numerical rankings have been removed this year. Although, as before, wineries are placed in descending order according to their case production totals, listing them 1, 2, 3, 4, etc. would likely be inaccurate because of the missing wineries.
Since they held high rankings in past reports, there is no reason to believe these wineries would no longer continue to be among the "Top Oregon Wineries by Total Production" in 2014, or that some might have shifted their emphasis to greater production for their own brands, thus affecting the "Top Oregon Wineries by Brand."
Missing among larger producers are 12th and Maple Wine Co., owned by Seattle interests, Erath Winery, now a part of the Ste. Michelle Estates group in Woodinville, Washington, and Firesteed Cellars, whose owner also lives in the Seattle area.
Industry sources indicate that 12th and Maple is in the running with the leaders. King Estate's production cracked the 400,000-case level in 2014, putting it 15.9 percent ahead of last year's previous all-time high.
Growth-wise, most notable of all was Eola Wine Cellars, which skyrocketed from 47,600 cases in 2013 to 113,000 cases in 2014; that whopping 137-percent increase likely indicative of current custom crush needs by emerging new wineries.
Next is Union Wine Company, whose production shot up 51.5 percent. The young, inventive company has literally come from nowhere within a few short years to emerge as a major industry force.
Wine by Joe posted an impressive 39.7-percent gain. Not only did the Dundee winery dramatically increase its custom crush business, its own brands showed a jump of 33.8 percent.
Given its already substantial size by Oregon standards, NW Wine Company achieved a significant 23-percent increase. Working from their new winery in Newberg, Argyle was 36.5 percent ahead of last year.
For 2014's "Top Oregon Wineries by Brand," King Estate once again led the way followed by A to Z Wineworks. The 335,000 cases produced by A to Z this year exceeded its 2013 output by 15 percent.
When it comes to carrying the message of Brand Oregon across the country and into the wider world, considerable credit must be accorded these two Oregon-owned wineries.
It would be remiss, however, not to mention Erath. The Dundee Hills winery, founded by one of Oregon's earliest wine pioneers, has always been a standard bearer for the state. Under its corporate ownership, Erath continues to expand its imprint and with it the Oregon name.
Although we hope the new owners reconsider their position regarding the release of general information for this report, we respect their decision to do otherwise with the knowledge that the brand's quality remains paramount.
Among home-owned wineries, Elk Cove's brand increase of 69.5 percent led that category for 2014. Close behind was Sokol Blosser's 51.7 percent.
Several winery brands among the listed group topped 20 percent in 2014, which may very well serve as an indicator for the total harvest.
It should also be mentioned that Copa di Vino by Quenett Wines produces a large amount of product at its facility in The Dalles. The OLCC removed from bond report released on Nov. 20, 2014 shows that the winery paid taxes on 249,186 gallons, or 104,700 cases of wine, through September of 2014.
But where Copa di Vino wine or fruit originates and how the company's business can be measured in relation to criteria for this report remains a question.
Oregon Wine Press strives to make this report as accurate as possible. However, when production drops below the 30,000-case level, a number of wineries are closely clustered and variables can affect their totals.
If any winery qualifying for a place among the 2014 listings has been overlooked, please contact us and we will correct the error in a future issue.