Tons of Character
Former plum orchard turned wine country treasure
In Carlton, it's dumping rain — if only in spats — and something's amiss. Winemakers are relieved, a sensation I hardly associate with precipitation and the month of September.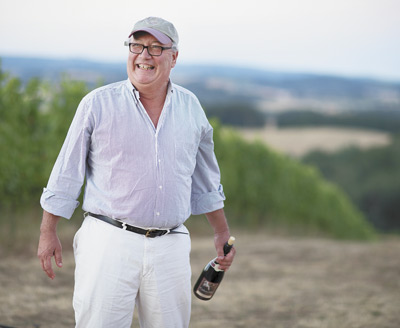 David Polite, the winegrower and vintner behind Carlton Hill Vineyard, is among the relieved. As we stroll through his neat vineyard rows on top what once was one of the area's largest plum orchards, the guy is downright giddy, excited for both the much-needed moisture and what appears to be an outstanding 2018 vintage.
He's lived here long enough to have ridden out shaky but rewarding vintages like 2007, 2011 and 2013. As we amble through the vineyard, we're both keenly aware of the thirsty surroundings. This seems much less like disease-bringing rain than its crucial counterpart. And, at this point, some dilution in the mix may be a blessing.
Polite, 63, is from the East Coast and of a law background. His wine adventure, at least in thought, started early thanks to an appreciation for Oregon and its winemaking potential. He bought his property in 1991, rightfully infatuated by a turn-of-the-century hilltop home set just outside Carlton. And while the proprietor is quick to reference films like the "Money Pit" to illustrate his struggles, the home and surrounding vineyard is now in great shape, albeit east-facing.
"It seemed like the setting for a good scene in a scary movie," Polite says of his initial visit. The house looked weathered, the fog and lingering moisture were persistent and a general feeling of dread prevailed. He was optimistic but not fully convinced, at least not yet.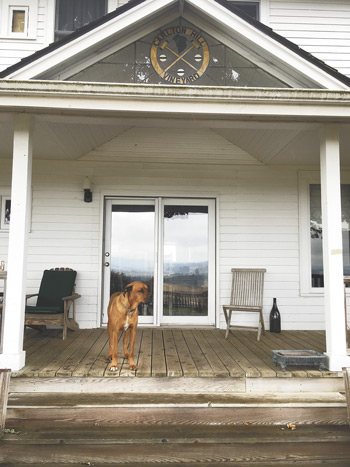 Upon arrival, Polite gently immersed himself in a small but emerging winemaking community. The attorney wanted to soak up as much as possible, certain his site could produce something special. He rubbed elbows with David Lett, a man Polite refers to as "the Godfather of Oregon wine." He recalls their first real encounter fondly — or, at least candidly.
Polite recalls, "I was talking about my site and he said, 'What's the aspect?'" He remembers Lett shaking his head as he admitted it was facing east. He may not have received the Oregon wine country blessing he was hoping for, but Polite was still onto something. Especially over the last few vintages, when the sun has been relentless, a curtailed version of vineyard exposure is welcomed.
In 1996, Polite planted his first section of vineyard, Phoebe's Block. He claims he's learned quite a bit, in terms of viticulture, since that first planting. Currently, he's sitting on about 11 acres of vines. His clients include Redolent, Grochau, Roots and Frenchtown Farms, among others. Polite sets aside enough estate fruit to produce about 300 cases of his own Pinot Noir and about 100 cases of rosé, made at Walnut City in McMinnville.
Carlton Hill's first vintage, 2002, produced some 80 cases. The potential of his site has since come to fruition. His wines are nuanced and his list of fruit buyers is respectable. Betting on a forgotten site, it turns out, was the right call.
Polite will be the first to tell you his wines aren't made for immediate pleasure. Upon my visit, he pours from what seem like Triassic vintages likes 2011 and 2013. The pervasive drink-now mentality has affected even me, it seems. Both vintages show great subtlety in the glass, especially the 2013, which offers a lovely pop and sizzle.
Repeatedly, Polite mentions his good fortune. Yes, initially it was a questionable property from a winegrowing standpoint. Yet, the nature of the winemaking community here, generally, is to embrace, educate and aid. He feels lucky, even in what most consider a far-from-lucrative business, because it is still collaborative. Pioneers like Lett and Dick Ponzi were accessible when Polite was first here and are a big reason why his small but sturdy vineyard thrives today.
Wine aside, the property is remarkable. The roughly 108-year-old farmhouse overlooks a panorama so expansive it feels like the whole Valley. An adjacent barn, the current tasting room — open by appointment — once housed horses. It includes incredible original woodwork and a homey agrarian feel not of this era. Just outside is a croquet court from the farm's original days more than a century ago.
Looking out now, amid rain showers just before harvest, Polite says he's thankful for the ventilation that surely will follow. It's one of the many reasons why he's seemingly worry-free. He admires the winds whipping through his 400- to 500-foot vineyard without fearing the forecast, especially with some drying conditions ahead. "I think this is the first significant rain we've had in four months, so we'll take it," he notes, returning to his house after sampling some estate grape clusters.
Just off the beaten and growing path that is the Willamette Valley wine trail, Carlton Hill Vineyard is an untouched bit of wine country. The estate, surrounded by one of the denser stretches of oak, is bordered only by nearby agricultural pursuits. In many ways, it feels like an Oregon wine time capsule, harking back to the pioneering days of the very winegrowers Polite aimed to emulate.
Clearly, we've placed a premium on amazing fruit in this part of the country. Polite's story is a pretty incredible reminder of the industry's come-one, come-all nature, when what appears to be an outsider can take all the requisite steps and establish a solid vineyard. Provided, of course, you're packing some initial capital and a decent work ethic.
In terms of the future, it's not entirely crystal clear. Polite started a sparkling program in 2016 via Radiant Sparkling Wine Company, with the results still under construction. His site continues to age and gain wisdom just like the rest of us. But he rightfully believes his property will be responsible for some great Oregon wines going forward.