Toast to Education
Chemeketa students, alumni celebrate school with barrel and winery brand tasting
It was a fantastic experience," said Cameron Nelson, describing his participation in Chemeketa's Northwest Wine Studies Program. "The instructors have such passion for the industry and craft."
The same sentiment was shared around the room at the Spring Barrel Tasting at the Northwest Wine Studies Center at Chemeketa's Eola campus on May 19. Students and alumni expressed gratitude for their education, excitement about working in the industry and innovation within the world of Pinot Noir and beyond.
The tasting included wines made by alumni as well as current students, who offered a sneak peak of their new label design and a "stolen" taste from the barrels of their 2015 Chardonnay and 2015 Pommard clone Pinot Noir.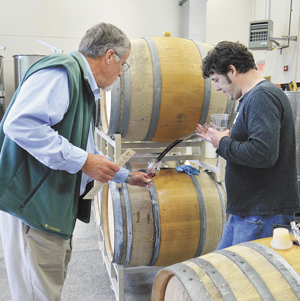 Cameron Nelson and his father, Scott, debuted their first commercial wines — among them the most excellent 2013 Triomphe, a blend of five red Bordeaux varietals sourced from Columbia Valley. Their label, Résolu Cellars, was named for their "resolve" to make wine.
Joining Résolu were two additional brand debuts, including One Love Cellars. Kevin Taylor and daughter Kate poured two vineyard-designate Pinot Noirs sourced from 30-year-old vines at Klaklanee Vineyard. The 2015 harvest brought in the first fruit from their own vineyard in Marion.
Kate Taylor said, "I don't know if we would have these successes if we had experienced a different program." She credits the small classes, hands-on training, and approachability of the instructors at Chemeketa's Wine Studies Program.
Also launching was Raylee Wines, the private label by Laurel Ridge's winemaker Ryan Huett. A former resort developer in Latin America, Huett, accompanied by his wife, Tammy, poured their Pinot Noir and the totally tantalizing SYN — with a name like that, this blend of Syrah, Zinfandel and Cabernet Sauvignon must be tasted.
Current student and owner of Quintet Cellars, Ed Barr, wasted no time in gathering high scores for his brand, scoring 91 points from Wine Spectator with Quintet's first wine, a 2012 Pinot Noir from Ribbon Ridge. Accolades continued with the next vintage, garnering 90 points from Wine Enthusiast. Quintet was recently featured in Big Life Magazine alongside leading wineries such as Penner-Ash Wine Cellars and REX HILL Vineyards. He and his wife, Sue Barrett, share their success with consulting winemaker Kelly Kidneigh.
More alumni featured a variety of wines, including a fruit-forward Auxerrois from Björnson Vineyard, a slightly off-dry Sauvignon Blanc from Andanté Vineyard, a rich and robust Pinot Blanc from Helioterra Wines, and a chocolate-kissed Maréchal Foch from Wooden Shoe Vineyards. Blizzard Wines, Copper Belt Wines, Panache Cellars, Piluso Vineyard, Redgate Vineyard, WildAire Cellars, Illahe Vineyards, Keeler Estate, Mistibleu Wines and Monks Gate were also present and pouring stand-out samples of their work.
The event took a pause, but the celebration continued with an awards ceremony, starting with a word from Julie Huckestein, president and CEO of Chemeketa Community College, and Holly Nelson, Dean of Instruction at the Yamhill Valley Campus.
Wine business instructor Michael Adams presented "Student of the Year" to Gerry Rasch, who won by a unanimous vote from faculty and staff. He is completing two degrees at Chemeketa: Wine Business AAS and the Logistics Certificate. When interning at wineries, Rasch is known as "Superman" for his ability to grow sales and wine club memberships; at Chemeketa he is known as a top student and a mentor. There was hardly a dry eye during Rasch's acceptance speech when he explained that in 1976, he had to spend his college fund to repair his parents' car after he wrecked it. Choking up, Rasch said, "I was able to come back [to college] and do something I promised my parents I would do."
Pattie Björnson, of Björnson Vineyard, provided comic relief and time to blot mascara as she passed the crown to the next Emerging Leader Award recipient. The "crown," it turned out, was a cheese head hat from Wisconsin, one of the many clues Björnson playfully delivered to help the audience guess the winner. Björnson's close ties and admiration were apparent as she described the honoree as her "self-appointed mentor, marketing guru and excellent forklift operator."
And the award goes to… Anne Hubatch. In addition to her two wine labels, Helioterra and Whoa Nelly, and part ownership in Alter Ego Cider, Hubatch serves on the board of Willamette Valley Wineries Association and is the past secretary for the PDX Urban Winery Association. She thanked the Wine Studies Program for the huge role it played in her career. "It gives me immense joy to say I am a winemaker, and I work in Oregon," Hubatch said.
The night's final award was a major surprise to the recipient, who presumed she was there to toast someone else. Last year's awardee, Lowell Ford of Illahe Vineyards, proudly announced Betty O'Brien as the winner of the 2016 Legacy Builder Award. The honor goes to someone who has dedicated time and commitment to the success of the Wine Studies Program over a sustained period of time. Not only has O'Brien played an invaluable role in the development of the vineyard and wine industry throughout the state, she is the catalyst who prompted the creation of Chemeketa's Wine Business Program. Recognizing the need for business training, she proposed a strategic plan to the Wine Studies Advisory Committee on which she also served. She developed the curriculum and taught the program's initial classes in wine marketing. Ford, one of her students, admitted he did not earn an "A" but credited her class with the business and marketing plan Illahe used as a start-up winery. The room stood as a shocked O'Brien received her award, beaming, "You guys can really keep a secret."
The ceremony ended with a toast to success, and the room was once again abuzz with tasting, chatter and congratulations.
For more information about Chemeketa's Wine Studies Program, visit www.chemeketa.edu.
Jade Helm is the primary author of Tasting Pour, a blog about wine, cocktails and food. Her expertise is evidenced by credentials from the Society of Wine Educators (Certified Specialist in Wine) and the Wine and Spirits Education Trust (Diploma in Wine and Spirits) and from the Court of Master Sommeliers (Certified Sommelier).