Staging Oregon
Pink Martini's Timothy Nishimoto heads Made in Oregon wine program
The first time I walked into a Made in Oregon store at the airport, I stumbled upon a few dozen bottles of wine hiding behind a shrine of wool blankets, hazelnuts and fudge made by monks. A lot of time has passed since that visit, and much has changed, too, at least, in regard to its wine program; these days, Made in Oregon sells about $2 million worth of the fermented grape juice in a given year.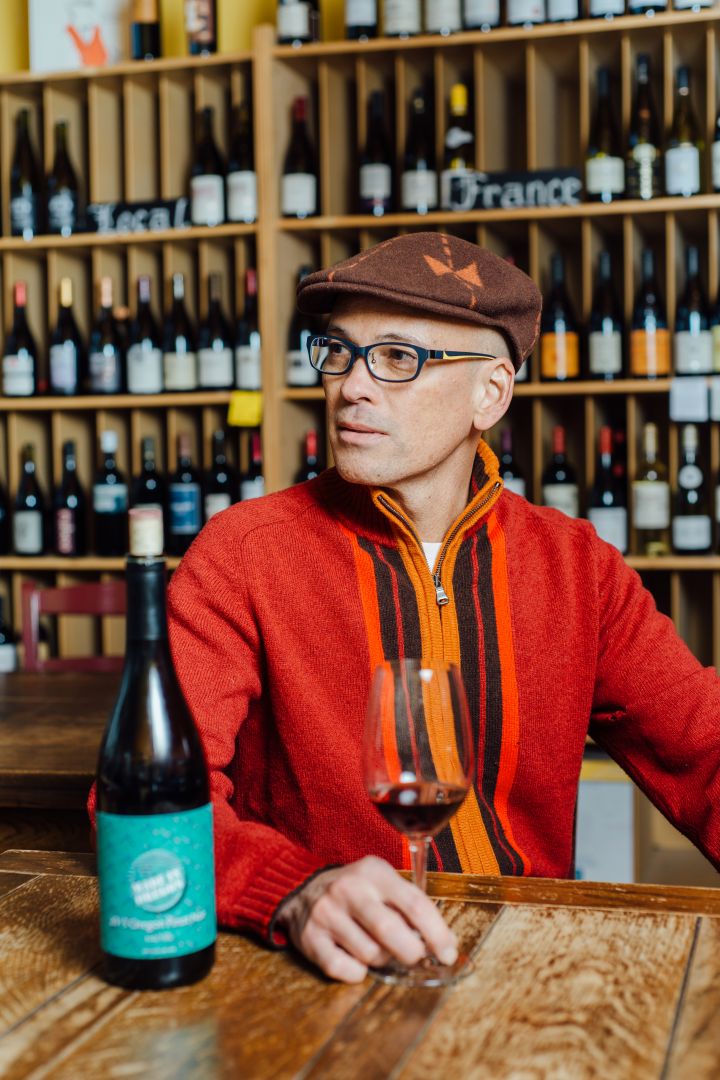 And, yet, the company is aiming higher. With 10 stores and an online shop selling hundreds of thousands of cases each year, Made in Oregon has hired a new wine buyer to take its program to another level.
Who is it? You might have heard of him — or even heard his voice. His name is Timothy Nishimoto, known to many as the dapper singer and percussionist for the world-renowned musical group Pink Martini.
How exactly does a globetrotting musician become the wine buyer for a local gift store chain? It all happened New Year's Eve 2014 when Pink Martini was playing two shows in L.A.
"A few years earlier, a group of Japanese businessmen we knew from Portland sang background for us on the recording of a song called 'Zundoko- bushi,' so we invited them to sing it with us at the New Year's Eve shows," Nishimoto explained. "I had just sold my Portland restaurant, Coppia, and one of the businessmen, Verne Naito, asked me what I was going to do with all my new-found free time. When I said I'd like to stay in the wine business somehow, he said, 'I may have something for you.'"
Verne Naito offered him the wine buyer position at Made in Oregon, founded in 1975 by his father, Sam Naito. Nishimoto accepted and quickly got to work.
After handing over the keys to Coppia in January 2015, he transitioned smoothly into his new job; by March, he was already stocking the company's online store. A few months later, Nishimoto added all 10 of Made in Oregon's brick-and-mortar locations to his wine-buying responsibilities.
If you know Nishimoto only from his role in Pink Martini, this may seem like an odd career choice. Fortunately, for the millions of tourists who load up on wine at the airport store and other locations before heading home, he has plenty of previous experience in the world of wine.
After he received his business degree from Cal State University, Long Beach in 1990, he moved to Portland to begin a culinary career that included a series of restaurants across the city — he had worked in the food biz since he was a teenager. The wine bug had bitten hard by 1999, and Nishimoto left the restaurant scene to manage the wine department at one of Portland's Nature's Northwest stores — later bought by Wild Oats and, eventually, Whole Foods. Meanwhile, he somehow found the time to become certified by the Master Court of Sommeliers and land the gig with Pink Martini — not a bad decade by anyone's standards.
By 2005, Nishimoto felt his wine skills had grown to match his restaurant management experience, so when the opportunity arose to buy a popular wine bar in the Pearl District, he jumped. He changed the name from Vigne to Vino Paradiso, and in one fell swoop, he was back in the culinary community.
"I like to keep busy," he offered. "I'm on the road for half the year with Pink Martini, but when I'm home, I have to be doing something besides music. It's about balance."
Eventually, Nishimoto and co-owner Todd O'Connor renamed the restaurant Coppia, a name its current proprietor has retained.
Nishimoto brings decades of experience to his new role as wine buyer for Made in Oregon, and, boy, does he have plans.
"Balance is important to me, and I want to apply that to my work at Made in Oregon. The Oregon wine story is more than just Willamette Valley Pinot Noir. We're selling terroir, and I'm anxious to expand our selection from other areas of the state.
"I'm excited about the newly created Rocks District AVA, and I'm excited about all the wines popping up in Southern Oregon, the Columbia Gorge and at wineries right here in the city," he continued. "It's also important to be able to offer wines at a wide variety of price points."
In addition to diversity, Nishimoto would like education to be an integral part of the Made in Oregon wine experience.
"I don't want people to just walk in and be intimidated by a huge wall of wine," Nishimoto explained. "I want there to be a wine steward program, so our stores will have someone around to answer questions about the wines. Having shelf talkers for the wines would also be a big help. Eventually, I'd even like there to be in-store wine tastings, so visitors can taste a wine before they pack it up for the trip home."
I witnessed his education plans in action when I noticed Nishimoto in a vineyard with a group of Made in Oregon employees watching winemaker Ken Wright discuss pruning. From the ground up, his first group of stewards is truly learning about wine.
When I visited a Made in Oregon store recently, I discovered yet another layer of its growing wine program: its very own brand. Filled with Eola-Amity Hills Pinot Noir, the bottle is eye-catching with a label sporting the now-famous PDX carpet design.
I brought a bottle — retailing at $15.95 — when I interviewed him.
"Yeah," he smiled, "that's something new for us. I might get involved with helping to blend a special wine for our stores in the future, something with a cool name and a different label. Nothing's confirmed though."
In the meantime, the "carpet" wine should do well, especially at its lower price point. An easy quaffer, the Pinot offers lots of dark cherry fruit, a touch of bittersweet chocolate and a flavor that reminds me of a fresh-baked pie crust. Most important for Nishimoto, there is harmony among the fruit, oak and tannins.
"Balance is everything, especially in wine," he said between sips.
When Nishimoto travels with Pink Martini, he frequently finds himself having wine conversations with people from other countries, acting as sort of an unofficial Oregon wine ambassador to the world.
"It's funny," Nishimoto said. "Everybody wants to talk about our Pinot Noir, but I try to let them know we have lots of great wines made with other grapes."
Now that he's the wine buyer for Made in Oregon, Nishimoto has ambitious plans to make his point on a larger stage. He cautions though, that his objectives won't all come to fruition at once.
"Baby steps," he said. "I want to earn everyone's confidence at Made in Oregon and not rush things. That requires baby steps."
After spending a couple of hours listening to Nishimoto passionately describe his ideas for Made in Oregon's wine future, it's clear to me this wine program is in the hands of a genuine maestro.
Michael Alberty owns Storyteller Wine Company in Southwest Portland. Find his personal collection of wine stories on www.storytellerwine.com.