"Three Days of Glory"
Scott Wright captures real Burgundy in new movie
What would you do if you witnessed devastation in a place you love? For Oregon wine importer and impresario Scott Wright, the answer is simple: Make a movie.
"I was there [in Burgundy] last November, when just two days after the Paris attacks, Les Trois Glorieuses [Burgundy's annual end-of-harvest celebration] weekend went on as scheduled despite the horrific events," recalls Wright, "When it became apparent that the Burgundian spirit was truly indomitable, that nothing could suppress the passion and joie de vivre and dedication to tradition that is uniquely Burgundian. It was then that I knew we needed to document it all."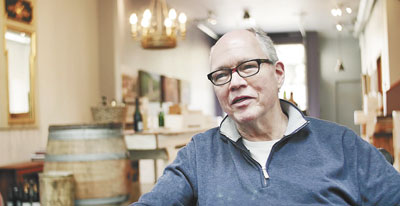 A former radio personality and recording executive, Wright moved to the Willamette Valley in 1999 with his wife, Martha, a writer and nonprofit PR maven, to join the wine industry and eventually launch Scott Paul Winery. Shortly thereafter, Domaine Drouhin Oregon approached Wright about assuming the role of directing manager, which he fulfilled from 2001 to 2004.
His regular travels to Burgundy on behalf of Domaine Drouhin Oregon brought him into contact with the winemaking community there, with whom he developed a deep affinity.
This affection fueled the fire for the Wrights to form Caveau Selections in 2005, importing small-producer Burgundy wines and grower Champagnes. Eventually, the couple sold their interest in Scott Paul Winery to business partner Cameron Healy, the Kettle Chips and Kona Brewing tycoon.
When not in Portland, Wright spends his days exploring Burgundy and Champagne, on the hunt for artisanal wine — "farmers, not factories."
"One of the best things about my life as an importer… no, make it THE best thing is the number of friendships I've developed with our producers over the years," Wright explained. "I've learned so much about life, wine, joy, friendship and family from an amazing group of people. The Burgundians and Champenois are a warm and welcoming breed of human beings, and I feel a strong connection with them."
But the terrorist events of November 2015 changed something, spurring Wright to find a way to help his Burgundian brothers and sisters. Mother Nature intensified that call to action in April 2016 with a ruthless frost, followed by hail, then mildew. Some vineyards, including many of Wrights' own producers, lost more than 80 percent of their fruit.
Wright sought out writer/filmmaker David Baker to assist in capturing this riveting confluence of events in their groundbreaking movie, "Three Days of Glory (Les Trois Glorieuses)."
"For me, this is like everything else I've ever done: a project of pure passion," conceded Wright, "It seems like a natural extension of everything else I do or have done, namely, finding something I believe in passionately and bringing it to an audience."
Financed largely by crowd-sourced funding, private investors and grants from the French government, Wright anticipates a release date in late November 2017, coinciding with post-harvest celebrations. This film marks the second collaboration for both men. The first, Baker's 2014 movie "American Wine Story," recounted the stories of "oenological aficionados," Wright among them, who quit other careers to reinvent themselves in the wine industry.
"Previous films have seemed more like public television specials," Wright explained. "We want to make something more cinematic, a 'movie,' and to make a film that captures the Burgundy only insiders ever get to see. I don't think we've seen this on the screen yet."
Wright shared his insights after recently returning from the 2016 harvest in Burgundy, one of low yields and high quality. He expects a full financial reckoning will emerge in 2018, upon release of the meager 2016 vintage.
"Burgundy expected nothing," Wright said, "And got slightly more than nothing. We are perhaps at a turning point in the region. It interesting to note that over the past seven years, despite the lower quantity, the quality is high. Maybe this is the new reality."
In the meantime, vignerons like Thiébault Huber of Domaine Huber-Verdereau in Volnay try focusing on next year; his Pommard Clos du Colombier yielded only two barrels in 2016, down from a normal 12 in previous harvests.
Wright added, "He is the first person to work in the morning and the last one to leave at night; he works harder and plays harder than anyone I've ever known."
Overall concern extends to other producers, too, like Alexandrine Roy of Domaine Marc Roy in Gevrey-Chambertin, one of the younger generation of winemakers caught up the "new reality." In 2003, Alexandrine assumed authority of the estate, now totaling just under 10 acres, from her father, Marc Roy, whose own grandfather established the property with merely a few parcels of vines. Considered one of Burgundy's brightest rising stars, Alexandrine visits Oregon frequently to promote her wines and to make wine for Phelps Creek Vineyard in the Columbia Gorge.
"They [the younger generation] don't want to be the ones who lose it all," admitted Wright, "Yet some are being caught in a perfect storm of seven consecutive difficult harvests. Some own, but some lease, with lease payments tied to the prices of the wine. So people are now paying more to farm the land, but posting nothing.
"There is great worry that the younger generation of vignerons, who have taken control of family estates in the last few years and have never known a commercially successful year during their reign, are likely to soon be selling the family jewels and moving on to other ways of making a living."
While Alexandrine Roy may represent Burgundy's future, and Thiébault Huber its heart, Thierry Violot-Guillemard of Pommard surely symbolizes its soul.
"A true character in every sense of the word, and one of my favorite people on the planet, Thierry Violot-Guillemard is definitely one of a kind," Wright said. "He's a bit gruff and burly on the outside, with a warm and genuine tenderness within, much like his home village of Pommard."
Walrus-mustached Violot-Guillemard reflects the essence of this region Wright loves so much. "Most of these vineyards in Burgundy are tiny operations," Wright explained, "mom-and-pop operations, small family domaines. There's a great story to tell here, and most people don't really get to see it. This unique spirit and culture that makes it [Burgundy] so special.
"Their resiliency is impressive if not flat-out amazing," marvels Wright, "I wanted to make this film because I was inspired by several recent wine-focused documentaries that I felt failed to capture the spirit, culture and personality of the Burgundy that I've come to know and love."
Perhaps the most amazing story to emerge from vintage 2016 involves the distinguished Grand Cru vineyards of Montrachet.
"Six of the very top producers had so little fruit in their parcels that they could not even make a commercial quantity of wine this year," Wright explained. "Superstars Domaine de la Romanée-Conti, Domaine Leflaive and Domaine Comtes Lafon have teamed up with Domaine Amiot [Guy et Fils], [Domaine] Lamy Pillot and [Domaine] Fleurot[-Larose] to pool all of their Montrachet grapes together, giving them enough to produce a total of two barrels (about six hundred bottles) of 2016 Montrachet. The wine will never be released for sale. Each producer involved will have a few cases for their own cellars, potentially to share with top customers and friends over the years, but it will never be on the market. I imagine, at some point, a few bottles will end up at auctions — it could be one of the most sought-after bottlings ever!'
As Wright and Baker return to Burgundy to film the post-harvest Les Trois Glorieuses celebration, Wright anticipates three days unlike any he's witnessed to date.
"I just hope that people who love food and wine get to see this film," Wright concluded. "Hopefully it can be enjoyed on many different levels. Ultimately, I just hope to give people a glimpse of the real Burgundy, one of the world's great treasures. Every bottle of wine tells a story, and we'll be capturing the stories of some of the world's most legendary wines."
To learn more about "Three Days of Glory (Les Trois Glorieuses)" and how to participate, go to www.threedaysofglory.com.
L.M. Archer, FWS, is a freelance wine, food and travel writer and editor of binNotes.