The Rogue Grape
Valley-focused wine bar opens in Medford
Medford's newest wine bar, The Rogue Grape, is finally open. Owners Natasha and Sean Hopkins celebrated with an "Evening of Wine and High Spirits" on Aug. 17. Like wine in a barrel, the bar has been more than a year in the making.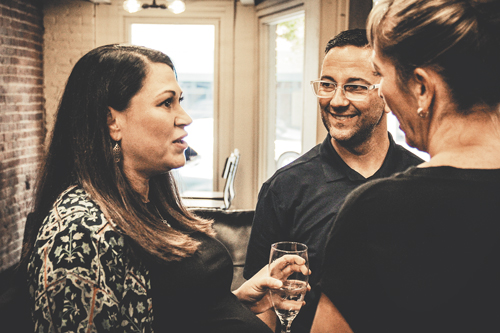 The journey began with a passion for wine and making it at home. When the couple visited the Rogue Valley to attend a wedding, their fervor for wine grew as they visited vineyards in the area. In 2011, they began managing a vineyard in exchange for fruit. The Hopkins, with partner Tom Homewood, started Awen Winecraft with Sean the official winemaker.
As their connection to the area expanded, so too did an appreciation for the Valley's wines. Inspired to share the area's treasures, Natasha pursued her idea of opening a wine bar.
In Medford's historic district, she found the perfect location, a 1,900-square-foot space now renovated as a welcoming environment without pretense that maintains the integrity of the building's original charm. It's obvious meticulous care has gone into each detail of the space and concept.
The Rogue Valley is known for its Rhône-style wines, establishing the region as one to be recognized. Natasha says she's proud to promote these wines and this place she now calls "home." Unwavering support and encouragement from the wine community has been and will be vital to The Rogue Grape's success, which will be a valuable asset to all, including consumers.
Natasha has compiled an impressive list of vineyards and varietals. In addition to wine, a menu of cheese pairings and custom-made pastries from local bakery Sweet Stuff is available.
"It will be a showcase for the pride of our region," Natasha said. "We are making friends one glass at a time."
The Rogue Grape, 36 S. Central Ave., embodies the trifecta of passion, commitment and faith in the unknown that unifies all those who travel this wine trail. For more information, visit theroguegrape.com.