The Case for "Godforsaken Grapes"
Peasant grapes rise up against the nobles
I was all set to despise Jason Wilson's new book. Not only did he write about exotic grapes, a book I hoped to write one day, but he also tossed sea salt in my literary wounds by making it as witty as it is educational. Besides learning about hundreds of grapes like Himbertscha and Juhfark, how could I hate any book bound to piss off wine critic Robert Parker Jr.?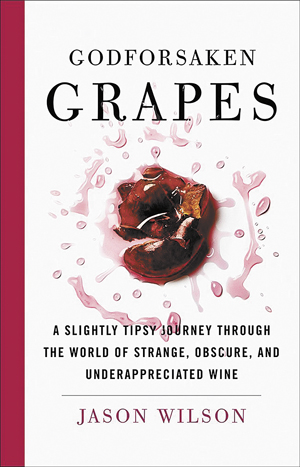 So instead of profiling an Oregon wine made with an unusual grape, "The Changeup" for this month is a review of Wilson's "Godforsaken Grapes: A Slightly Tipsy Journey through the World of Strange, Obscure and Underappreciated Wine." This Twainesque travelogue chronicles Wilson's hunt for wine grapes so bizarre, 14-year-old Karthik Nemmani can't spell their names, even after hearing them used in a sentence.
Professional jealousy aside, Wilson remains one of my favorite storytellers. I faithfully read his now-defunct drinks column in the The Washington Post, and lately, I take vicarious vacations courtesy of the annual anthology he edits, "The Best American Travel Writing." In recent years, however, Wilson's writing focus shifted from cocktails to wine.
In 2010, Wilson felt bored with spirits and desperately wanted to write about wine. One problem: The Washington Post already had a wine columnist, so his editor said "no." In response, Wilson boldly accepted a wine assignment from an editor at another newspaper. This position took Wilson to northeastern Italy to visit Prosecco producers, a seemingly innocuous assignment that significantly changed his literary path.
One evening during this trip, Wilson's host took a break from bubbles to pour a still white wine called Vigneti Massa Timorasso Derthono. The Timorasso grape, which winemaker Walter Massa saved from extinction in southeast Piedmont, had a profound impact on Wilson. He describes it as "the moment I began my quest to discover rare grapes, my journey into obscurity and my attempts to bring others along with me."
We need to follow Wilson's lead. Global wine production in 2017 was 6.5 billion gallons, and Wilson sounds the alarm with the following statistic: 80 percent was made with just 20 grape varieties. That statistic makes me want to open a window and scream "I'm bored as hell with Cabernet Sauvignon, and I'm not going to take it anymore!" Fortunately, we have many alternatives to help us drink our way out of this rut: 1,368, to be exact.
By 2014, Wilson was publishing articles about obscure European grapes like Négrette, aided by a powerful new research tool: "Wine Grapes: A Complete Guide to 1,368 Vine Varieties, including their Origins and Flavours" by Jancis Robinson, Julia Harding and José Vouillamoz. Wilson pored over the pages — all 1,242 — to track down rarities like Portugal's Antão Vaz and Greece's Malagousia. Then, Parker delivered a thunderbolt from Mount Monkton.
In early 2014, channeling his inner "Gran Torino" Clint Eastwood, Parker scolded sommeliers and writers for recommending wines made with grapes like Trousseau, Savagnin and Blaufränkisch. He compared these advocates to Kim Jong-un, labeling them "extremists" whose actions are "the epitome of cyber-group goose-stepping."
Parker accused people like Wilson of recommending these wines only because they are obscure. He called them "godforsaken grapes" that in "hundreds of years of viticulture, wine consumption, etc., have never gotten traction because they are rarely of interest..." This "get off my Bordeaux lawn" diatribe only heightened the public's interest in the grapes Parker feared. It also gave Wilson a hell of a good book title.
Parker was flat-out wrong. "Godforsaken" grapes can deliver exceptional, refreshing wines for reasonable prices. For example, Wilson's epiphany wine, the Massa Timorasso, can be found in the U.S. for well under $30. Pointing this out is positive, for several reasons.
First, seeking out wine made with godforsaken grapes restores a sense of discovery. When you drink Chardonnay, or any other noble grape, you know what to expect and therefore rarely surprised. A glass of rut busters like Kisi or Rkatsiteli from Georgia might make you re-evaluate everything you think you know about wine.
Second, you are helping preserve the heritage of obscure vines around for hundreds, if not thousands of years. Some of these grapes, like Petit Arvine, Diolinoir and Amigne are limited to as little as 40 acres for the entire planet to share. Wilson's infectious enthusiasm will send you out in search of a bottle of sparkling Gringet (54 acres).
Every book has weaknesses, but with "Godforsaken Grapes," my complaints are minor. Prosecco and Gewürztraminer are relatively mainstream grapes these days, yet they occupy two chapters that felt like standalone magazine essays, disrupting the linear flow of the book.
Wilson also spends a lot of time in Switzerland, Italy, Austria, Portugal and Hungary, but outside of brief forays into Vermont and New Jersey's Outer Coastal Plain, the western U.S. and all points south are given short shrift. At one point, he wonders whatever happened to the Négrette (known in California as Pinot St. George) Inglenook grew in the 1940s and '50s? A quick telephone call would inform him it's long gone, but a Google search shows wineries like Kenneth Volk and DeRose have picked up the Négrette mantle. Hopefully, Wilson will visit us here on the left coast if he writes a second edition.
A second book is entirely feasible because there's a lot more to cover. I recently spoke with ampelographer José Vouillamoz, and he reports "thanks to all the new crossings/hybrids and 'resurrected' old varieties, our list is now up over 1500 grapes." Fight the monoculture power, defy Robert Parker, and go find your epiphany wine. Wilson has given you the perfect map.