The Changeup: Goodness Graciano
A trip to Spain with a sip from Southern Oregon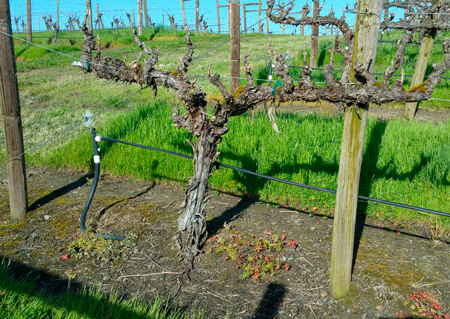 A decade ago, when traveling to Spain to explore as many wine regions as possible, I toured from the desert sands in Jumilla to the lush green hillsides of Galicia. Consequently, I developed quite a passion for Spanish wine and food culture, which is why my curiosity was piqued when I learned a winery in Oregon was making wine with Graciano, one of the rarest red winegrapes in Spain.
It was no surprise to discover the winery was Abacela, where founder Earl Jones and his head winemaker, Andrew Wenzl, craft some of the finest examples of Tempranillo and Albariño in the New World.
I couldn't drive to Roseburg fast enough.
My mad dash to the Umpqua Valley was spurred by memories of the few times I was lucky enough to drink a Spanish wine made entirely with Graciano grapes. How vividly I remember inhaling those meaty and floral scents as the dark, high-acid wine treated my mouth like its own Wham-o Slip'N Slide. No wonder Australian wine writer Oz Clarke calls Graciano "far and away the most interesting red wine in Rioja."
Graciano, teetering on the brink of extinction in its native land, made it difficult to locate. Although recently witnessing a modest renaissance in Rioja, plantings still total only about three square miles. The grape also grows in places such as Portugal, Australia, Argentina and a few states in America, but those plantings are positively miniscule in terms of acreage.
Making matters worse for Graciano lovers, it is almost always blended with other varieties. I can count on two hands — and maybe a foot — the number of wineries on this planet making wines of 100 percent Graciano. Luckily for us, Abacela is now a member of that exclusive club.
Earl and Hilda Jones planted just under an acre of Graciano vines when they first started in 1995. They established another 11 acres with grapes like Albariño, Bastardo, Touriga Nacional, not to mention a lot of Tempranillo.
"I knew from my research, Rioja had the tradition of blending small amounts of Grenache, Mazuelo and Graciano with their Tempranillo, so I made sure we planted them as well," Earl Jones explained.

For many years, Jones blended a small percentage of Graciano with his Tempranillo, adding the rest into Abacela's Vintner's Blend. Though Abacela's vineyards have grown to 76 acres, site compatibility issues required them to rip out one of their three blocks of Graciano, leaving a mere 0.4 acres, "barely enough to make 40 cases a year," according to Jones.
One question nagged, though: If the Graciano grapes were planted in 1995 for blending purposes and there's such a small amount of it, why did Jones decide two decades later to start making it by itself?
"Because a friend of mine retired from the Douglas County Electric Cooperative," Jones answered.
It turns out his friend is of Basque descent whose middle name is Graciano.
Jones quipped, "I thought it would make a heck of a gift if I gave him a case of his own namesake wine! The rest of the cases were sold out of the winery."
At this point, Abacela winemaker Andrew Wenzl jumped in, reminding Jones, "You also said it tasted pretty good all by itself and that we should keep making it."
As I opened the bottle of Abacela's 2014 Graciano, I wondered if it could be anything like the Spanish versions haunting me all these years. After all, when you talk to winegrowers in Rioja about Graciano, they go on and on about how you must have clay-limestone soils to achieve proper expression of the grape.
Jones wasn't concerned at all.
"When I first began researching where to grow Tempranillo, I had to decide whether soil or climate was more important. I chose climate," he said. "Our vines are planted in good soils, but the five to seven types we have here have zero in common with Rioja. It's our climate that's similar, and when we get 2700 heat units or more — which is normal — a grape like Graciano is a happy kid at Abacela."
I poured the wine and spent a moment admiring its violet-red Crayola color. Then, after a deep inhalation from the glass, I thought, "To heck with you, Thomas Wolfe, you can go home again!" There was a burst of sweet black and blue fruit followed by aromas of fresh-cut hay, dried rose petals, grilled meat, and an herb and brown spice combination that reminded me of a field trip to Penzeys Spices.
Hoping the wine would taste as superb as it smelled, I nervously took the first sips. Immediately, I relaxed as flavors of cedar, tobacco leaf and leather danced a brisk jota with sweet-tart black mulberries and a wee bit of nectarine. The tannins tip-toed up to chewy, but the star of the show was the wine's juicy, electrifying acidity, and at 13.6 percent, the Graciano was right in my alcohol wheelhouse.
I was thrilled to know a varietally correct version of one my favorite Spanish wines was being made a mere day trip away in Southern Oregon.
Ernest Hemingway, a devoted drinker of Rioja reds, returned to Spain toward the end of his life to write "The Dangerous Summer," a book about two rock-star matadors. Of meeting old friends after years of separation, Hemingway penned, "The wine was as good as when you were 21 ... The faces that were young once were old as mine but everyone remembered how we were."
Thanks to Earl and Hilda Jones, I think I got a small taste of the joy Hemingway was experiencing that day.
If you'd like to visit Spain vicariously through a bottle of Abacela's Graciano, it is $30, which is far less costly than a round-trip ticket to Madrid. The wine is available for purchase only at the winery, but I wouldn't wait too long before calling as they don't have many bottles of this vintage remaining.