The Changeup: Ellaguru, I Like You
Lyrical blend by Joe Swick rocks the palate

Joe Swick makes wine like Captain Beefheart made music: chaotic but with intention. Take one of Swick's latest wines, "Ellaguru," which Swick named after the song from Captain Beefheart's "Trout Mask Replica" album. It's an unusual co-fermented blend of red grapes (Counoise) and white grapes (Melon de Bourgogne). There's nothing in the wine world in comaprison, and that's the way Swick likes it. It's just you and the wine, vino a bebedor. Drawing any conclusions requires concentration and patience. But don't worry, at the end of the day, "Ellaguru" will ask only one question: "Do you like me?"
When I first sat down with Swick to discuss the wine, I was as intrigued with his Captain Beefheart fandom as I was with the wine. I'm 20 years older than Swick, and when I was a teenager growing up in the suburbs of Portland, Captain Beefheart was putting out LPs of disorienting, polytonal music that frankly scared us. It was not Paul Revere & the Raiders. It was something chemical-dabbling older brothers listened to after their freshman year at Reed.
Swick survived his adolescence in those same suburbs, only it was the late '90s, approximately two decades after Don Van Vliet (aka Captain Beefheart) stopped making music. So why was Swick buying albums by an avant-garde musician from a bygone era while his Beaverton peers blasted out Sublime and Stone Temple Pilots from their JVC boomboxes?
"I came to Captain Beefheart music the same way a lot of people did, through Frank Zappa," Swick explains. Zappa and Van Vliet were high school buddies who collaborated on a few early musical projects, so Swick figured if he liked Zappa, he'd like Captain Beefheart. Then he dropped "Trout Mask Replica" onto his turntable. According to Swick, "I listened to that record four times, and I thought it was trash. But on the fifth listen, I realized it wasn't just noise; there were relationships between what the people were playing. I was just listening for the wrong things at first."
If you typically drink richer, fruit-driven wines, you might try one of Swick's with a similar initial reaction. Perhaps you examined Swick's winemaking résumé, noticed he worked at places like Owen Roe, Sineann, Penner-Ash and Kosta Browne and thought, "I'd better check him out." Your shock might be along the lines of listening to The Beatles your whole life, only to have someone pump acid jazz or Mongolian throat singing into your earbuds. It's all beautiful, just different. But don't panic. If you maintain an open mind and look for the patterns in Swick's wines, a whole new world might open up.
"Ellaguru" is the perfect way to begin exploring. It's a 50-50 blend of Counoise from the Naches Heights AVA (American Viticultural Area) in Washington's Columbia Valley and Melon de Bourgogne from the Willamette Valley's Yamhill-Carlton AVA. This is the only Counoise-Melon blend I know about. It exists because necessity, with a tip of the hat to Mr. Zappa, truly was a mother of invention.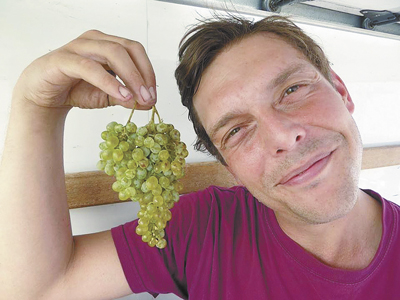 In 2017, Swick unexpectedly found himself with leftover Melon de Bourgogne grapes. "I already had the Counoise grapes ready to go, so I decided on the spot to co-ferment them. But blending grapes from two states meant I had to slap 'American Red Wine' on the label," Swick laughs. Which is a shame, as calling the "Ellaguru" American red wine is like calling Jimi Hendrix a "Seattle musician."
Like all Swick wines, the grapes for "Ellaguru" come from sustainably farmed, non-irrigated, cool-climate vineyard sites. Swick also follows a "nothing taken out and nothing added" winemaking philosophy in which there is no de-stemming the grapes, native yeasts trigger fermentation and interventions like correcting acids or adding flavor enzymes to the wine are verboten. Swick has, however, been known to add a tiny amount of sulfur dioxide before bottling for, as he puts it, "traveling purposes." After a full month of resting on the grape skins, the juice was pressed off to old French oak barrels for a few months before bottling without filtration.
Tasting Notes
Swick's "Ellaguru" catches you off-guard immediately, with its dark cranberry color, making you wonder if you are about to drink a red or rosé. The wine's aromatics don't make the decision any easier. Violets, honeysuckle and a fresh sea breeze swirl up from the glass, followed by scents of hibiscus tea and wet sandstone. This wine is so floral and packed with saline courtesy of its high percentage of Melon de Bourgogne if you close your eyes you might assume you are dealing with white wine.
Then you take that first sip. Saline strikes again, along with flint and white pepper flavors, which Swick attributes to the Counoise. If you come to the "Ellaguru" looking for big fruit flavors, you are likely to be dismayed, disoriented and disappointed. Fruit flavors take a back seat here, and while you might stumble across tart nectarines and dried strawberries, busy duking it out with thyme and juniper for background supremacy. Focus, instead, on the wine's freshness, lean texture and the joys of 10.8-percent alcohol.
For those who like it juicy — stealing a Captain Beefheart lyric — there's enough acidity here to lick your decals off! Adding to the textural thrills, while the acidity makes the sides of your mouth water, the tannins will sneak in and rough up the roof of your mouth like a comb dragging across corduroy.
At the end of the tasting session, I decided I liked the "Ellaguru." So much so, I'm encouraging you to get out there and find a bottle to begin your Swick journey. I wouldn't wait too long, however, because he made only 115 cases, and, at approximately $26 a bottle, it won't be around for long.