The Blue Quail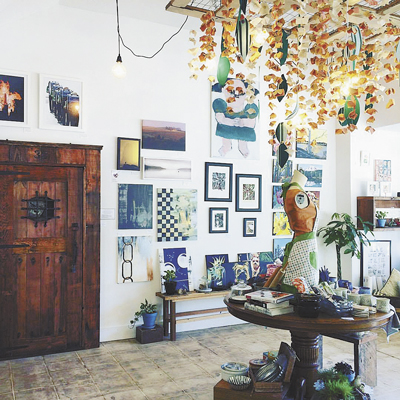 McMinnville's food- and wine-centric downtown continues to expand with the opening of The Blue Quail gallery in the first-floor of the historic Douglas Hotel.
After a couple years living in Raleigh, North Carolina, Oregon natives Amanda and Justin Pewonka moved back and opened the gallery in July in the first-floor corner shop at 701 N.E. Third Street in McMinnville, just a few steps from Bistro Maison.
Amanda, an artist herself, said the 1,200-square-foot shop will offer a mix of art, wine and food — the latter courtesy of Justin, a chef at George Fox University who will offer cooking classes at tables he built from lumber reclaimed from the Oregon State Hospital. Amanda also will offer art classes — for example, a $35 Cup and Easel event includes two hours of painting paired with a delicious beverage.
The shop will sell art — a mix of original work by Oregon artists and nifty finds from estate sales — inexpensive art supplies and Biodynamic wines made with Old World sensibilities.
The decidedly funky vibe of The Blue Quail is a function of the historic settings: The building, also known as the Eggleston Block, was built for $50,000 in the early 20th century. Among the signs of decades past: an old radiator on the west wall between two windows.
"Part of me wanted to get rid of it so I can have the space," Amanda said. "But now I'm like, 'No, it's awesome!'" she said with a laugh. "And it doesn't even work."
The Pewonkas' gallery marks the first time in years the space at the corner of Third and Galloway has been open to the public. The building is owned by Denny and Lucetta Elmer, who last year renovated the second floor into the Douglas on Third, which has vacation rentals. Gallery hours will be 11 a.m. to 6 p.m., Tuesday–Saturday, and 1 to 5 p.m. on Sunday.
For more information, visit www.mcminnvillebluequail.com.