The Acid Taste Test
Celebration lauds success of Oregon Chardonnay
By Jim Gullo
Let's take a moment to reflect on all things acid: Acid-washed jeans — every single woman I dated in the '80s owned a pair. Acid trips — um, can't remember. Acid-tongued pundits spouting acidic barbs — turn on CNN. Acid indigestion — what you feel after watching too many acid reflux commercials. And, finally, acid in wine, the burning topic of conversation at the fifth annual Oregon Chardonnay Celebration, held for the first time at The Allison Inn & Spa on Feb. 27. A sellout crowd of 250 attended.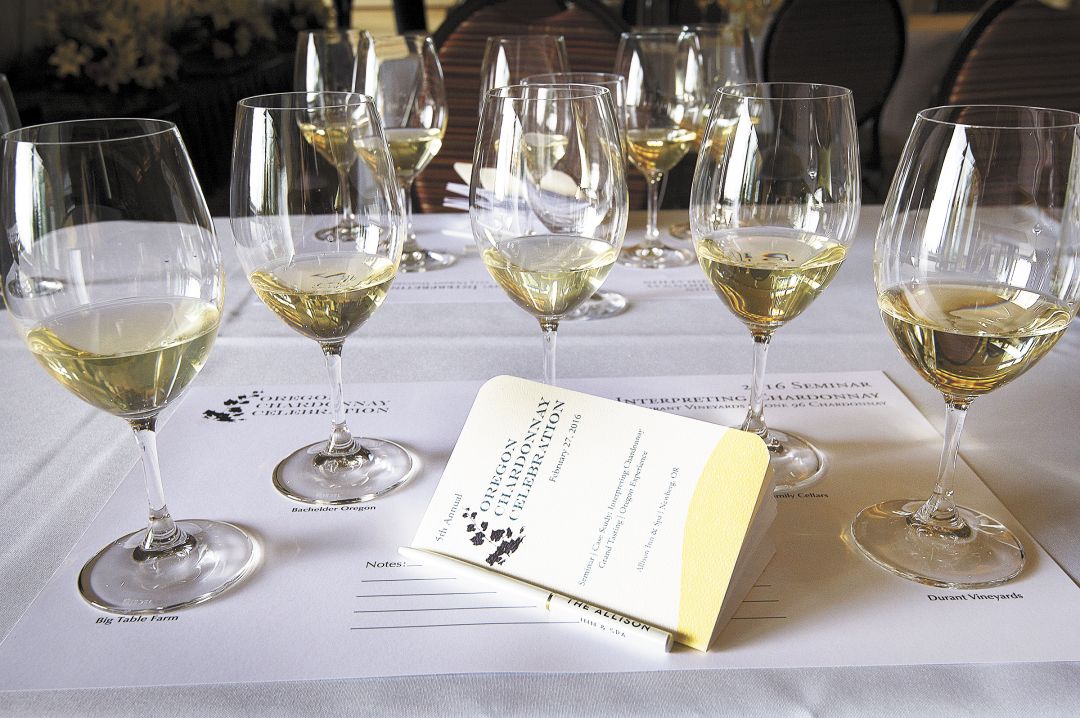 It has been written somewhere that winegrapes contain half the natural acidity of lemons, and in the case of Oregon's new commitment to Chardonnay, more acid is, well, the acid test of a good wine.
"Just for clarification, [acid is] the quality in a wine that makes the insides of your cheeks pucker," said panel moderator Elaine Brown, wine blogger extraordinaire and contributor to Jancis Robinson's website, www.jancisrobinson.com. As she said this, the audience sucked in their cheeks, feeling the pucker.
Also on stage, Maria Stuart, co-owner of R. Stuart & Company and a board member of IPNC (International Pinot Noir Celebration), explained the event's name change, from Oregon Chardonnay Symposium to Oregon Chardonnay Celebration, as it is now under the aegis and administration of IPNC. Stuart explained how founders Erica Landon and Paul Durant handed off the event after watching it grow from a small enclave of interested winemakers to a popular consumer/trade tasting and informational affair.
Both qualities were on hand for this gathering, which began with a panel discussion led by Brown, featuring Durant and winemakers Marcus Goodfellow, of Goodfellow Family Cellars and Matello; Joe Dobbes, of Dobbes Estate and Wine By Joe; Thomas Bachelder, of Bachelder Wines; and Brian Marcy, of Big Table Farm.
The tasting showcased Chardonnay from each winemaker, in various stages of production, all made from fruit sourced from Durant's Lark Vineyard in 2014. Each participant was given five samples to taste, sniff and pucker over, as Brown gamely tried to encourage discussion about the inherent similarities and differences in each.
"Chardonnay is one of the most site-expressive varietals on the planet," Brown said, "but it's also at the top of showing winemaker intent. What I find here [in Oregon] that is unique in North America is the subtlety of flavor you get. It's like a constellation of tiny flavors that create amplitude — you end up with more elements of the plant, including the greenery, the blossoms and the pith.
"Oregon Chardonnay," she concluded, "is unique; it's delicious and it's fine." High words of praise from a writer who hails from California and samples hundreds of wines from there and abroad. Indeed, when a brilliant and insightful participant — okay, me — asked the panel to characterize Oregon Chardonnay in a few words, Durant got a laugh from the crowd by quipping, "Not from California."
Funny, but it's also as apt a description of the current incarnation of the noble white grape as anything else, one might say. Oregon Chardonnay, as one winemaker confided to me privately, has had a checkered history now in its third iteration.
Pinot Noir did so spectacularly well here when the likes of David Lett and David Adelsheim planted it in the '60s — producing extraordinary wines almost from the first vintages — that growers naturally assumed that Chardonnay, that other Burgundian workhorse, would be just as successful. But the first generation of clones was wrong for our climate and never ripened, leaving winemakers with sour grapes and austere wines. Meanwhile, consumers were embracing rich, buttery, ripe California Chardonnay.
The suspect plants were torn out in preparation for the second wave of Chardonnay experimentation: planting vines in the sunniest locations in hopes of full maturation. They achieved ripeness, but acid levels plummeted, resulting in sweet, flabby wines that weren't marketable either, much less approaching cru-level Burgundian status.
Now, on the third try, as vineyard practices become more sophisticated, growers are finally hitting their stride of producing fruit with adequate ripeness and acid, the key combination to balancing wines. As Dobbes suggested, adding acid is necessary at times, and should be a part of the Chardonnay winemaker's tool kit.
"We're trying to make delicious wines," said Brian Marcy of Big Table Farm. "The biggest quality is balance. We spend lots of time in the vineyards deciding when to pick." Of the five wine samples at the panel, his, in fact, had the most bracing acidity.
The interest in this subject from the winemaking community was apparent when questions veered toward technical aspects of winemaking, including clonal selections, harvest times, yeast levels and malolactic fermentation practices — some were for it, others, like Joe Dobbes, tried to avoid ML in Chardonnay.
After the puckering was over, the consumer portion of the event offered tasting pours from 30 producers, nearly all from the northern Willamette Valley. Here, the stylistic similarities began to emerge. Dry, crisp, restrained and balanced were all qualities found in abundance. It was interesting to note the differences place provided, evident in Domaine Drouhin's "Arthur" Chardonnay, grown at the Burgundian family's Dundee Hills vineyard, and the winery's new Roserock brand sourced from the Eola-Amity Hills.
Even more interesting was that not one of the Oregon wineries — at least the ones I tasted — attempted to produce a California-style — oaky, buttery — Chardonnay, which, after all, has been a favorite of many consumers for decades. As befits the local pioneering style, a new paradigm is being sought — and finally, the bullseye is hit — that places our wines somewhere between austere, mineral Chablis and fruity, mouth-filling California Chardonnay.
"We're not California" is right, and it will be fun to see how Oregon Chardonnays evolve. If the acid holds out, that is.
For now, pucker up and enjoy.
Author/journalist Jim Gullo has contributed to a variety of national and international publications and is the author of two books; he lives in McMinnville with his family.