Thanks Be to Leftovers
Chefs share thoughts on post-holiday fare
There's no wrong way to do leftovers, especially when the main ingredient is roast turkey. But consider more creative takes on the many pounds of poultry that will inevitably fill your fridge post-Thanksgiving dinner. We asked a few area chefs for their ideas. With some invention, anyone can turn stockpiles of meat into memorable meals in their own right.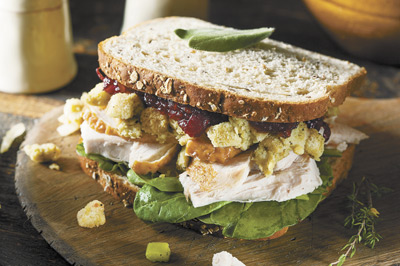 Chris DiMinno from Portland's Trifecta likes to go the hearty salad route. "People usually have more turkey leftovers than they know what to do with. I'll take some of the turkey meat and turn it into a turkey salad, made with aioli, bacon, chopped celery, carrot and red onion. I like to top it with Sriracha or Frank's Red Hot [sauce]," he says.
To extend the lifespan of anything remaining, DiMinno creates a flavorful base. "With the leftover turkey carcass, I usually make a broth reinforced with canned chicken broth," he says. "It freezes well for later use and makes for a great soup base."
Justin Woodward of Castagna in Portland offers a Vietnamese-inspired riff on leftovers. His preferred sandwich is a lively mix of cool and spicy flavors, with turkey, of course, playing the main role.
"Sandos with leftovers. Ugh, I love Thanksgiving!" Woodward says. "I make a turkey bánh mì with fried egg, jalapeño, cilantro, pickled carrot, Sriracha and mayo. I'll use turkey meat if I don't have turkey livers, but both are great options."
Norma Buccholz, who runs her own catering company and helps curate the menu at Brooks Winery, offers a few suggestions. Extra cranberry sauce, for instance, can be made into cranberry ice cream. Leftover turkey is an ideal candidate for jambalaya, she says, or chili. Buccholz likes to reimagine chicken noodle soup with turkey and turn unused stuffing into cornbread or crisp croquettes.
Paul Bachand of Recipe in Newberg keeps the menu nice and simple. "In our house, leftovers get made into open-faced turkey sandwiches. Nuff said."
The options are virtually limitless. All that spare grub offers a great excuse to simply do Thanksgiving all over again, calendar be damned. Make Act II about friends instead of family, or make things competitive by doing an Iron Chef-style cook-off with leftovers the secret ingredient.
Regarding wine, Pinot Noir is known for its flexibility, but this year, try a Gamay Noir or a Viognier. The former's typically red fruit-driven flavors function like sophisticated cranberry sauce. The latter is surprisingly versatile, teasing out turkey's subtle gamey side.
Envision turkey in new ways. Imagine it as the leading role on taco night or an addition to a rustic pizza. Heck, blow the whole thing up and swap turkey for tandoori chicken or a sprawling spread of seafood paella on Thanksgiving Day. There are few rules when it comes to this holiday; the only criteria to surround yourself with adored ones over good food and wine.