Terroir Whisperer
International expert digs into Willamette Valley
Pedro Parra, wiping his sweaty brow, heaves a soil-smeared pickaxe from the chest-high pit surrounding him. A backhoe looms above the burly, bearded man, a silent sentinel and partner-in-crime to this scene of calculated destruction stretching under Oregon's late afternoon sky. Parra sighs and hoists himself out of the hole, dusting dirt off his smudged jeans and shirt.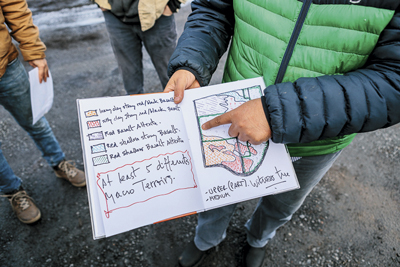 It's not easy being a terroir whisperer.
Considered the world's pre-eminent terroir specialist, Parra advises wineries as far away as Chile, Argentina, Spain, Italy (Barolo, Chianti Clasico, Montalcino, Sicily, Marema, Bolgheri), Burgundy, British Columbia's Okanagan and even Oregon.
Today, he's in the Willamette Valley visiting the Eola-Amity Hills at the behest of Comte L.M. Liger-Belair, winemaker at Chapter 24 Vineyards, a winery named for the final chapter of Homer's "Odyssey" and the brainchild of wine impresario Mark Tarlov, Liger-Belair's partner in the Oregon project.
According to Liger-Belair, "Pedro Parr is the only guy I would ever [allow] to walk the terroir. I've revisited his suggestions [in Burgundy] after 10 years and see how the soil has worked well with [what he's] suggested."
Liger-Belair and Parra enjoy a friendship spanning more than 15 years, forged during the latter's frequent weekend tasting trips through Bordeaux and Burgundy while a graduate student in France. Conversely, Parra says his friend helped him "understand Burgundy and how to taste minerality."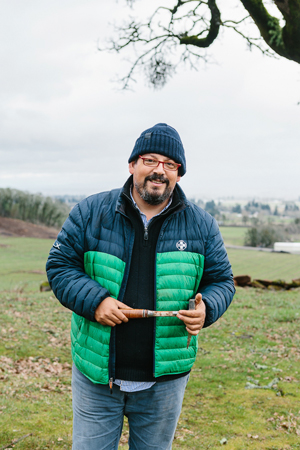 Tasting Terroir
Native to Chile, Parra never intended to create a career in wine. He studied forestry at the Alliance Française in Santiago and spent two years as a jazz saxophonist before his uncle offered him a position researching "precision agriculture" using maps and satellite photography.
Later that same year, 1997, he received a grant to earn a master's degree at the University of Montpellier in France. Parra studied agronomy and soil types, meanwhile gaining an interest in wine. After a brief return to Chile, Parra next received another grant to study at the Grignon Center in Paris, where he earned his doctorate in terroir in 2004.
His approach to the study of terroir has proven as unconventional as his career path. First, Parra believes the key to understanding the concept begins with tasting. Second, he understands how examining terroir relies less on numbers and more on intuition.
"[It] is a silent work that takes time, and you make mistakes," Parra insisted. "But [it] means nothing if we don't make the wine from the sites we select. It is all about the liquid, not the soil."
Since 2015, Chapter 24 has contracted with Parra to perform an exhaustive search locating terroirs with specific minerality for the production of Pinot Noir.
"Of course, first, I need to understand Oregon terroir in a macro view, and within that, we jump to small, to very small sites," Parra explained.
Intuition, Not Numbers
Upon his arrival at Chapter 24, Parra requested to sample as much Pinot Noir as possible from various sites in every AVA of the Willamette Valley. Of 35 wines presented, eight elicited desired characteristics; seven were sourced from the Eola-Amity Hills.
The research has Parra digging — and tasting — his way through the AVAs, gradually.
"I think the most important thing for me in my method is to go from wine to terroir," he said. "My work is not a work of soil; it's a work of taste. I spent years of my career training my palate and investing part of my revenues buying wines to train myself. I spend a lot of time with my clients tasting all the components of the wines."
"So basically, I taste, and when I find something, I dig. And this will confirm or not what I found in the wine.
"And then, I try to specialize the soil observations using GIS (Geographical Information Systems) methodologies. For that, my master's degree has been essential because I learned how to work with maps, GIS technology, etc.
"My real experience, I think, is to have the chance to vinify with my clients in 15 years more than 1,000 wines from soil selections, making a big repertoire [in] soil-wine [from] different countries."
In reviewing specific sites manifesting the keen minerality Chapter 24 seeks, Parra's success, to-date, has been primarily with Chardonnay.
"I had the chance so far to taste minerality on Chardonnay in different places. [For] Pinot Noir, it's not so clear to me yet. Saying that, my work just started in 2015, so we need more time to understand many things. Anyway, I had the chance to find minerality in some places in Dundee, Eola-Amity Hills, Yamill and outside the AVA. You just need to pay attention [to] details."
As a graduate student, Parra employed approximately 56 components to analyze terroir. However, over time, he noticed the essence of terroir contains only a handful of key factors, one of the greatest being climate — although soil temperature plays a part, too, especially pertinent in dry-farmed vines.
Related to geology, morphology, or the shape of the land, also informs terroir. The type of slope (convex or concave), the placement of vines in relation to the slope (top, middle, bottom) and the roots in relation to the mother rock or bedrock all form part of the equation.
Another important ingredient, lithology, or the physical characteristics of the rocks, relates closely to both morphology and geology. Porosity also contributes to terroir, as does the presence of clay and its impact upon fertility — dry clay, for example, stresses vines, resulting in dry tannins.
In addition, zoning, or scale, makes a difference, leading to decisions between blending several sites for a cuvee or bottling as single-vineyard — market prices greatly influence the determination.
A final component, "main interpretation," involves arriving at a mutual agreement about how to best interpret a vineyard's terroir through the wines, an agreement arrived upon in discussions with the winery's owner, CEO, winemaker and viticulturist.
The foundation of Parra's techniques derives from Burgundy, where monks codified the earliest climats, a term used for a single-vineyard site and a model he says "was made from palate to soil."
Ironically, despite extensive scientific training, advanced degrees and practical vineyard experience, Parra concedes, "I earned a Ph.D. to know how to read numbers, and now I understand that wine is never about numbers. I always follow my intuition, but maybe because I come from numbers, I can read them well. Numbers never explain [anything] on terroir."
Burgundy vs. Oregon
In truth, Parra's definition of terroir sounds more like a jazz saxophonist describing a musical composition than a soil specialist defining terroir.
"Terroir [points to] a small proportion of land that defines a typicity," Parra explained. "But if you change the scale of the observation, you change the typicity of the wine. So terroir is a dynamic word impossible to define, depending on the scale of work.
"And then there is good terroir for big fruity wines, and terroir for mineral austere wines. It took me many years to understand how to look for this in the vineyard."
Parra continues, "My work is not really about soils, but about the relation between the rocks and the roots and the weather and the liquid — four separate elements. If I had to pick one element, it would be rock. With no rocks, there is no interest for me to dig or to vinify."
As a consultant in Oregon, Parra notes a different understanding of terroir between winemakers in the region and those of Burgundy.
"Of course, there are many differences today, but it is just about time," he commented. "Oregon is so young compared to Burgundy, and you need to walk before you can run.
"Burgundy is all about the site, the relation [between] iron-clay-limestone. Today, Oregon is mostly about the clone, the technique, but not yet the site. It means very little when people focus the speech on soil types in Oregon because it creates confusion. What [does it] mean [to say you have] Jory terroir? The scale is too large when people say, 'My soil is Jory.' You can find 40 important kinds of Jory, differences that will make different wines."
Indeed, Parra and Liger-Belair both predict an eventual delineation of quality "Grand cru" and "Premier cru" sites in Oregon. Both also agree this will take time.
"One of the keys for the future is understanding the soils," Liger-Belair said. "Luckily, the same thing the monks did in Burgundy a thousand years ago, we can do now, but more quickly in Oregon because we now have the technical tools."
"I think it would be easy [to produce] Premier cru in this generation," Parra said. "Today, we have more than 24 wines in the winery that could be a Premier cru candidate. Of course, [they] are only candidates; maybe in five years, we can talk more about this.
"Grand cru, of course, takes [in account] very special and complex factors, and you need time to validate this, 10 to 20 years, at least. Of course, today, I have my favorite sites. But again, our scale is very small — so far, I found that soil and geology changes in a dramatic way around every two to three barrels. This is my size of work today."
When asked what excites Parra most about his work in Oregon, he effuses praise for the quality of Chardonnay.
"I think they are amazing, better than any place else today besides Burgundy," Parra explained. "At the same time, I'm very surprised about the Pinot Noir quality, where I think a lot should be done yet. Even with Burgundian people there and investors, I think it's not acceptable that the work is so based on weather, barrels and clones. It is clearly an opportunity, and this excites me a lot."
Undoubtedly, Parra brings a complex approach to assessing Oregon's terroir for Chapter 24 Vineyards: part taste and intuition, part science and sweat, one soil sample at a time.
L.M. Archer is a freelance writer, video correspondent, certified Burgundy geek and founder/ editor of binNotes and redThread (www.binnotes.com), a site devoted to inspired stories about artisan wine and taste makers. Her works appear in numerous publications, including Oregon Wine Press, France Today, Wine-Searcher.com, Vineyards and Winery Management Magazine, Palate Press and Foodable Network TV.