Terroir, Toil, Tenacity
Lenné Estate turns peril into peerless Pinot
Local Willamette Valley farmers refer to steep slopes like those at Lenné Estate as "butt-puckers."
Owner and winemaker Steve Lutz discovered this during an inaugural tractor drive-turned-near-death-rollover on one particularly vertiginous incline aptly named Kill Hill. The eye-opening incident happened shortly after purchasing the site in 2000.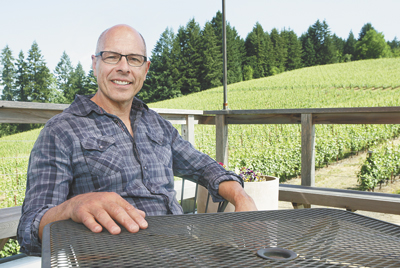 Fortunately, he and "The Blue Beast" survived to face another harvest.
Like the vines, Steve and his wife, Karen, know a thing or two about struggle — the kind that tests resolve, relationships and rationality. Part cautionary tale, part epic saga, the struggles of Lenné translate into an unconventional success story pivoting on terroir, toil and tenacity.
Terroir
"I look for three criteria when choosing a vineyard: orientation, elevation and soil," Steve explained. "If you looked at our soil, the compressed orange and yellow chucks of compressed silt stone and sand stone, you wouldn't think anything would grow in it," he admitted. "But, it still excites me, and every time I dig a hole, I see terroir."
He says the county classifies his soil, known as Peavine, as the worst agricultural kind in the area due to its low level of nutrients. In addition, this type isn't just rare outside Oregon's coastal range foothills; it's rarer still in the Willamette Valley.
Steve contends, "According to Scott Burns, a local geologist, who works quite a bit with the Oregon wine community, you just don't find many pockets of Peavine around here because it's typically isolated to those [coastal] foothills."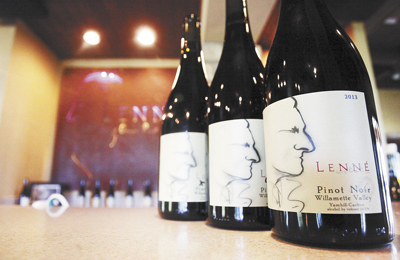 Yet Steve was no wide-eyed neophyte looking to build a vanity brand. He has already earned his spurs in '80s Napa and Sonoma, working for prestige vineyards like Clos du Val and Robert Mondavi.
"Back in the day, Robert Mondavi used to host these amazing weekly employee blind tastings, pitting his Pinots against the likes of Burgundy's Domaine Romanée-Conti or his [Bordeaux-style wines] against Château Margaux," Steve recalled. "He wanted his employees to understand what a world-class wine tasted like and the importance of terroir."
Steve never forgot those lessons. So when they learned about the Peavine-pocketed old pasture up for sale, he and Karen wasted no time making on offer on the property. The couple christened it Lenné Estate, after Karen's curmudgeonly chicken farmer father back in Britain, whose untimely demise helped finance the vineyard's down payment.
Dusting themselves off from their leap of faith, the couple soon learned that all that glitters maybe gold, but reaping the rewards takes a toll.
Toil
"Those first years are a little like being sick," Steve recalled. "You're sick, and then you get healthy, and you forget about how sick you were… It's a little like that in the vineyard."
It turns out The Blue Beast bungle proved the least of Lenné's problems. Until only recently, Karen remained a pharmaceutical rep as Steve has remained at the helm of the vineyard since the outset.
"The first year we planted in 2001, we lost 30 percent of what we planted," he confessed. "In truth, we named [the slope] Kill Hill because we had so many dead vines there in the beginning. Tt was hard to keep anything alive because of the poor soil."
Those losses contributed to sitting out the 2003 harvest, eventual dissolution of a business partnership, and innumerable nights of worry and possible regret. That all changed in 2004.
"When I tasted the 2004 harvest, and those dark chocolate and mocha notes, I knew we were going to be just fine," he said with a laugh, the kind that roils from the gut — a gut checked many a time over several harvests.
And yet, it turns out Peavine plus select Pinot Noir clones equals a mind-bending flavor profile unlike any other in the Yamhill-Carlton AVA.
Tenacity
"The only reason I could keep going after all the early dead vines and loses is that I couldn't go back," Steve conceded. "Each dead vine is painful, but you replant because going back is a much worse thought than going forward."
Today, Steve farms his 21-acre site planted to five different Pinot clones — 114, 115, 667, 777, Pommard — only three feet apart with 2,100 vines to the acre.
The winery offers a tiered selection. Lenné Estate labels reflect exceptional, single-block offerings, while Le Nez barrel selections are more casual, village-style cuvées. This year marks Lenné Estate's first foray into commercial Chardonnay production (sourced from?) with future plans to graft some Gewürztraminer, a varietal Steve deems "fun."
Vines train low to the ground, although adjustments may move upward to allow for greater air circulation if warming trends continue. Rows span seven feet wide, wide enough to accommodate The Blue Beast, and Lutz keeps the use of fungicides and herbicides to a minimum. He even shies away from adding soil amendments to his scraggly Peavine. It's the "poor" Peavine that imparts Lenné's unique flavor profiles, lower acids and deeper fruit notes.
During harvest and fermentation, Steve uses local vintner Owen Roe's winemaking facilities. In turn, Owen Roe purchases Lenné fruit for inclusion in some of Owen Roe's high-end Pinots; Lutz also features Owen Roe wines in his recurring blind tastings modeled after those touchstone Mondavi gatherings from years earlier. Eventually, Steve and Karen hope to break ground on their own winemaking facility.
Currently, their rustic tasting room anchors the vineyard for ongoing wine club blind tastings, club release parties and other entertaining-but-educational functions.
Painstakingly designed, finished and furnished by the dynamic couple, the gracious space boasts plenty of indoor and outdoor entertaining options, plus a cozy wood-fired pizza oven — an homage to Steve's brief stint as a Sonoma pizzeria owner — and Karen's equally brief career as a food rep. It's how they met.
"Would we do it over?" Steve mused. "Yes, for me, but I wouldn't ask my wife the same question. My risk ended up being her risk, but she has that "stiff upper lip" the English are famous for, thankfully."
L.M. Archer, FWS, is a freelance wine, food and travel writer and editor of binNotes.