Taint the Grapes…
It's the smoke from a wild Oregon fire season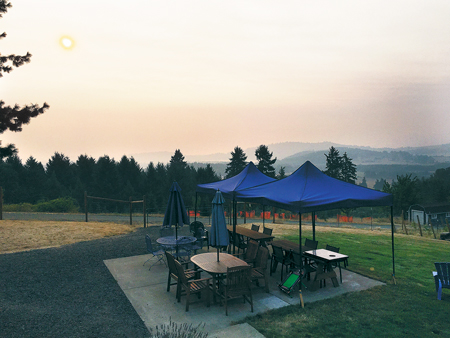 This year's otherwise verdant, bright summer was marked with haze as extreme temperatures and wildfires across Oregon and the Northwest filled the air with the acrid smell of smoke.
For a craft that defines itself on the totality of its environment, adding smoke to the mix is never ideal. As vineyards move toward harvest, the reality of wildfire smoke affecting ripening fruit has many winegrowers concerned about smoke taint.
Rinsing does nothing because the condition affects fruit on a molecular level. In some hard-hit areas, smoke has the potential to render entire harvests unusable or, at the very least, challenging. The situation is so dire some growers have attended webinars to learn what they can do.
At Foris Vineyard, just east of Brookings and down the road from the 100,000-acre Chetco Bar Fire, Ted Gerber worried about his 135 planted acres, so much so that in late August he tested his fruit for smoke taint. He explained, anything above 5 parts per million would be devastating.
As serious as the smoke is, Gerber's 43 years of winegrowing makes him relatively calm under the current circumstances. He remembers more desperate fire conditions only a year after he opened.
"[The year] 1987 was the worst," he said, describing a fire season infamously known as "The Fire Siege." "We also had the Biscuit Fire (in 2002)." That one was 500,000 acres.
While Gerber ponders smoke taint, he explains how the haze has a cooling effect leading to slower ripening, which, naturally, affects the timing of harvest. Gerber produces 50,000 cases each year, and sells fruit to Harry & David as well.
"They are very concerned about smoke taint," he said. "We'll know next week whether our fruit is affected, but I have a gut feeling that it is not."
While Gerber remains cautiously optimistic, his winemaker, Stephanie Powell, is far more perplexed about the smoke. She is not alone. On Sept. 11, the Oregon Wine Board hosted a round-table webinar providing insight to the situation. Representatives from Enartis USA's Vinquiry Laboratories hosted a presentation of options, as well as answered questions. Eglantine Chauffour, a winemaker with Enartis, led the session.
With a double master's degree in viticulture-enology and agronomic engineering from Montpellier SupAgro, an agricultural college in Montpellier, France, Chauffour opened the webinar with positive news: Smoke taint will not be carried into next year.
However, she did share an Australian study of smoke taint in grapes, which revealed only 30 minutes of contact with smoke can have a negative effect, explaining how smoke carries thousands of compounds that absorb into the berries.
So, what to do? Chauffour offered advice for harvest, including limiting skin contact with smoke and ash, removing leaves on the vines in extreme cases, and choosing a whole-cluster press for fermentation. Processing cold, 77°F, is recommended, too.
"We also suggest separating the press fractions and strong clarification methods," Chauffour said. "And rack off the lees early."
As such methods can reduce the outcome, Chauffour also suggested some masking techniques, chief among these introducing untoasted oak during secondary fermentation.
"Some trials have shown this can remove some smoke," she said, but mainly it adds a layer that really masks the smoke.
Chauffour also explained an enzyme, specifically ZYM RS, is recommended for white grapes. Regarding yeast selection, the best results come from MB15. Still, all these approaches, she said, appear to work best with whites.
At least 30 winemakers participated in the webinar. One of their main questions was exactly when to check for the problem. Chauffour answered at least seven days before harvest would be optimum.
"It's also a good idea to do a test run in a five-gallon bucket," she added.
All this fuss over how to detect and prepare against smoke taint did not necessarily permeate the entire industry. Sue Shay at Bluebird Hill Cellars in Monroe said she and her husband, Neil, are planning to accept what they get at harvest time.
"You really don't know what you've got until you start fermentation," said Shay. "If we end up tasting the smoke in the wine, we'll just have to go with it."
She described the layer of ash on their vehicles and decks during the fires. While they have not sent any fruit to be tested, Shay admitted they are riding on hope for the harvest. She compared the potential for smoke taint to the perils of Botrytis, or noble rot, and how in small doses, it can be positive.
"A little [smoke] might add an interesting smoky note, but a lot will be a bad thing," Shay said. "It's going to be something you'll discover on your palate."
Still others, like Grant Coulter, winemaker at Flâneur Wines in Carlton, are already into harvest — primarily for sparkling — and, so far, have not witnessed a problem.
"I haven't gotten any indication at all for smoke taint," he said. "I've been places where I've tasted wine from tainted grapes and the smoke was so thick, but I don't see it being a problem."
Coulter believes the smoke "will be a sort of footnote to the vintage."
Whether or not the smoke makes an official annotation, obviously the stories created from this fire season will hang in the air for years.
Final note: Gerber's lab results proved negative. His fruit is smoke free. Cheers to that!
Neil Zawicki is a writer who, in his spare time, loves to study history, paint and play his guitar. He lives in Independence with his equally creative wife and four children.