Symposium Celebrates 10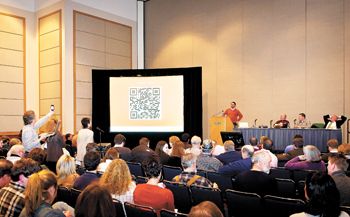 By Karl Klooster
The Oregon Wine Board recently announced that the 483 wineries under its marketing and education umbrella sold more than 2 million cases of wine for the first time in the industry's 50-year history. Underscoring that growth, the announcement went on to note that over the past 11 years, Oregon wine sales have doubled. The industry surpassed the 1 million case mark in 2001.
In dollars, economists tell us that if all aspects of the Oregon wine industry and its influence on business activity are taken into account, the impact exceeds $3 billion. That's a pretty big number, when you consider it requires only $7 billion a year to fund state government in Oregon.
Oregon's annual gross domestic product is estimated at $169 billion, which works out to $43,650 for each of its 3.87 million residents; that represents more than 1 percent of the total American gross domestic product of $14.6 trillion, or $38,670 for each of the nation's 311.6 million residents.
Getting back to earth, or at least soil well suited for winegrape growing, Oregon is about terroir. In other words, the way a wine tastes is directly related to where the grapes were grown. OWB Communications Director Charles Humble emphasized their commitment to spreading the terroir story. "It's an important aspect of our public education efforts," he said. OWB lends support to AVA associations whose promotional efforts center around their geographical and geological advantages.
It's been just over a year since Tom Danowski took the lead as OWB executive director. Since his hiring in December 201, he can point to several significant accomplishments.
Last February the Oregon Wine Symposium was held for the first time at the Oregon Convention Center in Portland. After eight successful years, the event had outgrown The Eugene Hilton Hotel and Conference Center.
Just two months following the industry's largest-ever annual symposium, OWB staged UnWined, a major public event in Portland featuring 100 wineries from around the state. It gave wine appreciators an unprecedented opportunity to taste the wines and talk with the folks who made them. It was the kind of personal encounter for which Oregon wine is becoming renowned.
Recently launched in December 2012, OWB's new website promotes Oregon wine with AVA education, links to regional associations as well as travel associations, history of the industry, wine pairings, latest news, events calendar, industry portal linking to the OWA website and more.
In addition to the revamped site, Danowski says he is redoubling his efforts to gain greater distribution for Oregon wines both within and beyond the state's borders. "Fans of Oregon wine would like to see it more available at retail and on wine lists," Danowski said. "The primary challenge is to get the word out about Oregon wine and expand its distribution."
A University of Oregon graduate, Danowski has focused on strategic marketing planning. His career path took him to Seattle where he worked for Ste. Michelle Estates, which owns half of Washington's wine production. Taking advantage of the contacts he established during those years, he has reinforced his strong relationship with the Washington State Wine Commission ever since he joined OWB.
"In conjunction with the Washington commission, we go to international markets as a joint Northwest force," Danowski said.
OWB is also working closely with Travel Oregon, the state's tourism arm. "They're talking to people all over the world about coming to Oregon," Danowski said in an interview with Wines & Vines magazine. "And my ability to drive them to communicate more of the winery itinerary as part of that travel pitch is helpful." He also noted that as part of its promotional efforts, Travel Oregon has recently produced a TV commercial devoted entirely to the Oregon wine industry.
Although the role of the Oregon Wine Board is to help promote the industry statewide, when a particular region garners major accolades, it's something to celebrate. In its most recent issue, the nationally distributed Wine Enthusiast magazine selected its "10 Best Wine Travel Destinations of 2013." Willamette Valley, Oregon was among them.
"This is another feather in the Willamette Valley's cap," Humble said. "It's the heart of Pinot Noir country, and the variety leads the way in Oregon.
"In fact," he continued. "This area is receiving so much attention that Portland has been selected to host the third annual Wine Tourism Conference, scheduled for Nov. 14 and 15, 2013, with attendees coming from all over the country."
Coupled with Wine Spectator's glowing coverage of Oregon in 2012, the industry seems to be on a roll going into its upcoming symposium scheduled for Feb. 19 and 20 at the Oregon Convention Center. Marking a decade of continued growth in participation and attendance, the sprawling Portland venue is scheduled to host two agenda-packed days featuring seminars and sessions covering every aspect of the industry.
A top-level list of 33 guest speakers and presenters is headed by Mike Keiser, owner of the acclaimed Bandon Dunes Golf Resort. Both Golf Magazine and Golf Digest recently named Bandon Dunes the No. 1 golf resort in North America. As the symposium's keynote speaker, Keiser will impart the inspirational story of how he realized his dream of a world-class golf resort.
He is joined by Ted Baseler, CEO of Ste. Michelle Estates, America's ninth largest wine company with estimated annual sales of 5.1 million cases. The Washington-based winery purchased Erath Vineyards in 2006 and has since built the brand into Oregon's second largest with nationwide and international distribution. Baseler's topic? "The Importance of the Oregon Brand."
As of this writing all exhibitor spaces were sold out. CLICK here for the schedule.