Swinging on a Star
Winery owner Matt Marshall competes in U.S. Open
By Ossie Bladine
Last year, after a quarter-century of competitive golf, Marshall Davis Winery co-owner Matt Marshall had decided to take a break … that is until the 2016 U.S. Open.
Marshall qualified and competed in the 116th annual tournament June 16–19 at the storied Oakmont Country Club in Oakmont, Pennsylvania — where Jack Nicklaus won his first professional tournament by defeating Arnold Palmer in 1962 U.S. Open.
But before we get to Marshall's results, how did he get there? Time for a playback.
He qualified for the U.S. Open on June 6 by shooting a 6-under, 138, at the 36-hole sectional qualifying at Royal Oaks Country Club in Vancouver, Washington.
The 31-year-old needed three extra holes to complete the feat. He tied for the third and final qualifying spot after two rounds with 19-year-old Austin Connelly, who turned pro last year directly out of high school.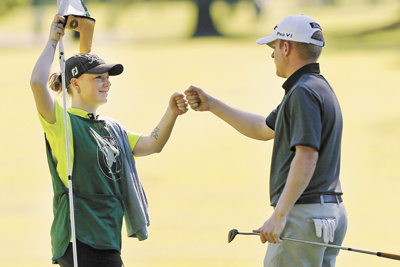 Marshall, who spent seven years after a successful college career playing The McKenzie Tour-PGA Canada Tour, said the age difference was very apparent to him.
"He definitely made me feel pretty old; but I think it was an advantage," Marshall said, "I've been in a lot of situations that prepared me for that."
Both players parred the first two playoff holes, and each hit their approach shots on the green of the third. But, Connelly's was "on a tough spot on the green." He blew his birdie putt about eight feet by the hole and couldn't make the comeback putt for par. Marshall lagged a five-foot birdie putt and tapped in to earn a spot in the 116th U.S. Open Championship.
"It's been a whirlwind," Marshall said prior to the tournament. "They don't give you a whole lot of time to plan for this.
Marshall moved to Carlton two years ago with his wife, Danielle, who caddied all 39 holes for him on June 6. He grew up in Wilsonville but moved around the West Coast, as his father, Bob, changed jobs in the golf course management business — Bob is currently the director of golf at CordeValle in San Martin, California, the site of this year's U.S. Women's Open.
He played collegiate golf for two years at UCLA and two years at UC Davis before turning pro. His two older brothers, Sean and Ryan, however, stayed in the Willamette Valley. Sean moved to Carlton in the mid-2000s to work in the wine industry, and the family followed. In 2011, the Marshall brothers founded Marshall Davis Wines, which has its tasting room inside The Horse Radish in Carlton, and soon after their parents purchased acreage nearby, where the winery's vineyard is now located.
Matt Marshall worked at the winery over the winter, as he contemplated his next step in life. In April, he was hired on as the assistant pro at Portland Golf Club, which allowed him to remain around the game he loves, but without the constant pressure of touring life. He also helped out with the Linfield golf team this spring.
"I decided I should keep my game fresh, if I could," he said, which led to the decision to play in the U.S. Open qualifier.
He finished tied for fourth at the local qualifying round, with an even-par 72 at Pronghorn Resort (Nicklaus Course) on May 10 — good enough to advance to the sectional round.
Marshall started well at Royal Oaks with two birdies and an eagle on his first nine. He finished his opening round birdie-birdie for a 5-under 67. Conditions were more difficult in the afternoon as the wind increased. Starting on the back nine, he bogeyed 14, 16 and 17 to drop to 3-under-par, but finished strong by birdying three of his last 10 holes, without a bogey.
Midway through his back nine, a live scoreboard showed he was one shot back of the third and final qualifying position. "I told myself, 'We have to play solid on these last holes.'" He nearly birdied his last hole, which would have given him a tie for second, but just missed and settled for par. But that proved to not matter in the end.
Marshall's exceptional play has something to do with his new path, he thinks. A steady paycheck has given him some security and allowed him to play golf free of expectations.
"When you're playing week-to-week to pay the bills, there's lots of added pressure there," he said. "That's what I've been focusing on lately, is just enjoying the days and teeing it up and going out and doing what I know to do.
"Life tends to throw you a lot of curve balls," he added. "This is definitely a good one."
So how did he do?
Marshall earned himself 36 more holes of tournament golf at Oakmont by firing a 5-over 145 in his first two rounds of the U.S. Open.
Marshall's first round didn't start until Friday, June 17, because weather suspended play on Thursday. He shot a 2-over 72 on his opening 18 holes, then quickly returned to the course for round two and played until darkness halted play on his 32nd hole of the day.
"It was a grind toward the end," Marshall said. "Thirty-two holes on any day is tough, but on this golf course, in the U.S. Open … when the horn was blown for darkness, I was happy to leave."
Marshall was 5-over, right along the cut line, when he teed off on Saturday. "It was nice to come out a little refreshed." He held his position in the field by parring holes 15 through 18 for a second round 75.
In a field of nearly 155 golfers, the top 60 and ties after round two make the cut. Marshall tied for 45th heading into round three at Oakmont.
He followed a difficult front nine with a strong finish on Sunday, June 19, ending his storybook appearance at the U.S. Open in a tie for 61st place.
His three birdies in the last 10 holes gave him a 76 in the final round, after a 75 in Round 3 on Saturday. Marshall and Tim Wilkinson each won $23,938 for finishing at 296, 16 over par. Winner Dustin Johnson, winner by three strokes at 4 under par, took home $1.8 million for his first major golf title.