Surrender to Riesling
Wineries to invade city with versions of German white
Somewhere along its journey, Riesling developed a bad reputation. "Sophisticated" wine drinkers wrinkle their noses, shake their heads and say, "I don't like Riesling; it's too sweet." Novice wine drinkers, who often claim to prefer only sweet wine, don't consider it sweet enough. In fact, it is the Riesling's range, from dry to luscious, that may be the problem. People simply don't know what to expect.
This uncertainty would seem an easy fix. German Riesling producers go out of their way, squeezing as much information as possible on the label. Unfortunately, it is in German and confusing. As a certified sommelier, I recognize that "trocken" means dry and "trockenbeerenauslese" is one of the world's great dessert-style wines, but "classic" also means dry — actually, it means dry or high-acid/off-dry. Thanks, Germany. That was helpful, well, semi-helpful.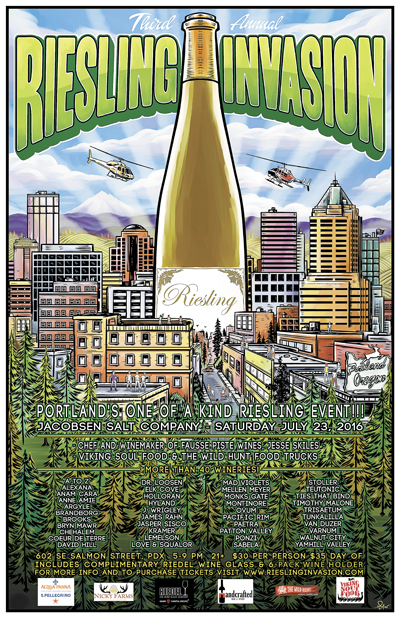 The International Riesling Foundation created an "IRF Scale," which producers can choose to include on their back labels. It explains the wine's sweetness levels in English words and a sliding scale.
Still, it is difficult for Riesling to gain the traction it deserves.
An interview with Kirk Wille reveals some historical explanation. Wille, who resides in Oregon, works as the vice president and general manager of Loosen Bros. USA. According to him, in the early 20th century, German Riesling was the most expensive wine in the world, nudging out even the most acclaimed Burgundian wines.
Two world wars later, Germany struggled to rebuild, yet American troops stationed in Germany had demonstrated a genuine fondness for the sweet wines. German producers responded, flooding the U.S. market with the cloying kind. It was not the precious Rieslings — raisined or frozen on the vine to the point of luscious nectar — enjoyed by the soldiers, but it was tasty, fashionable and mid-century America lapped it up.
As often happens, demand had a negative impact on quality. Growers pushed their yields to the limit and blended lesser varietals, diminishing Riesling's signature qualities. Black Cat, in its novelty cat-shaped bottle more appropriate for holding perfume, and Blue Nun became the image of German Riesling in the American mind.
In the mid-1980s, German Riesling experienced what Wille calls "the perfect storm." The American market had grown weary with the ever-decreasing quality of German wines reaching the shelves, and sweet wines were falling out of fashion. Plus, the U.S. dollar weakened, making German wine more expensive. Finally, a bottling scandal in Austria, not Germany — but close enough — was the final blow.
So, here we are in 2016 and Oregon's own story of Riesling is well underway. The third annual Riesling Invasion event, July 23, 5 to 9 p.m., at Portland's Jacobson Salt Company, proves how Riesling has established a home here. More than 100 Rieslings from 40-plus Oregon producers will be showcased, with food from Brasica, Viking Soul Food and The Wild Hunt, and music by DJ/winemaker Scott Frank.
One of the event organizers, Mike Kuentz of David Hill Winery, describes it as an opportunity to taste premium Oregon Riesling in all of its many expressions, from extremely dry to dessert, with differing soil types, barrel influence, vine age and more. Elk Cove Vineyards Late Harvest Riesling, Mellen Meyer sparkling Riesling, Varnum Vintners Old Vine Riesling and vineyard designates from Anam Cara Cellars are a few examples. Winery principals will be present to answer questions for the curious, but an open mind is all that is really required to enjoy Riesling.
Coinciding with the event is a video, "Your New Favorite Wine," starring Harry and Wynne Peterson-Nedry of Chehalem Wines, sommelier/winemaker James Rahn and Will Prouty, owner of wine shop Division Wines, among others, spreading the Riesling "gospel."
The brainchild of Olga Tuttle of Teutonic Wine Company and the Riesling Invasion Committee, the video series was created locally by Milt Ritter Productions. Some may recognize four local wine tasters, who previously claimed not to enjoy Riesling, happily extolling its virtues in a blind tasting. Oregon wine experts speak to the ease with which Riesling pairs with a variety of dishes and to the attributes Riesling expresses from different vineyard sites. The video was funded by Loosen Bros. and the International Riesling Foundation — it is important to note that Janie Brooks Heuck of Brooks Wine and Harry Peterson-Nedry serve as directors of the foundation.
The Riesling Invasion is coordinated by a committee of representatives from Loosen Brothers, David Hill, Teutonic, Anne Amie Vineyards and Jasper Sisco Wines. Advance tickets for the event are $30 and can be purchased at www.teutonicwines.com/rieslinginvasion.