The New Supper Club
Music pumps up ambiance, amps up flavors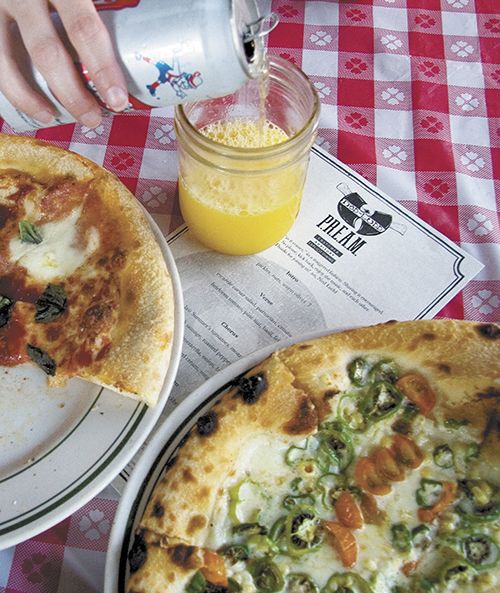 Once it was beets, now it's Beats (by Dre) that are influencing the way we eat.
Over the past 30 years or so, restaurant kitchens have moved from the back of the house to the front; in fact, they have taken center stage. Open kitchens are commonplace, so that diners may witness the preparation of their meals. Live cooking has become part of the evening's entertainment.
In this modern arrangement, music can play a large part in creating the ambiance of a restaurant. In some instances, it can actually turn up the charisma to 11, as cooks and waitstaff serve as de facto deejays.
New Traditionalists
The stereotypical line cook blares testosterone-heavy metal, punk and gangster rap at deafening volumes — for reference, read the Anthony Bourdain classic "Kitchen Confidential." The music serves multi-layered purposes, keeping the kitchen crew pumped up while cranking out dish after dish, and drowning out the whir of exhaust fans, not to mention the shouts of a belligerent head chef. Meanwhile, in stark sonic contrast, classical or dinner jazz is kept just audible enough in the dining room so as not to obstruct conversation, yet obscure the din taking place behind swinging doors.
Nowadays, those worlds are becoming more and more mashed up, just like two completely different songs overlapped by a clever producer — for instance, "Riders on the Storm" by The Doors trading verses with Blondie's "The Rapture."
Mario Batali is largely credited as the first chef to break with the Muzak tradition. In 1998, he opened Babbo in New York City, where he proceeded to play his own favorite songs, which then included Radiohead and Guns 'N' Roses, at a decibel level so loud that conversation became extremely difficult. The success of Babbo let loose the floodgates for other young chefs and restaurateurs to broadcast their audible tastes alongside the edibles.
"I know that it has fallen out of favor, but I miss jazz and classical music in restaurant settings," said Andy Ricker, the chef/owner of Pok Pok and six other Thai restaurants spaced out between Portland and New York City.
A former deejay and rock 'n' roll bass player, Ricker curates a playlist of cuisine-appropriate Thai music at his eateries. Ricker explained the soundtrack at Pok Pok is mostly luuk Thung and morlum — the Thai equivalent of country music.
"The music is melodic, sometimes hypnotic in pattern, and the lyrics, like all good country music, are about hardships and lost love. The beauty of music in another language is that our customers — at least most of them — do not understand the lyrics, so are not distracted by them."
That's one of the reasons why people love going to Andy Ricker's places. Diners feel like they're in Bangkok, not Portland, Oregon — even when the volume can at times make you wish earplugs were served along with the utensils.
Hip Hop Ya' Don't Stop
On Monday nights, pizza and rap are on the menu at Ned Ludd, located on M.L.K. Junior Boulevard in inner Northeast Portland. Chef/owner Jason French gave two of his staff members, both hip-hop fanatics, free rein to play the music they love.
Dubbed "Pizza Rules Everything Around Me" (or P.R.E.A.M., a riff on a classic joint by Wu-Tang Clan), it has all the stylings of the Beastie Boys at Stromboli Pizza circa 1987.
"It creates a different vibe, more young and fun. Not that Ned Ludd is staid, but we don't normally rock out or get too crazy with the sound system," French said.
Even on regular service nights at Ned Ludd, song selection is key for setting the mood. "The playlist varies wildly day by day, from what's hip to singer-songwriter, Steely Dan, retro…"
French says he's also a huge fan of jazz: bebop and big band. "We did traditional jazz brunches for a while, then when that got tired we played bluegrass, zydeco…"
Is there a method behind this musical mayhem? The musical variety certainly underscores the seasonal nature of the food on which French has built Ned Ludd's culinary reputation.
"Mostly we hear, 'Wow, this is an amazing playlist!' But on occasion a diner has requested that the volume be turned down. If there's a ripping guitar lick in a song, it will rub people the wrong way. But at the same time, we try not to acquiesce. We'll package up your food, and you can eat it at home. You're here for this experience."
It Might Get Loud
We're rapping about saké and ramen when Gabe Rosen of Biwa, a Japanese izakaya in Southeast Portland, steps away from the conversation to adjust the volume of the sound system. "Finding the right level is really important," he said. "The noise level often verges on barely contained chaos."
Rosen's restaurant has been around for eight years now, but he remembers struggling his first year to find the right mix of ambiance. "We spent hours putting together the perfect music playlist, but things just weren't going that hot."
The adjustments he made were to turn the lights down and the music up. "That's one of the reasons the restaurant is still around today," he said.
Rosen has turned over control of the remote to staff members, a few of whom deejay when not waiting tables or slinging stockpots. Their selections can range from house and electronic to Bob Dylan. "They get the environment the restaurant should have."
Ability to read the room the way a deejay does is a new skill required of modern-day restaurant service.
"If the room is too quiet, you can turn up the music just a little bit to find that sweet spot where all of a sudden the people at the table start talking a little louder, so the people at the next table start talking a little louder," Rosen said. "It goes from a ghost town to 'Ah, now it sounds like a restaurant!' "