And the Award Goes to…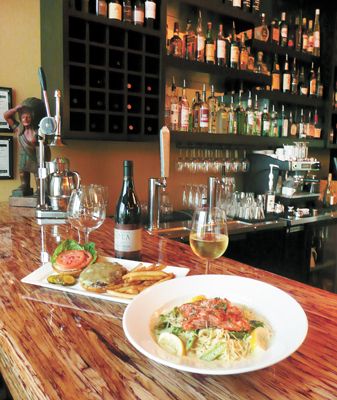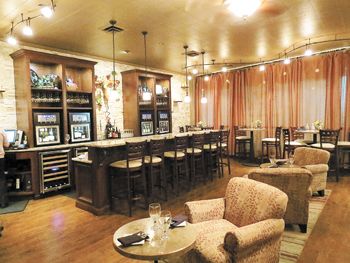 The Superior Cellar Awards program, presented by Oregon Wine Press and Oregon Wine Board, provides consumer guidance on restaurants featuring diverse and broad selections of Oregon wines. The goal is to help consumers locate restaurants, both in Oregon and elsewhere, that strongly advocate Oregon wines and to encourage restaurants to carry them.
Wine lists are evaluated for breadth, depth and balance as well as specific selections. Emphasis is also placed on waitstaff training and education, special tastings and other wine-related events are also taken into consideration.
1910 MAIN – AN AMERICAN BISTRO
Inspired by the bounty surrounding her hometown of Forest Grove, 30-year culinary veteran Kathy Compton opened 1910 Main in April 2011.
The restaurant is housed in a complex built by Kathy and her husband, Donald. The first new building in downtown Forest Grove in many years, it also contains his dental practice and an expansion of the restaurant, The Tasting Room at 1910 Main, showcasing wineries that don't have tasting rooms.
Currently those wineries, Cancilla Cellars, Forty Five, Gresser Vineyards, Provincial Vineyards and Sunswept Vineyards, also contribute to the restaurant's locally sourced wine list. With only one foreigner, an Italian Prosecco, the list offers primarily Oregon wines with a handful from Washington.
Kathy's local philosophy extends to the menu as well. Referred to as "updated American cuisine," the offerings cover a lot of ground and are found in three different menus: brunch, lunch and dinner. (For word-length's sake, this writer will tackle only the dinner portion.)
Mouth-watering appetizers include dishes such as Gorgonzola fries, and baked Cambozola with roasted garlic cloves and warm bread for spreading — add fresh Dungeness crab for a fee. Made-from-scratch soups and fresh salads like the beet salad with Quail Run Creamery goat cheese, arugula, pistachios and citrus vinaigrette also entice. "Bistro Favorites" — mac and cheese, beef pot roast, meatloaf, fish and chips, fried chicken — are just that, favorites for many. Also popular are the gourmet burgers, all using natural beef, except for the lamb and veggie option made of mushrooms and quinoa. Entrées include palate-perfect plates such as pork tenderloin marinated in Dijon and rosemary with polenta, and chicken cordon bleu, a chicken breast stuffed with prosciutto and Gruyère cheese, topped with lemon crème served with mashed Yukon potatoes — both are served with seasonal vegetables.
The focus at 1910 Main is definitely balanced with food and wine, both with a serious local bent. Add to that the restaurant's calendar of multi-course winemakers' dinners, and it's easy to see why OWP is pleased to honor this establishment with a Superior Cellar Award.
Address: 1910 Main Street, Suite A, Forest Grove
Hours: Tues.–Fri., 11 a.m. to 9:30 p.m.; Sat.–Sun., 8:30 a.m. to 10 p.m.
Phone: 503-430-7014
Web: www.1910main.com
THE TWISTED CORK
Unlike its name might suggest, The Twisted Cork in Grants Pass is neither gnarled nor off-center; instead, the quaint, classy tapas restaurant/wine bar has been a smooth success since its opening in November 2011.
Owned by couples Walt and Leanne Eaton, and Mike and Beth Forshay, The Twisted Cork has created a following through its dedication to local wine, with more than half its wine list sourced from Oregon — mostly from Southern Oregon. The cellar contains of more than 800 bottles and 16 wines by the glass. To navigate through the many selections, guests can order pre-designed flights changed on a regular basis.
"Flights are a wonderful way to compare, share and discuss the complexity and style of new wines and a great way to develop your personal palate," said Leanne Eaton.
Committed to educating patrons, The Twisted Cork also hosts monthly winemaker's dinners —Schmidt Family Vineyards in February, Troon in March — and hopes in the near future to hold sensory classes taught by Umpqua Community College's Southern Oregon Wine Institute staff. The restaurant's small bottle shop is also a chance to learn about wine and selected producers.
While wine seems the main focus, the food is definitely not an afterthought. Chef Martha Fritz has created a menu to inspire many different palates. Light refreshments include items such as Marcona almonds, olives and artisan bread. Dishes "to share" range from warm winter brie to a flight of spreadable dips to an antipasto plate. Soups, salads and sandwiches also add to the possibilities; main dishes include gourmet delights like pomegranate cinnamon flank steak, ginger glazed salmon, grilled cheddar polenta and more.
Guests can end their dining experience — or begin — with a variety of decadent desserts such as sticky toffee pudding cake, house-made sorbet, and chocolate and Port shots, a trio of half-ounce Port pours presented in edible chocolate cups. Which Ports are on the list of five? All Oregon-made, of course.
Address: 210 S.W. Sixth Street, Grants Pass
Hours: Tues.–Thurs., 11:30 a.m. to 8 p.m.; Fri.–Sat., 11:30 a.m. to 9 p.m.; closed Sun.–Mon.
Phone: 541-295-3094
Web: www.thetwistedcorkgrantspass.com