Summer Toss-Up
Portland's Quaintrelle creates sensational seasonal salads
Recipes by Quaintrelle Chef de Cuisine Bill Wallender
Wine Pairings by Somm Matt Hensel | Photos by Aubrie LeGault
Little Gem Salad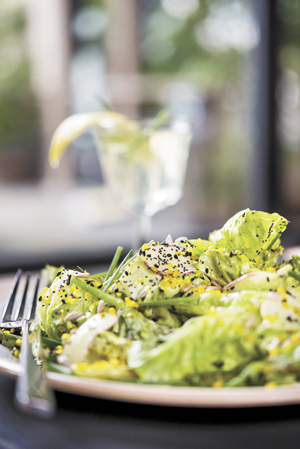 Wine Pairing
Raptor Ridge 2015 Grüner Veltiner, Chehalem Mountains
"Grüner Veltliner is built for salads and vegetables. It is savory and tart at the same time, so it plays well with the herbal flavors in this dish but cuts through the rich tarragon dressing. After about 30 seconds, you're left with the salty flavor of the seeds from the salad, but your mouth is still watering from the wine, making you want to take another bite." —MH
INGREDIENTS
2–3 heads little gem lettuce
2 cured egg yolks (see recipe)
2 tablespoons toasted nigella seeds
2 tablespoons toasted poppy seeds
¼ cup toasted sunflower seeds
1 bunch radishes, trimmed and sliced thin
1 bunch chives, cut into batons
½ cup tarragon dressing (see recipe)
METHOD
Prepare yolks (see below) and dressing (see below); set aside.
Mix poppy and nigella seeds and toast lightly in sauté pan over medium heat until fragrant. Toast sunflower seeds on baking sheet lined with parchment in a 325°F oven until lightly browned, about 10 to 15 minutes. Mix all seeds and set aside.
Slice radishes (I prefer a knife, but you can use a mandolin) about 1/8-inch thick after trimming greens and roots, and washing. Cut chives into 1-inch batons and set aside. Trim core from each lettuce head and shock leaves in very cold clean water. Spin dry with salad spinner and place into a mixing bowl large enough to toss salad.
Spoon dressing around outside of bowl and on leaves. Toss and fold lettuce in bowl, so every inch gets covered with dressing. You may not need all the dressing, in which case save for another salad or anything you like. Add all other ingredients except yolks.
Divide onto 3 to 4 plates and sprinkle each salad with more of seed mix. Grate yolks over each salad with a fine grater.
Tarragon Dressing
2 soft boiled eggs (5 minutes in boiling
water, shocked in ice bath and peeled)
½ cup white wine vinegar
2 cups parsley leaves, packed
1 cup tarragon leaves, packed
1½ cup canola or grapeseed oil
1 tablespoon honey
METHOD
In blender combine eggs, vinegar and herbs. Purée and push down with rubber spatula. With blender running, slowly add oil to emulsify. Add honey and season with salt to taste.
Store in an airtight container in refrigerator for up to 5 days.
Cured Egg Yolks
6 eggs, separated
2 pounds kosher salt
½ pound granulated sugar
METHOD
Mix salt and sugar well. Cover bottom of 9- by 9-inch baking dish or container with ½ inch salt and sugar mixture. With back of metal spoon, make dent in salt to rest each egg yolk, making sure spacing is ample, and they don't touch.
Crack eggs in bowl, and with hands, separate yolks, adding 1 yolk to each spot in salt mixture. Once all yolks are added, sprinkle with more salt mix; then bury with rest, being gentle as to not break raw yolks. Reserve egg whites for another use. Cover container with lid or plastic wrap; refrigerate 5 days.
Remove yolks carefully and rinse under cold running water. Transfer each yolk to paper towel-lined plate and gently pat dry. They should have firmness of a chunk of cheddar cheese. If they are slightly wet, dry in 150°F to 175°F oven or food dehydrator for 2 hours.
Refrigerate in airtight containers up to a week. Grate on anything you want as you would Parmesan cheese.
Asparagus, Cauliflower & Quinoa Salad
Wine Pairing
James Rahn Wine Co. 2015 Elk Cove
Vineyard Riesling, Yamhill-Carlton
"Asparagus is always tricky, but it's fast friends with high acid white wines like Riesling. Don't be afraid of a little sugar in your wine. This off-dry style matches the sweetness from the caper dressing and golden raisins while balancing the saltiness of the almonds." —MH
SALAD INGREDIENTS
1 pound asparagus (woody stems
removed), washed, sliced raw on bias
2 cups cooked quinoa
1 spring onion, julienned
2 cups bite-sized cauliflower florets
½ cup golden raisins
¾ cup Katz Sauvignon Blanc vinegar
¼ cup fresh mint leaves
¼ cup fresh parsley leaves
½ cup almonds, toasted and chopped
* salt and pepper to taste
Caper Raisin Spread
15 grams fresh parsley
80 grams rinsed capers
40 grams Katz Sauvignon Blanc vinegar
15 grams peeled garlic
85 grams golden raisins
* good olive oil
METHOD
Caper Raisin Spread: Rinse capers in multiple changes of cold water until they're not too salty to taste. Drain and pat dry with paper towels on tray or plate. Rehydrate raisins in hot water about 5 minutes. Drain, cool and set aside.
In food processor, add garlic and mince; push down with rubber spatula. Add capers and mince; push down. Add parsley and mince; push down. Add raisins and mince; push down. Add vinegar and about ½ cup olive oil; process until a smooth paste or coarse purée forms.
Store in airtight container for up to a week; add more oil to the containers if it seems too thick.
Salad: In small container, combine ½ cup raisins with ¾ cup vinegar; pickle about 15 minutes before using. Raisins should be plump and juicy when ready.
While raisins are pickling, toss cauliflower with 1 tablespoon olive oil and pinch of salt; roast on a baking tray in 500°F oven for about 5 minutes, just enough to take the raw edge off cauliflower. Do not cook too long or it will be mushy. Set aside on a clean plate to cool completely.
In large bowl, combine remainder of salad ingredients except pickled raisins and caper raisin spread. Using slotted spoon, add raisins to salad and coat salad with olive oil. Add vinegar from raisins to salad, tasting as you add a little at a time. (You may not need all the vinegar; it can be reused.) Season with salt and freshly cracked black pepper to taste.
Spoon about 2 tablespoons of caper raisin spread onto 3 to 4 medium plates; spread into thin layer. Divide salad among plates and enjoy.
Kale Sprout & Barley Salad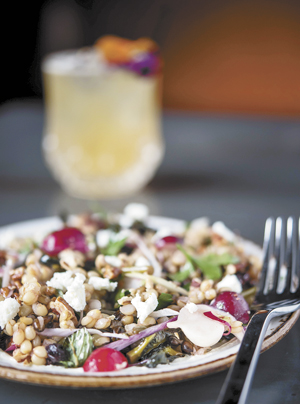 Wine Pairing
Brick House 2015 Gamay, Ribbon Ridge
"I think this grape has a real future in the Willamette Valley, and Doug Tunnell at Brick House has been working with it for a while now. It's a lighter style red wine that can play with meats or fish, loves vegetables as much as it loves cured meat. It's great with the dark, bitter greens and grains of this salad, but has a bright lift that works with the fresh sheep cheese." —MH
INGREDIENTS
2 cups cooked barley
1 pound kale sprouts
½ cup Katz Zinfandel vinegar
½ cup dried currants
½ cup good olive oil
½ cup toasted pecans
1 bunch radishes, trimmed and washed
3–4 scallions, sliced thin on bias
½ cup fresh parsley leaves
1½ cups fresh sheep or goat cheese
2 cloves garlic
½ teaspoon chili flakes
* salt to taste
METHOD
Cook barley in ample water until tender; drain and set aside to cool.
In large sauté pan over medium heat, add ¼ cup olive oil. Add whole garlic cloves to flavor oil; sauté until lightly browned. Remove garlic. Add chili flakes and kale sprouts; stir quickly. If kale is not very tender, you may want to add a splash of water to speed up cooking process and to not burn any leaves or chili flakes. Once wilted, remove kale to baking dish and set aside.
Add currants and vinegar to same pan over medium heat. Once vinegar starts to reduce and currants plump, return half-cooked kale sprouts to pan; continue to cook until tender. Season with salt to taste, and return everything to baking dish. Drizzle kale mix with the good olive oil and massage everything together with hands. Taste for salt (you'll probably need more). Cool to room temperature.
In small bowl, whip 1 cup of cheese with 2 tablespoons olive oil and pinch of salt with a fork, spoon or small whisk. You only want it shiny and spreadable, so no need to fuss much. Set aside.
In large bowl, add cooked, cooled barley, radishes, kale and currants, parsley, scallions and toss with enough olive oil to coat everything. Season with salt to taste. Make sure you taste a bite with everything, because the kale is acidic. The radishes and barley may need more salt or a drizzle of the Zinfandel vinegar. It really depends on your taste! Once everything is seasoned to your liking, crush pecans in hand and add to salad.
Spread cup of whipped cheese onto 3 to 4 medium plates; divide salad among them. Top each salad with remaining cheese, using your hands to distribute cheese evenly into small crumbles. Drizzle each salad with good olive oil and enjoy.