Star Student
UCC/SOWI Grad shines with winning wines
Nicole Reese Wines
Details:
Pallet Wine Co.:
340 N. Fir Street, Medford
Phone:
541-531-3738
Website:
www.nicolereesewines.com
Hours:
Appointment only
Varieties:
Syrah, Chardonnay
Elisabeth Grunwald is the epitome of "down to earth" and "hands on." When we met to chat, she'd just finished helping install a new floor in the soon-to-open tasting room of Pallet Wine Company.
Pallet, the Medford custom-crush facility, is where Grunwald works as an assistant winemaker and where she now creates her ultra-boutique brand: Nicole Reese. She recently made a splash on the wine scene when her 2013 Syrah won a silver medal at the 2016 San Francisco Chronicle Wine Competition.
So how did this Midwest native happen to jettison the corporate world of big-ticket marketing and national distribution — think Miller-Coors and Cardinal Health — for the life of a Southern Oregon winemaker?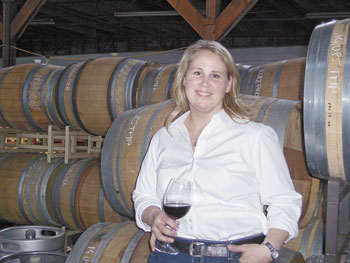 Eleven years ago, Grunwald and her husband relocated to Oregon for his career. There were no national level marketing positions comparable to ones Grunwald had held, so she took a hiatus, had two children and devoted her time to being a mom.
Yet during a visit to Valley View Winery, she noticed a brochure for the newly organized course in viticulture and enology offered by the Southern Oregon Wine Institute at Umpqua Community College. At first, she thought, "Wine school?" But the more she considered it, the more she realized, "Dang, I'd be really good at that."
In 2007, with the objective of studying only the viticulture part of the course, Grunwald enrolled. Her fellow students persuaded her to remain for the enology side of things, leading to an internship at Agate Ridge Vineyards with winemaker Kiley Evans.
Grunwald recalls telling Evans her goal was to complete the internship as quickly as possible because she wanted to be out in the vineyard. He replied, "Oh, I'll change that for you." She wound up working in the winery with Evans for two years; then joined winemaker Linda Donovan at Pallet.
One day in 2012, while Grunwald was busy in the lab, Donovan asked, "When are you going to start making your [own] wine?"
She remembers taking that next step as "a scary leap." Grunwald decided on Chardonnay and Syrah as her first wines.
"I really like them personally," Grunwald said. "To me, they are iconic classics. You can't go wrong. Plus, my husband's like, 'Make Syrah, so if it doesn't sell, we have something we like to drink.'"
Grunwald's intial step was contracting for Chardonnay grapes by arranging a work equity program with a small vineyard in Talent.
"I'd work here at Pallet all day and then go out to the vineyard in the evening," she recalled. "My kids would be doing their homework in the rows. We'd watch the sun set eating dinner at nine o'clock."
Among the lessons learned from that first vintage, Grunwald says, was the realization that she preferred the winery part of the work to the vineyard side.
So what's her winemaking style?
In a word, simple. She uses naturally occurring yeast and believes in "limited integration," which means she uses no additives apart from sulfite, a preservative most winemakers consider essential.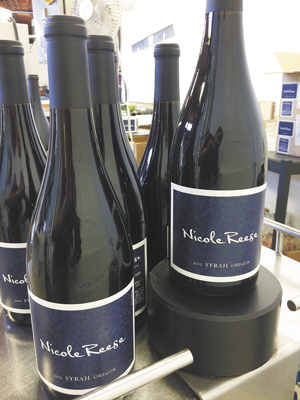 Grunwald also adheres to her own high standards; she doesn't settle for what she expects of her product. "If there's something I don't like about the wine, I won't bottle it. If it's not a success, it doesn't represent me."
Those high standards have resulted in special wines, including her award-winning 2013 Nicole Reese Syrah.
"It has a very traditional Syrah taste. It's smooth, approachable, drinkable for everybody," Grunwald said. "French oak gives it vanilla and just a hint of pepper.
"I was pouring some samples recently and a lady asked what I like to pair with the Syrah. I said, 'What are you doing this afternoon?' She said, 'I'm going home to pay bills.' I said, "A glass of wine works really great with that."
In other words, "You don't need food; you just need friends."
Where does this up-and-coming winemaker see herself in 10 years?
"I used to think I'd grow a big brand, but recently I've been retracting that," Grunwald said. "I may introduce more varietals and build the library, but my main objective is high quality. I'm not worried about getting on that grocery store shelf."
MJ Daspit is a freelance writer and book author. She resides in the Rogue Valley.