Staking their Claim
Couple transforms site into promising vineyard
When a wine label is 20-plus years in the making, you have high expectations. In 1994, Marnie Wall's mother purchased a 35-acre site just southeast of Dallas, Oregon — the Polk County seat — when it was still just a Christmas tree farm and with no any solid intentions for growing wine grapes. Nearly two decades later, in 2013, Marnie and her husband, Brett Wall — following a late-night leisurely dinner in their Paris apartment — decided to purchase an additional 20 acres for planting a vineyard.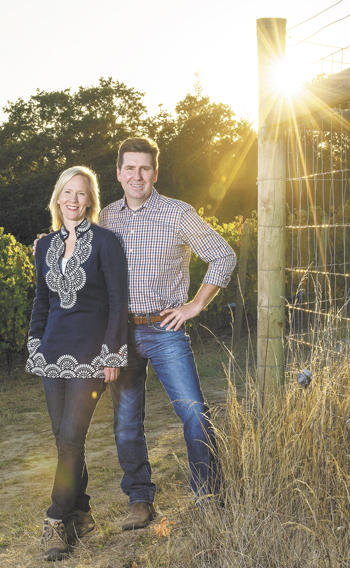 The property where the vines were to be planted has a history of its own.
In 1850, the federal government, through the Donation Land Claim Act, offered parcel No. 68 in "Open Claim" to anyone willing to nurture the land to life and meaning. In that spirit, the Walls have zealously taken this responsibility, naming the vineyard Open Claim.
With 21 acres planted to Pinot Noir (18 acres) and Chardonnay (3), the Walls are committed to sustainable practices through organic dry-farming, protecting open space, creating a wildlife corridor and, ultimately, celebrating the biodiversity of the land, which vibrates like a tuning fork through their vines.
At the base of Mount Pisgah, in the foothills of the Coast Range, 50-million-year-old submarine volcanoes created an ancient layer of Paleocene rock beneath marine silt-clay soil. The vines are producing fruit with a distinctive, complex minerality. Mount Pisgah, at 1,060 feet, also buffers the vineyard from the blustery winds blowing through the Van Duzer Corridor. The Walls speak reverently about the land's enclave of ancient oaks providing the vineyard additional protection from frost, as well.
The Walls and their surrounding neighbors believe Mount Pisgah is sufficiently unique enough that the vineyards, including Illahe, Croft and Freedom Hill, have applied for recognition as its own AVA (American Viticultural Area).
Like the care of the land, the Walls are taking the production seriously, too. They've hired Tony Rynders of Tendril Wines as winemaker. His résumé is impressive; he describes his experience at Domaine Serene as an opportunity to perfect single-vineyard bottlings. When he left to consult for emerging vineyards, he brought the concept with him.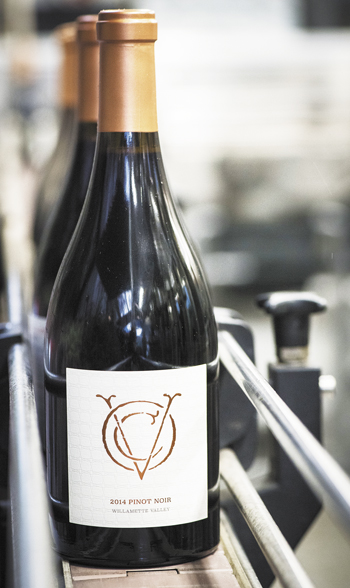 The couple has been very selective with their Chardonnay, too. Rynders describes their two clones as the "pick of the litter." Although he's witnessed great promise in the vineyards and cellar, he admits, "You never really know what you got, until you know what you got."
Yet, this wine is already quite distinctive and varietally expressive, with vibrancy and the perfect amount of tension resulting from balanced acidity. With playful citrus notes, one can detect flavors of dissolved lemon drop, maybe even lemon curd and lemon oil, and, of course, the enchanting white flower perfume. He believes the Chardonnay from this site resembles white Burgundy, saying "If Burgundy could be scooped up in a bucket truck and dropped into Oregon" — this writer is inclined to agree.
The Pinots taste, in a word, exquisite: silky smooth and fruit-driven with the added complexity of flowers and spice. Preferring wines with lower alcohol — though not lacking in concentration or style — and over-vintaged, spending on average 16 months in barrel, the Walls release no wines until they're ready. These standards embody the foundation of Open Claim.
Rynders poetically describes the wine's progression like a flower growing: "First it buds, and then it blooms. That open flower state should take considerable time for maximum enjoyment."
Open Claim made 120 cases of wine from their first vintage in 2014. Unfortunately, those wines are not commercially available; they were immediately stashed into the Walls' library after hearing people wished they'd held back their earlier vintages.
This spring, however, they released their 2015 vintage to the public.
The Walls don't have a tasting room just yet, though plans exist to build one. In fact, they're breaking ground this year on a plot adjacent to the vineyard. Since wine is best when accompanied by the right foods, they hope to welcome small groups — by appointment — for chef-inspired pairings. Set for late 2019, visitors will be able to tour the property, where they can learn more about the Walls' farming practices while enjoying an individualized wine tasting experience.
Until then, Open Claim Vineyard wines are now available on its website, www.openclaimvineyards.com.