Spring into Supper
Welcome the new season with an inspiring menu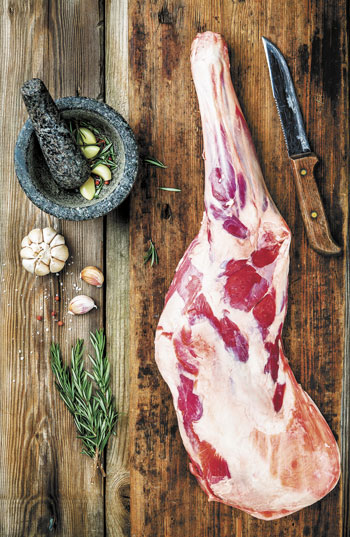 Roast Leg of Lamb with Pancetta and Rosemary Stuffing served with Cumberland Sauce
Yields 10–12 portions
Wine Pairing: Zinfandel
INGREDIENTS
7–9 pound boneless leg of lamb
1 medium onion, diced
5 cloves fresh garlic, minced
6–8 cloves fresh garlic, whole
¼ cup fresh rosemary leaves, minced
6–8 fresh rosemary sprigs, 1-inch long
½ pound pancetta, diced
1 cup Panko breadcrumbs
2 tablespoons Dijon mustard
1 egg
* salt and pepper, to taste
¼ cup olive oil
1–2 pounds small potatoes, optional
METHOD
Pre-heat oven to 400°F.
Heat sauté pan over medium heat; add pancetta and render — cook and melt the fat — until slightly crisp. Remove from pan, leaving behind fat from meat.
Add diced onion and minced garlic to pan; cook until slightly brown and tender, about 5 minutes. Add minced rosemary; continue cooking 1 minute. Remove from heat; let cool slightly.
Add Dijon mustard, breadcrumbs and egg; stir until well-combined. Season breadcrumb mixture with salt and pepper.
Open de-boned lamb leg on cutting board with de-boned side facing up; season well with salt and pepper. Spread de-boned area with even layer of stuffing. Roll lamb around stuffing; tie leg closed securely using kitchen twine.
Using paring knife, pierce exterior of lamb leg 6 to 8 times; insert garlic clove and rosemary sprig deep into each hole. Season exterior with salt and pepper; rub with olive oil.
Place leg on roasting rack — or on top of small potatoes on a roasting rack — and place in pre-heated 400°F oven; roast for 15 minutes or until exterior is golden brown.
Reduce temperature to 325°F; continue roasting — 15 to 20 minutes per pound — until internal temperature of thickest part of leg reaches 125°F.
Remove from oven; tent foil over leg lightly and allow to rest 30 to 45 minutes. Do not skip this step or juice will run out.
Remove twine, slice and serve.
Cumberland Sauce
Yields 8 servings
INGREDIENTS
½ medium lemon, zested and juiced
1 orange, medium, zested and juiced
½ cup red currant jelly
3 ounces Port-style wine
1½ teaspoon mustard powder
1½ teaspoon ground ginger
METHOD
In small saucepan over medium-low heat, melt red currant jelly with Port-style wine.
Add mustard, ginger, lemon juice, lemon zest, orange juice and orange zest to saucepan; whisk to combine. Simmer 5 minutes. Cumberland sauce should be served at room temperature and stores well in refrigerator for up to two weeks.
Spring Pea and Mint Risotto with Grana Padano
Yields 4 portions
Wine Pairing: Pinot Noir Rosé
INGREDIENTS
1 tablespoon butter
1 tablespoon olive oil
½ cup yellow onion, diced
½ cup Arborio rice
1 cup white wine
4 cups vegetable stock
1 cup spring peas, shelled and puréed
1 cup spring peas, shelled
½ cup Grana Padano cheese, grated
4 tablespoons butter, cut in small pieces
4 tablespoons fresh mint, minced
1 tablespoon fresh parsley, chopped
* salt and pepper, to taste
METHOD
Heat butter and oil in heavy sauté pan. Add onion; cook until clear — do not brown.
Add rice; cook until slightly browning and has absorbed oil — about 3 minutes.
Add wine; stir until absorbed and then begin adding hot stock, 1 cup at a time while stirring constantly until absorbed before adding additional stock to rice. Process will take 20 to 30 minutes. Use as much stock as needed to reach proper consistency — rice tender yet chewy with a porridge texture.
When rice is almost al dente — to the tooth, should be tender with firm center — add pea purée and whole peas; stir until heated/cooked.
Remove pan from heat; add cheese, butter, mint and parsley. Season with salt and pepper. Garnish and serve immediately.
Asparagus with Toasted Garlic Chips
Yields 4 servings
Wine Pairing: Sauvignon Blanc
INGREDIENTS:
2 tablespoons butter
2 tablespoons olive oil
4 cloves garlic, slivered
20 asparagus spears, tough ends removed
METHOD
In pot of boiling, salted water, add asparagus; cook until al dente, 2 to 3 minutes.
While asparagus is boiling; heat butter and oil until sizzling in heavy sauté pan.
Add garlic; stir until toasted, 1 to 2 minutes. Add asparagus and thoroughly reheat.
Season well with salt and freshly ground pepper. Serve immediately.