Flame for Spain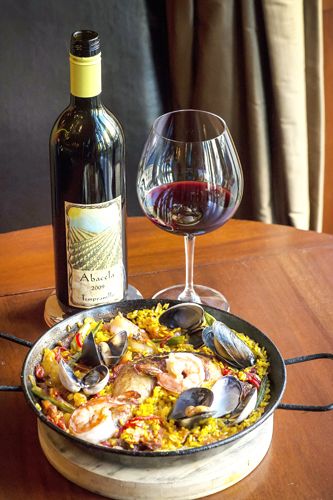 By Kerry Newberry/Photos by Andrea Johnson
When George Bernard Shaw wrote: "There is no love sincerer than the love of food" it's easy to imagine he had just returned from a trip to Spain. From the vibrant paellas of Valencia to the sea-salt kiss of mejillones in Galicia, the romance of food can sweep you off your feet from coast to coast. The Spanish proverb "barriga llena, corazón contento" rings true ... full stomach, happy heart.
In tiny villages, during the evening tapas hours, locals dress up and stroll the cobblestone streets, gathering in tapas bars and bodegas to eat and drink, flirt and debate, reveling in simple pleasures.
The tapas that adorn the bar can be as simple as slices of chorizo sausage and fresh figs wrapped with jamón Serrano to tuna stuffed in scarlet-hued piquillo peppers and classic tortilla española de patatas. An evening eating tapas is like a courtship should be: long, leisurely, tantalizing.
The cadence of culinary life in Spain is slower, and like the food — the wine, especially Tempranillo — tastes rich and lusty.
It's easy to fall in love with Spain. This is why OWP asked local food and wine experts with a fiery passion for Spanish food and culture to share Tempranillo and tapas tidbits in hopes of making sparks fly during the month of February.
Liz Crain - "The Toro Bravo Cookbook"
Local writer Liz Crain covers Pacific Northwest food and drink for various print and online publications. Her first book, "Food Lover's Guide to Portland," published by Sasquatch Books in 2010, was a culinary success. Three years later, she's finishing her second, "The Toro Bravo Cookbook," due to be released thisfall from McSweeney's Books.
Research required a pilgrimage to Spain accompanied by Toro Bravo (Portland) Chef/Owner John Gorham, McSweeney's Books Editor Rachel Khong, photographer David Reamer, Toro Bravo Chef de Cuisine Kasey Mills and Charcuterie Manager Josh Scofield to eat and drink across the cities of Madrid and Barcelona for inspiration and material.
The Tapas: Tempranillo is food friendly and plays nicely with big flavor, so it's great with tapas. I like to drink it with oxtail croquettes, patatas bravas, all of the rich and buttery Spanish cured meats and Spanish meatballs. I don't know though, I'll drink Tempranillo with just about any tapas. I'm no wine snob.
The Romance: In 1996, when I was 19 and had just finished a several-month stint working on a culinary herb farm in Spain, two hours southwest of Madrid, I was lucky enough to travel around Spain for two weeks with my mom and grandma. While traveling, we stayed in paradores, state-run historic hotels primarily housed in castles, palaces, convents and monasteries. At the beginning of our trip, in Jarandilla de la Vera, we drank Tempranillo and sangria during a dinner of roasted lamb leg in the courtyard of a 15th century castle. That parador was once home to Emperor Charles V. It still seems like a dream to me. Magic.
The Spark: Eating mostly with your hands and sharing plates brings people closer and can be very romantic. Tempranillo is a classic and agreeable Spanish red that follows suit. There are so many different tastes and teasers with tapas, and none weighs you down too much for ... later.
The Book: I approached John Gorham about doing the "Toro Bravo Cookbook" in the fall of 2010 after publicity and events for my first book "Food Lover's Guide to Portland" had slowed down. Toro Bravo is one of my favorite restaurants. I have a deep and abiding love for Spanish food, and I thought the time was ripe for a cookbook. John agreed. The book will include 100-plus Spanish-inspired tapas recipes and loads of photos, illustrations and essays that tell the story of the restaurant — including insider drama and you even get to see John Gorham's bare butt. I guess we're just putting a new spin on food porn.
Earl & Hilda Jones - Abacela Vineyards & Winery
When reminiscing why he and his wife, Hilda, decided to crisscross the country from Pensacola, Florida to a small town in Southern Oregon in the mid-1990s to cultivate Iberian varietals and craft internationally acclaimed wines, Earl Jones often recounts poetic evenings eating tapas in Spain.
"We fell in love with Spanish wine," says Jones. "But we really fell in love with the Spanish culture; it's such a beautiful culinary way to live." Jones, the co-owner of Abacela Vineyards & Winery, planted the first Tempranillo in the Pacific Northwest in 1995. The name Abacela stems from an ancient Latin-Iberian verb, "abacelar," meaning, "to plant a vine," paying homage to the wines of the Ribera del Duero and Rioja.
The Tapas: Chorizo with roasted red peppers, jamÓn Serrano and, of course, Manchego, preferably aged nine months and served at room temperature.
The Romance: Dinner in Aranda de Duero Spain at Rafael Corrales. Hilda and I enjoyed the perfect pairing of el lechazo (suckling lamb) and a bottle of 1987 Vega Sicilia Unico. Fabulous!
The Spark: Abacela Tempranillo takes your mind on a magic carpet ride with traditional Spanish tapas.
Your Love: I love Spanish Tempranillo. While an American varietal wine had never been produced from the grape, I accepted the challenge, believing strongly that the world's fifth most planted red grape could be made into fine wine in the Spanish-Tempranillo homo-climate of Southern Oregon. It worked!
Ricardo Segura - Patanegra Tapas Bar
"What first comes to my mind when I smell Tempranillo is the beautiful land of Ribera Del Duero, the Old Castile," says Ricardo Segura, chef and owner of Patanegra in Portland. Segura is originally from Cáceres, in the region of Extremadura. "The land of Iberian pigs and conquistadores," he says.
Segura grew up in the kitchen, first learning to cook traditional Spanish cuisine with his aunts and other family members. The elegance in Spanish cooking derives from its simplicity, fresh ingredients and strong flavors of olive oil, garlic and aromatic herbs, pervasive in many of the dishes at Patanegra. The famous Spanish paprika, also known as Pimentón de la Vera, hails from Segura's ancestral village, Losar de la Vera. One bite of the alluring earthy smokiness, and it's easy to fall head over heels.
The Tapas: I always think of cordero or cabrito (lamb or baby lamb). Also any embutido (charcuterie) would go as well. If it's a lighter style Tempranillo (Joven or Roble), you could consider serving a paella or more delicate meats, like duck, quail, pheasant, rabbit and, of course, pork. Cheese, especially goat and sheep's milk, are also good matches.
The Romance: In the summer of 1989, two of my best friends married in a very small village up north between La Rioja and Ribera del Duero. It was an outdoor ceremony in the valley with around 250 guests. The meal consisted of traditional tapas: tortilla española, Pimientos asados, olives, Manchego cheese and chorizo. The main dishes were a whole cow — braised the Argentine way — and a gigantic paella … I've never seen anything that big.
Throughout the meal, people were drinking Tinto del País, the local Tempranillo. I was lucky to sit next to Alejandro Fernández, the proprietor and winemaker of the famous Pesquera. On that day, I fell in love with Pesquera wines and Tempranillo in general.
The Spark: Well, with Tempranillo being a Spanish varietal grape, it can only be romantic. It's bigger than Pinot Noir, not as elegant or delicate. It's sexier, riper, rounder, not as complicated, and I always think of sunshine when I drink a glass.
Your Love: To have my own restaurant was a dream. In 1996, I opened Tapeo, the first tapas place in Portland. Eight years later, I decided to look for a larger space and named it Patanegra because of my roots. So now, I have a true Spanish restaurant, including tapas and paellas and entrées, as well as an incredible Spanish wine list.
Scott & Emily Ketterman - Crown Paella
Scott Ketterman has cooked and dined his way across the culinary landscape of Spain, working in renowned restaurants such as the Michelin two-star Mugaritz near San Sebastian, as well as at Pedro Subijana's Akelarre, a Michelin three-star restaurant. In Portland, Ketterman spent four years as the chef of Simpatica before he and his wife, Emily, founded Crown Paella, an event company focused on traditional Spanish cooking that specializes in giant paella and tapas.
If any food captures the zest of Spanish food culture, one could say it is paella. Spanish food writer Luis Antonio de Vega deemed the dish "a gastronomic miracle." In his tome on paella, chef Alberto Herraiz writes: "The most important element of the culture of paella is its festive dimension. The expression 'ir de paella' (to go for a paella), has become synonymous in colloquial Spanish with 'to have fun.'"
The romance of paella is not only in the history and lore of the dish, but the intimacy of gathering around and eating straight from the pan. Keep in mind that saffron, one of the key ingredients, has been touted as a natural aphrodisiac since ancient times.
The Paella: During the winter, we make hearty paella with duck confit, foraged mushrooms and heirloom shell beans. The depth of this dish, with its subtle smoky flavor, is the perfect pairing with Tempranillo.
The Romance: My wife, Emily, and I celebrated our engagement with a bottle of Tempranillo, overlooking the Bay of Biscay, in the village of Getaria.
The Spark: Paella is a romantic dish by its very nature, and when you pair it with a beautiful, elegant wine like Tempranillo, good things are bound to happen!
Your Love: I love the traditional cooking of Spain and really wanted to bring those simple ingredient-driven flavors to Portland.
Scott & Annie Shull - Raptor Ridge Winery
Boutique Pinot Noir producers Scott and Annie Shull of Raptor Ridge were inspired to experiment with their first vintage of Tempranillo after an evening tasting Old World Tempranillos at La Rambla in McMinnville. "Once we had tasted a bottle of fine Spanish Tempranillo, grown in the cooler climes of the Ribera del Duero, we saw that it could be nuanced, elegant and complex," recounts Annie. The discovery of another varietal capable of capturing such nuance and subtlety was an exciting prospect for the Pinot Noir devotees.
The Tapas: Any mole dish. The roasted cocoa notes that you get from the pumpkin seed really deepen the rich fruit that lingers in the core of our Tempranillo. We recently paired it with a more Italian-inspired puréed garbanzo bean and carrot soup, onion, rosemary and thyme. The intense fruit was perfect with the rusticity of the soup.
The Romance: Not all that romantic, but in 2005, we made our first vintage of Raptor Ridge Tempranillo from the Willamette Valley. Once it got through the usual period of bottle shock, it was still disappointingly hard and unapproachable and a little reductive in the bottle. We put it away in the cellar, discouraged. Then, like Sleeping Beauty — there's the romance! — we awakened this wine five years later, trying a bottle before deciding whether to bulk it out or write it off. Scott came running down from our winery in the woods saying: "Annie, we need a label! This stuff is great." Knowing that we could produce a quality Tempranillo in Oregon, we looked farther south for grape sources, and tried it again.
The Spark: If we had the time, perhaps this romantic daydream could come true: We would sip Tempranillo while surfing the net for tango lessons. Goal? Along with hoping to visit the region someday, we want to be that old couple you always admire on the dance floor by the time we are in our 70s.
Why Tempranillo: If not made in an overly extracted, brutish style, Tempranillo is capable of revealing many layers and complexities, not unlike Pinot Noir in that sense. Like the tango, it has to be approached with grace to show its elegance.
Kathy Stoler - La Rambla Restaurant
When Kathy Stoler opened La Rambla in McMinnville, the growing food scene was a perfect venue for a tapas restaurant. Located in the historic Schilling Building, La Rambla specializes in cuisine from the Iberian Peninsula made with Northwest ingredients.
"Tempranillos are one of the most food-friendly wines," says Stoler. The award-winning wine list is one of the most extensive in the state with more than 400 selections from Oregon and Spain. The perfect food pairing: La Rambla Paella.
The Tapas: Tempranillo pairs well with the most complex and layered of dishes to the simplest things like Serrano ham and Manchego cheese. Although roast pork dishes are some of my favorite foods to pair with Tempranillo, the rich and lush layers of the wine also pair beautifully with the smoky saffron-infused rice of paella with shellfish and chorizo.
Your Love: La Rambla Restaurant was named after the famous Las Ramblas Boulevard in Barcelona. There is an incredible market on the boulevard, Mercat de La Boqueria, that has the most beautiful displays of fresh foods with everything you could imagine. There are small open restaurants within the market that serve the freshest dishes directly from the market.
The Spark: La Rambla Restaurant was inspired by my many travels throughout Spain, enjoying the delicious, diverse cuisine of the different regions. On one trip the highlight was when we stayed in the medieval village of Elciego in Rioja and toured the old cellars of Bodegas Marqués de Riscal. We enjoyed a fabulous tasting of their Tempranillos with food pairings at the Bodega.
Spanish Soul, Oregon Soil: I love the Tempranillo being produced in Oregon. Abacela, Dominio IV and WildAire Cellars are a few that can be found on La Rambla's wine list.
Kerry Newberry is vineyard-hopping, Pinot-sipping food and wine writer in Portland.