Space-Aged Offering
Former NASA scientist honors past with wine
For Don Hagge, space is not the final frontier. Land is. This former space scientist began life on a North Dakota wheat farm and, following a multifaceted career, including stints at NASA, he planted an Oregon vineyard.
In 1999, he established VIDON Vineyard in the Chehalem Mountains AVA (American Viticultural Area) with his wife, Vicki Lewis, branding it with a contraction of their first names and pronouncing it VEE-dohn. The boutique winery located above 12.5 acres of vines produces 2,000 to 2,500 cases a year of primarily Pinot Noir with lesser amounts of Chardonnay, Pinot Blanc, Pinot Gris, Viognier, Syrah and Tempranillo — all of it estate-grown as of 2014. Both the vineyard and winery are LIVE certified and participate in a carbon reduction challenge.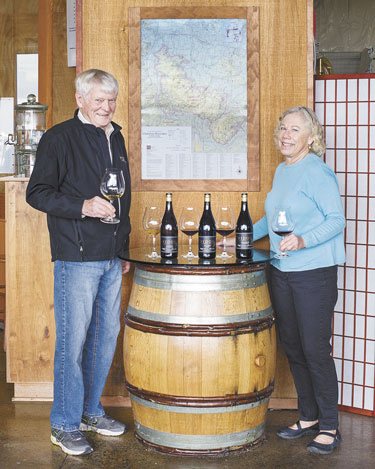 Well before the vines and wines, Hagge's focus was more sky and less ground. After two years flying Navy planes in Korea, he earned a Ph.D. in physics from the University of California at Berkeley, as well as an executive MBA from Stanford. At NASA's Goddard Space Flight Center in Greenbelt, Maryland, he designed experiments for Explorers 38, 39 and 40 and then became chief of the Apollo Physics Branch at the Manned Space Flight Center — now Johnson Space Flight Center — in Houston.
At age 85, Hagge has met many of the first American astronauts. He also worked at NASA Houston from the time of Apollo 7 through Apollo 13, after which he had a varied career in high tech that included successful serial entrepreneurial ventures. Before settling in his home in Newberg on the vineyard, he lived in various cities in California, Idaho Falls, Seattle and Portland.
To celebrate his colorful career at NASA, Hagge is launching a new wine project, VIDON Space Exploration Series, which comprises three bottlings from the 2015 vintage: Apollo Chardonnay, Explorer Tempranillo and Saturn Syrah. A Valentine's Day official release is planned.
The Chardonnay (only 25 cases made) offers a deep yellow color with green overtones and polished aromas. It is mouth-filling with a lengthy finish and is drinking nicely now; with reasonable acidity, it could age longer. Not surprisingly, both the Tempranillo (140 cases) and Syrah (148 cases) were still tight though clearly exhibiting varietal typicity. The former had a juicy fruit aroma while the nose of the second, co-fermented with a bit of Viognier, displayed mostly meat followed by spice.
Having grafted his Pinot Gris and Pinot Blanc vines to Chardonnay, Hagge expects to make an Apollo Chardonnay reserve every vintage. He is focusing on Syrah as an alternative to Pinot Noir, for which there is no space series bottling; however, he continues to produce three single-clone Pinot Noirs — each named for a grandchild — and a three-clone blend containing 777, 115 and Pommard. His "Melange" Pinot Noir includes the previous three clones plus Gary Andrus' suitcase clone, AS2.
Further proving how as time passes we all become more of whom we are, Hagge remains kinetic, as Vicki is fond of noting. He jumps on his tractor to mow and till as much to relax as to get the work done. He finds outlets for his inventiveness and iconoclasm.
"I'm a scientist, not a winemaker, therefore I'm not hung up on winemaking traditions," he explains.
Hagge seals his bottles using glass stoppers and screwcaps, even building his own bottler to accommodate the former. He prefers translucent, food-grade polyethylene oxygen-permeable tanks to stainless steel for aging and argon to nitrogen for displacing oxygen. In fact, he recently built his own dispenser for the tasting room that uses argon to preserve wine for weeks; it's a bunghole/barrel aspirator with two tubes, one through which argon floods the ullage and provides pressure to push samples through the second.
Hagge's skills are not limited to hardware. He wrote the software for an online meta wine club that allows buying from several wineries without the usual constraints. He calls it "Vin Alliance" and expects it to launch soon.
Though no longer involved in the space business, Hagge applies his talents to making good things for us to drink. VIDON's Space Exploration Series is testament to the fact that you may take the scientist out of the space program but you can't take the space program out of the scientist.
For more information and to acquire VIDON wines, visit www.vidonvineyard.com.
Neal Hulkower is a mathematician and an oenophile living in McMinnville, Oregon. His wine writing has appeared in a wide range of academic and popular publications. Occasionally, he can be found pouring quintessential Pinot noir at the top of the Dundee Hills.