Sowing the Seeds of Sustainability
Winegrowers go green for future generations
Oregon leads the country in more than premium wine growth; according to the Oregon Wine Board, 48 percent of Oregon vineyards are currently certified sustainable. Here's how a few are sowing the seeds for future generations.
Sustaining a Legacy
Brooks Wine
When 38-year old winemaker Jimi Brooks of Brooks Wine died tragically in 2004 of an aortic aneurism, he left behind an eight-year-old son, Pascal. Now 22, Pascal Brooks carries himself with the quiet grace of an old soul belying a youth burdened with high expectations.
A recent graduate of the University of California Santa Cruz, Pascal speaks to his future in winemaking, "I don't know, I think I'm still too young, and the world is so big. I would like to explore. For a long time it was my concern that I didn't want to be funneled into anything. But it's also because I'm afraid that I wouldn't have the passion to do it. Talking to Tad [Seestedt from Ransom Spirits] — he was a close friend of my dad — I remember asking him about working 100-hour work weeks, "Why do you do it?" He explained, "It takes an obsessive trait." For me, I know that if the going gets rough, I would hope I would have the passion that I've seen other people do to complete it. I know my dad had that, and I see it in Chris and Janie."
Mentor and family friend Seestedt concurs, "I think he [Jimi] touched a lot of people. Pascal is that next generation."
But Jimi Brooks didn't only leave behind a son. Jimi's sister, Janie Brooks Heuck, helps carry the message of her brother's vision. "When Chris and I decided to keep the winery going, it was really about keeping Jimi's vision going, not that either one of us really wanted to get in and do this for a living. I definitely had no ideas about what my philosophy would be. Nothing."
Brooks Heuck enumerates a few key elements of her brother's farming and winemaking philosophy still anchoring the operation, including blending, accessibility, a single-vineyard program, hospitality-based food and wine experiences and Biodynamics.
"One of them is Biodynamic farming," notes Brooks Heuck, "When Jimi came into the industry, he was really a leader in that movement for grapes and for vineyards, and really one of the few who was doing it back then. And soon, we plan on completing our Biodynamics circle by bringing in miniature cows, and either goats or sheep. We already have the chickens, but we are missing the manure part. If we are truly going to work in a holistic environment, we need to do that."
Jimi Brooks also is survived by a band of deeply devoted friends, among them Seestedt. He recalls, "We didn't talk about wine that much. We talked about philosophy, politics, relationships, things like that. And during one of our conversations, we talked about being young guys and asking, 'What's going to happen when we're dead?' We were also talking about Pascal, and I asked, 'What do you think is going to happen to Pascal?' This was less than a year before Jimi died, and he said, 'Well, at this point, the only thing I have for Pascal, as a legacy, is the winery.' That was a Jimi statement that actually sold himself short because he had a lot of other things to leave for Pascal — a way of living life and a way of thinking, a way of treating other people — things larger than just leaving something that's a business or a brick-and mortar-type thing. I just think that Pascal has that, and that is certainly something that I would consider a greater legacy."
Honoring the Past
iOTA Cellars/Pelos Sandberg Vineyard
LIVE-certified since 2008, iOTA Cellars and Pelos Sandberg Vineyard in the Eola-Amity Hills AVA combine the sensibilities of two families with shared roots, Lynne and Perry Pelos, and Johanna and Don Sandberg. From the outset, the Minnesota transplants learned the bond between heritage and horticulture.
"Back in 2002, we were developing our first two vineyard blocks, and they needed a name. I found it striking how many personal names were used on wine labels for vineyard designates, blocks and cuvées. I admit, I didn't get it," conceded winemaker Don Sandberg. "I guess I hadn't quite realized the connection between land and the people tending it. But during the many hours of working the soil, planting vines and pounding trellising posts, it became clear to me that the new founding blocks were symbolic and should be named for Johanna and Perry's mom and dad, affectionately referred to as 'Yiayia' and 'Pappou,' grandma and grandpa in Greek."
Today, the tradition continues. Additional blocks include Ana's Block, named for Johanna's grandmother and namesake; Petros' Block, the Greek name for Perry, which means "rock;" and the newest edition, Alithea-Ellen Block, named for a daughter from each of the families. "That's four generations represented," explains Sandberg.
iOTA's personal approach carries over to their wines as well, with their vintage rosé named for Lynne's mother, Phyllis, who passed away in 2012. Both families now live on site, incorporating sustainable methods wherever possible.
"The forested land surrounding Pelos Sandberg Vineyard and our homes are off limits to more development and largely untouched, other than for trails and the restoration work of the many oak groves. We practice sustainable farming for our own well-being and to maintain the health of the land for future generations.
Also, the winery is a small straw- and green-painted building meant to blend in rather than to dominate the landscape. It runs almost entirely on solar power generated from panels on the roof. Sandberg says, "I know the next generation will be grateful for the forward-thinking design."
Building for the Future
Alloro Vineyard
Established in 1999, Alloro Vineyard straddles Laurel Ridge atop the Chehalem Mountains AVA. "Alloro" translates to "laurel" in Italian, a salute to owner/vineyard manager David Nemarnik's Mediterranean heritage.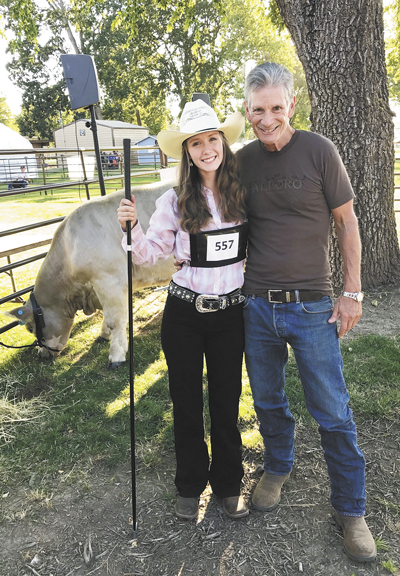 The 70-acre site includes a 34-acre vineyard, a 54k solar power system, an extensive organic kitchen garden for use in the winery's robust culinary program and animals on the property. Deep Laurelwood soils comprised of wind-blown loess over decomposed basalt allow for dry farming of Pinot Noir, Chardonnay, Riesling and Muscat.
"We are a LIVE-certified vineyard, which means we are focused on farming in a way that promotes soil health and sustainability," Nemarnik explains. "I manage the farming and Tom Fitzpatrick is our winemaker and general manager. We work together during the growing season to assure we produce the best possible fruit and wine the vintage allows."
Nemarnik continues, "We embrace holistic biodiversity working with the natural systems in our vineyard blocks. We compost green manures (from on-site Herefords) to build our soil health, [and] we encourage natural systems and methods, such as using our herd of lambs to graze on our inter-row cover crop. Farming in this way minimizes our chemical inputs, and methods that compost vineyard wastes and return nutrients to the soil are a good thing. Our goal is to farm in a way that improves our soil for years to come."
The former produce company CEO always looks forward. "Everything is about building for the future," he says. "The building is a multi-generational structure made of concrete and large Douglas fir timbers. So the idea is to have something that's going to last a long time. I have a daughter, and part of my evil plan is to have her decide to get involved in the family business. She's a horticulture/crop science major at Cal Poly ... We'll see what happens."
Farming Holistically
Youngberg Hill
Wayne Bailey may hail from a farm in Iowa, but he credits a consulting stint in Burgundy for rethinking his approach to agriculture. A mechanical engineer by training, Bailey purchased Youngberg Hill in 2003 on the advice of the late Jimi Brooks, who assured him, "This hill has a good vein going through it."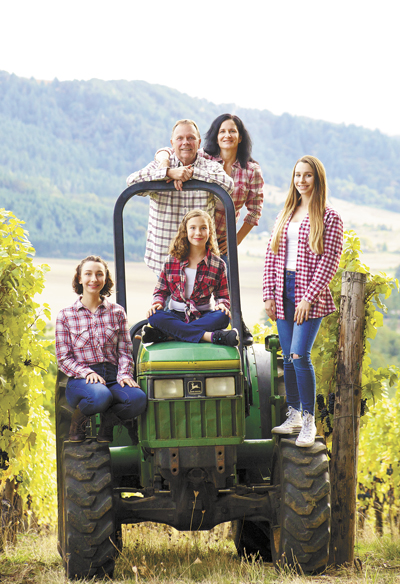 "At the same time that I was in Burgundy, they were going through the renaissance of going back to natural farming," Bailey recalls. "They'd been through a kind of mini-chemical farming evolution after the war and had begun to get out of that again and get back to the traditional way of farming. So that was a heavy influence on me while I was there. It was a no-brainer to come out here and say, 'I'm gonna do organic farming.'"
When Wayne and his wife, Nicolette, bought the property in 2003, they had two young daughters to consider — the third arrived in 2007. To this day, the children play heavily into decisions about the vineyard's care. "I want this property to be healthier 50 years from now, whether they decide to be here and live on it or not," Wayne Bailey says. "And I can do that best by being a steward of nature and doing only what nature asks or shows me what to do."
At elevations between 600 to 800 feet, the 50-acre parcel includes a successful inn and 21-acre vineyard planted to Pinot Noir, Chardonnay and Pinot Gris in a melange of soils, including marine, volcanic and shale. Overlooking McMinnville, the site offers panoramic views of Mount Hood, Mount Jefferson, the Sisters and the Coastal Range.
Bailey recalled Brooks' early influence regarding Biodynamics, the specific agricultural approach founded by Rudolf Steiner. "Of course, [Jimi] was already farming Momtazi Vineyard Biodynamically, so he got me hooked on Steiner," Bailey says. "Then I met Rudy Marchesi with Montinore. After Jimi passed, he helped me transition; that was back in 2011."
The family still follows numerous Biodynamic farming practices. Bailey clarifies, "I use the analogy all the time that my farming is like taking care of your body homeopathically. That's why I use the term 'holistic approach.' It's looking not just at the vines and vineyard but also at the entire environment; not just the plant life but the animal life and insect life, making sure I'm not doing things that throws nature out of balance."
When asked if his daughters show an interest in taking the reins, Bailey replies, "It's interesting. I have three daughters, and they're each totally different. Natasha, my oldest, graduated from high school this year. She's going to Linfield. She's a writer. And while she's very interested in what we're doing, it's not what she wants to do for a living. Our second daughter, Jordan, is a singer; as soon as she graduates from high school, she's out of here. Aspen, the youngest, may be the one to stay. She likes to help out at the inn, and she's responsible for those bee boxes you see that we have on the property. I like to say, 'She's never met a stranger, only guests.' She's still young. We'll see."